She was four years old and on a different continent when the cataclysm of the Philippines' Mt. Pinatubo occurred in 1991. She was already fascinated with rocks, and unbeknownst to her, she was about to become a huge Spice Girls fan.
Fast forward to 2011, her fascination with rocks and earth grew to an obsession that eventually led to her present career as an engineering geologist. Whatever that means. And her love for the Spice Girls is already embedded in the farthest corners of her mind.
My introduction to
Chuck
's (not her real name, but most of her buds fondly call her that) character can be whittled down to these few facts. Chuck by the way, an Iranian raised in Australia, is my sister-in-law.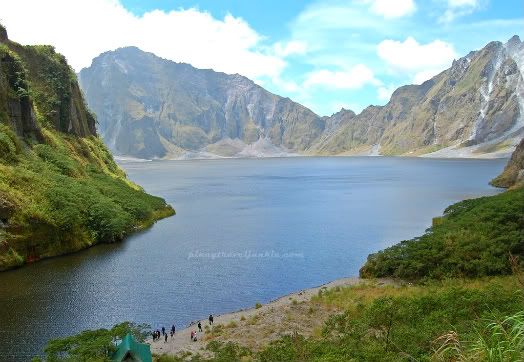 Murky is the new turquoise! Okay, so maybe it ain't, but sadly that's what we saw.
I was also informed that it was her burning ambition to see Mt. Pinatubo up close. So when I told her that we could in fact, walk on its crater, a giddy geologist went gaga. I even spared the detail of being allowed to swim in the crater lake and couldn't wait for her to find out.
Last March, on her second Philippines trip, she finally had the chance to fulfill this dream of hers. Though she and her boyfriend flew in the day before, she was already up and about at four in the morning. Coming from my parent's hometown Victoria, Tarlac it only took us an hour and fifteen minutes to get to Capas.
Our jeep driver (whom I booked through the
president of the Pinatubo Tour 4WheelDrive
) picked us up at 6, on the dot. We did a stopover at Pinatubo Spa Town to register, arrange a boat ride across the crater lake, and choose the theme for our lunch (meals included in the P1,500 package). We opted for Korean.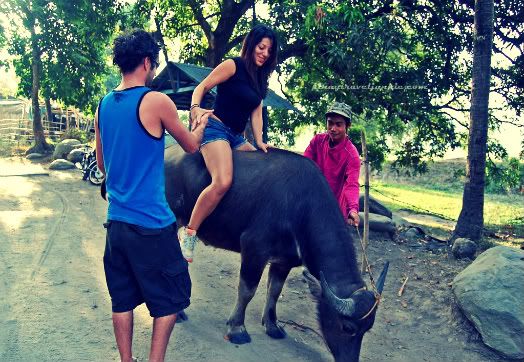 The loveliest geologist that graced the Earth's crust.
We wasted no time idling and quickly jumped back to our bright red 4x4. This time, we got an extra passenger, our assigned guide. Past the check point however, we were held up because we waited for another jeep for a convoy. Lone cruising jeeps aren't allowed. Chuck and the BF were thrilled to see carabaos stroll by, so I asked a local if they could briefly ride one to while the minutes away.
Almost half an hour later, a jeep arrived. Not just a regular tour jeep, but a military one. Followed by more military jeeps. Our driver explained that a few officers and soldiers are out for some R&R. They didn't look few to me.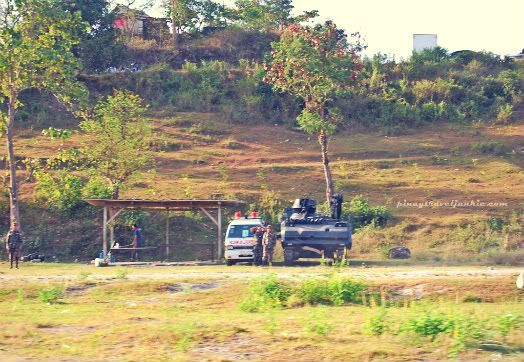 Snapped a shot of this tank, with its cannon seemingly aimed at us, as we zoomed by.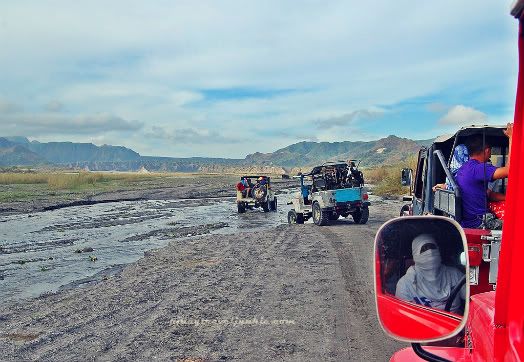 The driver, with his face all covered (not to mention all the military men around), made me feel like we're on some war zone.
I semi dozed during the one hour and 30-minute, supposedly wild ride. And managed to wake up my senses when we got out of the jeep and onto the ash covered ground. Our driver pulled off a
The Fast and The Furious
move and overtook all of the other jeeps, which provided us a peaceful hike. I couldn't imagine how intense it would be to trek with armed soldiers (yes, they had guns hanging on their necks!).
Chuck took her time picking up rocks and scanning them with her geologic keen eyes. She was also carefully choosing which rocks to take home for uhm,
souvenir
research purposes. Battling sleepiness and exhaustion, I got lost in her full on academic discussion about igneous rocks. I thought,
man she's so smart!
Sometimes I wonder if people who don't know her take her seriously because she's still young (24!) and she sorta doesn't exude a geeky, scholarly aura (c'mon, with those hot pants?).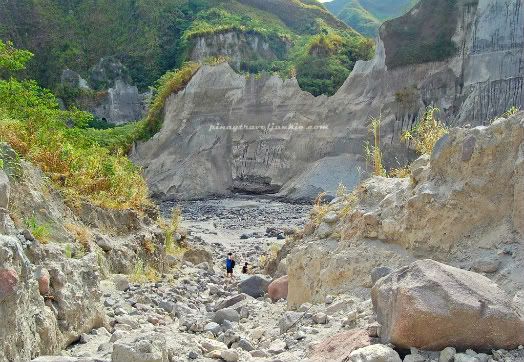 Falling far behind. I'm getting rusty at this.
She mentioned as well that Mt. Pinatubo's one of her favorite volcanoes because it's one of the most destructive in the 20th century. Apparently the more colossal a volcano explodes, the more awesome it is for her. I reminded myself to immediately shoo her away from displaced victims, should she have the chance to be with them, when she starts blabbering about how cool lava flow and ash fall are.
Our group reached the view point in forty five minutes. While my mouth was wide open in dismay because of the murky crater lake, Chuck's was wide open with delight. I voiced my disappointment about the absence of its turquoise-aquamarine hue, but Chuck didn't mind its state and even enumerated possible reasons for it.
The guide motioned us to head to the crater lake, where our boatman was waiting. We all hopped on together with a new acquaintance, an Israeli tourist (we were to bump into her days after in Sagada!). The boatman rowed rhythmically and swiftly as if we were on a dragon boat race. We got to the other side of the crater in just fifteen minutes.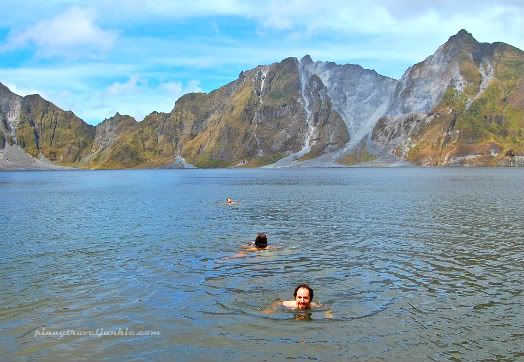 It's safe, we swear!
Without hesitation (well, after our guide assured us it's not suicidal to do so), we jumped in the water. There were random ground patches that were burning hot because of the steam. On the contrary, the water was quite freezing. My head kinda got screwed whether I was feeling hot or cold, because in their extremest forms, I couldn't sense the difference anymore.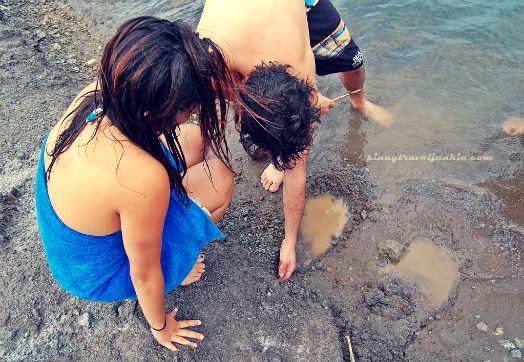 A geologist at work... wrapped in a towel.
In between dips, Chuck surveyed more rocks as she sat by the lake. Occasionally letting her eyes wander off and marvel at the surroundings that's crafted by nature's wrath.
Military men's day out!
She's one proud geologist who was able to make it to Mt. Pinatubo's crater. Next on her bucket list, experience an earthquake!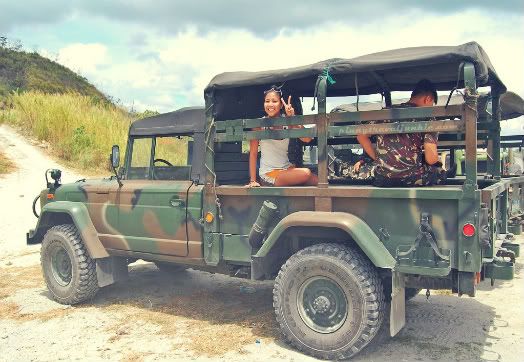 "Give peace a chance."

Won't simply let this opportunity pass, gotta get on a military jeep!
Today is the 20th anniversary of Mt. Pinatubo's massive eruption. The Pinay Travel Junkie offers a prayer to the victims and their respective families.
Tweet
Share
This page was viewed times.