I herded them past the terminal fee ticketing booth with much tribulation. They were fussing about the immigration form they had to fill out (and whinging about the travel tax and terminal fee even if they did not pay themselves). It was not my sister's first time to fly overseas and she patiently assisted my folks while I dealt with mine, the hubby's and my daughter's.
The Venetian, Macau. Taking them to a trip overseas is the most gratifying feeling.
We were at Diosdado Macapagal International Airport in Clark about two months ago, more than two hours early for our flight since we anticipated that something like this would happen. Plus I consulted and asked immigration officials which of our baby Luna's passports would be more convenient to use for the trip. She's unofficially a dual citizen and it was her first time to go abroad as well.
There were heaps of bickering within the group. You know when parents are being difficult because they're trying to not be difficult? Case in a point: When mom says she can lug her baggage herself when she looks like her arms are about to fall off or when dad promises he can still walk even if he already feels like passing out. Yes, they're in that old-ish stage where they just try so hard to prove their worth. And they always, always refuse to accept help.
"
Dati kami nagtuturo sa inyo magsulat, ngayon kami na tinuturuan.
(We were the ones teaching you how to write before, now you're the one teaching us)", mom exasperatingly said while jotting down her details.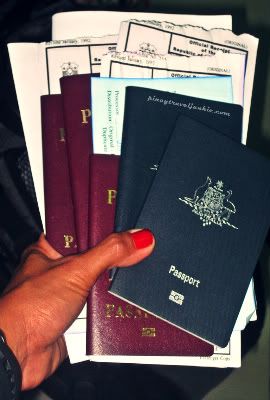 Looking at these already makes me feel exhausted.
It was not the first time I took them on a vacation. My sister and I dragged them before to Puerto Galera's White Beach to celebrate New Year's Eve. It was 2004, and three countries were just hit with destructive tsunamis days prior our trip. Amidst my parents' paranoia, with our encouragement, they braved the beach. Mom enjoyed picking shells (and we had an argument about that "take nothing but pictures" thing) and buying trinkets while dad enjoyed his bottle of ice cold beer at the bar with a book. We constructed a lot of fun memories.
Almost seven years have passed, and us four were/are rarely together.
Because my hubby and I were about to leave the country (for an indefinite time) with our baby, we thought it would be nice to have a grander farewell celebration. Also, my dad has just fully recovered from being hospitalized for days, we wanted to give him a very special treat. By the way the trip was a surprise for them, they didn't even have passports yet when we booked the tickets.
Macau was my choice. My hubby would not have picked it because it's pricier than our other options. My reason for which (aside from the fact that we haven't been there) is that its environment is remarkably different from other countries in South East Asia. More organized transport system, cleaner streets, European-inspired heritage buildings, and opulent hotels. I assumed it has that 'wow' factor that will make them feel that indeed, they are not on Philippine territory anymore.
Sis helping dad with his Macau immigration form. Dad seemingly spaced out, probably couldn't believe he's finally flying out of the country. Baby Luna slept through her first airplane ride!
So did they like it? Let's just say that Macau changed them. And it's actually not the place per se, but traveling overseas as a whole. Their experience also changed the way they see through me, and what they think of me as a travel junkie... and they finally understood why we were embarking on a long journey soon to live in different cities. They have discovered the educational benefit of displacement.
More importantly, our short holiday bunched us all closer together. Something we desperately needed.
Of course we had a few dismal kinks during our three-day stay. Well, my mom and I almost always engage in a hot debate five minutes into speaking with each other - So that's one. Dad had diarrhea, which he already was suffering from even before arrival. Sister just wanted to sleep all the time. And... we fought many times about them not drinking water from the dispenser at the dingy hotel we stayed at (and let me tell you, they drink unfiltered water from a deep well via a rusty water pump in their province - let me tell you also that bottled water is expensive like anything else in Macau).
Okay, so maybe I am overreacting about the last matter. But hey, we're a dysfunctional functional family, perhaps like any "modern family". I shall reveal more of our bizarre disceptations soon... for this post kicks off my Macau series.
I know, I got too many series with intermittent posts.
PS Mom's now nagging me about the next trip.
Tweet
Share
This page was viewed times.