We shooed taxi drivers off our backs upon exiting Bandaranaike International Airport. Shervin and I just arrived at Katunayake, Sri Lanka past seven in the morning on a hot April day. The country's lone international airport sits in this town located more than 30 kilometers north of Colombo.
There was one driver who persistently followed our footsteps, despite us snapping our "we go by bus" mantra at him. His Rs 1,500 ($13) "very cheap price" wasn't cheap for us at all. He lingered around Shervin, who's never good at sternly declining offers, and went as far as threatening us that the bus won't come because it was a holiday.
Our home for a night. And Shervin with his handlebar moustache which he thought was very apt to wear in Sri Lanka. Thank goodness this is a distant shot.
Sri Lanka was celebrating Sinhala New Year. Like Christmas in the Philippines, Sri Lankans from all over the world fly back home to celebrate this big event with their respective families. And more passengers, means more business for transport groups. So I stood by my conclusion that the bus was servicing that day.
And it indeed arrived after fifteen minutes of waiting. I cast a told-you-so face at the cab driver before hopping aboard. Though the rusty white bus was just half full, the driver sped off after collecting passengers in less than a minute. The five-minute ride is free, and shuttles to/from the airport and the main bus terminal of Katunayake.
At the terminal, we searched and asked around for a bus going to Kandy. Amongst the few tourists, we were the only ones not heading to Colombo. A conductor directed us to a big non-aircon bus about to leave. We received a number of welcoming smiles and curious stares as we took our seats. Unlike in Tamil Nadu, India (where we've been a couple of months back), only a few women wore saris and none of the men wore a veshti. They may have embraced western fashion, but their Asian hospitality radiates beyond fabric. On board, for the first time, we were able to engage in amusing conversations with locals.
The ride to Kandy, though four hours long, was delightful (the cheap Rs 110 fare made it even more awesome). It is located 500 meters above sea level, and the road leading there offers calming views of greenery. Its elevation also gives the city a more pleasant climate, something we were looking forward to after escaping the Philippines' burning summer.
The family room, where we had tons of conversations over Ceylon tea.
We alighted at the bus stop near the Royal Botanical Garden. Our Couchsurfing host, Benjamin, commanded us so. He arranged for a tuktuk driver (who eventually became our official Kandy tuktuk driver) to pick us up. Benjamin's house is tucked far in the mountains, no wonder we could only go there by hired vehicle.
He was standing in front of the house, and flashed a big grin when we arrived. He led us inside and introduced us to the whole family. You might have guessed that Benjamin is not a Buddhist (well, his name's taken off the Bible). But even so, his family celebrates the Sinhala New Year too - they just couldn't answer some of our questions about the event's religious rites while we were all seated in the family room.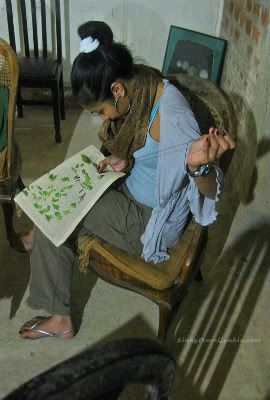 Feeling the "feel at home" vibe a bit too much. Just picked this up from the coffee table. I don't know 'til now who does cross stitching in the house.
After a quick afternoon tea, we handed them a gift from the Philippines. A fridge magnet with a jeep on it, and briefly described how the old U.S. military jeep evolved into the colorful present day public utility jeep that rules the country's roads. They immediately placed it on their fridge. I was proud to have left a Filipino mark in their home, so to speak.
Then, they showed us our room. Our room was basic and breezy, exactly the way we like it. In fact, too breezy and comfy that we unintentionally dozed off for a couple of hours. I jolted up when I heard my phone beep. I read some unimportant text message and panicked as I saw the time which said 3:30 PM.
Benjamin lent us a map to help organize our itinerary (something I vaguely plotted prior the trip) as he left the room before our nap. However, we didn't go through our plans and slept the whole time instead. Shervin and I at least agreed on visiting the Temple of The Tooth in the afternoon, and we only got a few hours left to see it!
You heard me right. The Temple of The Tooth. Whose tooth you might ask is so important that it has to be housed in a temple? Buddha's of course.
Me, Benjamin, Shervin (oh gosh, a close up!), and Benjamin's brother.
I lazily walked out of the room and asked Benjamin to call the tuktuk driver. Our day wasn't over yet.
Planning to go to Sri Lanka? Here's How To Apply For A Sri Lanka Tourist Visa for Filipinos and an idea of how much to spend on an 8-day stay.
Tweet
Share
This page was viewed times.