And I thought
backpacking with a baby bump
is cumbersome. Traveling with a newborn or infant is on a higher level of difficulty - well, more like on a different insane dimension... much challenging than the countless treks I did (no matter how long they lasted), or getting lost in translation, or hopping on dodgy buses and boats.
San Juan, La Union. Luna's first beach trip at two months old. Her longest ordinary bus ride then, two hours from Baguio to La Union via the dizzying Naguillian Road.
There were a few occasions that I was on the verge of crying whilst on a trip. You see, I was never fond of babies and children. A handful of my closest buds still couldn't quite grasp the thought of me raising one. The reason for which, is my lust for a carefree lifestyle.
It was the shock of our lives to find out that just after our honeymoon eighteen months ago, we already got a baby on the way. A made in China baby. Ideally, we wanted to have a child a year after being married. When things didn't go as planned, we didn't have any other choice but to accept our fate and alter our goals.
But our dream of becoming modern day nomads was never shelved. We welcomed our new little backpacking buddy with overflowing joy and pride, and started constructing itineraries that are suitable for her.
And we morphed into one of the most annoying types of travelers... The couple who cannot keep their baby quiet on the bus/plane/boat.
Thirteen days from now we'll be embarking on an epic trip that shall take us to different provinces around the Philippines and random countries across the globe. I firmly believe that this unconventional lifestyle will not only teach us about diverse cultures, it can also provide us New Age parenting ideas that will help us raise a child who's going to be aware of the ways of the world.
She has been constantly traveling since she was a month old. I am no pediatrician nor child care expert, but if you'd like to take your baby backpacking for the first time, here are a few tips:
Before the trip:
Luna's first overseas trip at seven months in Macau. She already had all her basic vaccine shots then.
1. Consult a pediatrician. Discuss with him/her your activities, and the country you're going to if you're heading overseas. It's also recommended that the baby had vaccine shots already, or at least some of them, before you go.
2. What to pack? There are a lot of factors to consider. You need to ask yourself: How long is the trip? What will be the weather? Will I be able to buy baby supplies there? And so on. Then you start estimating how much formula, bottles, clothes, nappies, and baby wipes you should bring.
If you're just traveling within your home country, you could buy more supplies as needed (brands that you're familiar with), easily during the trip. No need to bring a big bulk. Unless you're heading somewhere remote-ish.
If traveling overseas, that's when you should lug larger amounts of supplies if you don't want to experiment on unfamiliar brands. Choosing the right formula (milk powder) for the baby can be tricky.
A few of Luna's stuff we'll be bringing for our upcoming long trip. She took more than a fourth of my 30 kilo allowance. Grrr.
3. In the Philippines, medicine drops (for cold, cough, fever) for infants can be purchased over the counter. When our baby caught a cold in America, we couldn't find any quick remedy in the pharmacy. Ask your pedia if he/she could prescribe a few medicines that you could buy to bring overseas.
4. Research extensively about your destination. Although it's kick arse to be an explorer without fixed itineraries and maps, it would be irresponsible to be such when carrying a baby. Check the modes of transportation. They should be, of course safe for the little one. Also check the duration of each ride. You might not want to be on the bus for hours because you need to be up and alert all the time so you could hold on to your baby properly for drivers sometimes just suddenly step on the brakes or swerve.
On the road and up in the air: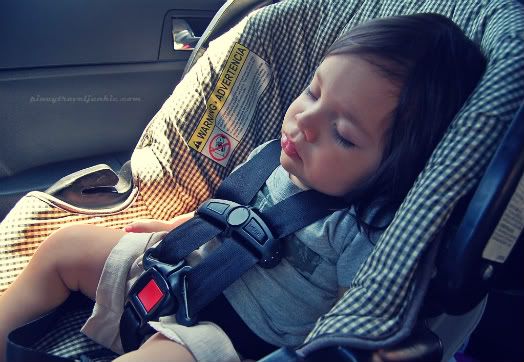 Luna sleeping soundly in her infant car seat which we rented for cruising around California. Gave me good naps too, knowing that she's safer in it.
1. When traveling overseas, especially in the west, check the regulations on infant/child car seat. You might need to look into renting one.
2. On buses and cabs (in countries without the infant/child car seat regulation, you're not allowed to sit in front with the baby.
3. Most airlines charge for children 2 years old and below even if they don't get their own seats. If you feel like letting your baby just sit on your lap during flight is unsafe, you may opt to buy him/her a ticket and bring an infant car seat (if you own one) to strap on the airplane seat. Consult the airline company about this first.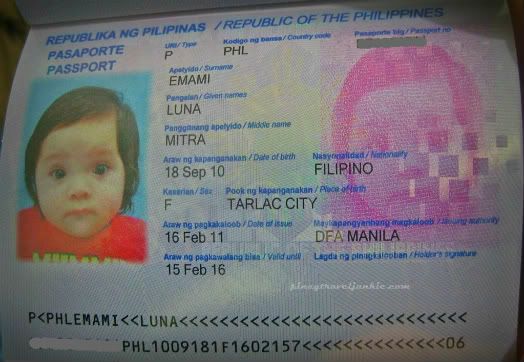 An infant traveling overseas should have a passport.
If you brought a collapsible buggy, you could check it in at the gate before boarding. Fold it first before handing to them. Upon arrival, it can be picked up either by the door or at the baggage claim area.
4. Aisle seats may be more convenient for you so you could easily head to the toilet anytime (without awkwardly excusing yourself often) or stand to walk around and lullaby your baby to sleep.
Speaking of toilet, there's a nappy changing table for infants available inside an airplane's rest room. Bring a blanket to lay your baby on so it would be more comfy for him/her. Do not forget to strap the baby before changing.
Left: Baby holder inside a rest room cubicle in Narita International Airport. Right: Reading these instructions is a must!
5. An airline's cabin crew should hand you the baby's life vest before take off. Ask for one if they've forgotten (it happened to us). Peruse the manual for the instructions on how to use it.
6. Like everyone else, the baby needs to be hydrated during flight.
7. If you're on a ferry/boat, ask if there's an available life vest for the little one. If there's none, which is most likely, come prepared. Bring an inflatable floater.
When you get there: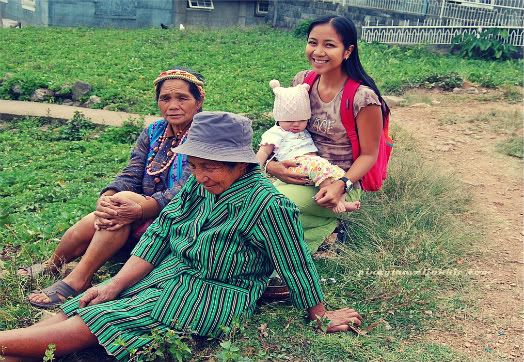 With Sagada locals during a celebration in a

dap-ay

. Hiked without using a baby sling or carrier. Whew! And yes, we went to Sagada by GL bus from Baguio. Luna passed the highest point of the Philippines' highway system.
1. Once you've reached your destination, it's wise to check the location of pedia clinics in case you would need a visit. Don't forget to bring your baby's record book.
2. A baby sling or carrier will definitely make your wandering easier. Unfortunately, not for me and hubby. Luna never liked the constricting feel of it. Nor did she like riding the stroller. So I carry her most of the time. My empowering thought: A woman I saw in Sri Lanka who got on a train and carried her child for two hours while standing.
3. Instead of bringing a big baby shoulder bag, use a backpack instead. It will let your hands move freely. It also won't give you further shoulder/back pain.
4. Choose accommodations wisely. Your chosen one shouldn't be known for bed bugs. Also, if you cannot afford a hotel room, pick a guesthouse/hostel that have actual cemented walls. Not makeshift, thin dividers. You wouldn't want other guests to come knocking on your door in the middle of the night to tell you to shush the baby.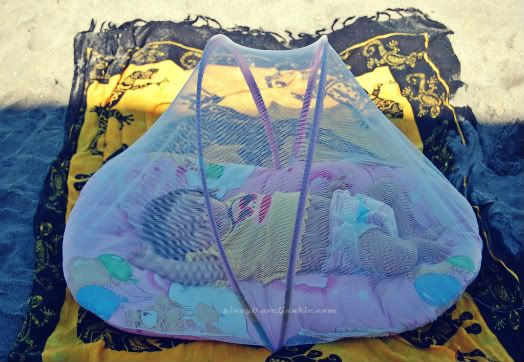 This mat with an attached mosquito net protected Luna from mosquitoes and sand blown by sea breeze. Bought for about P300, or $7.
5. Cheap accommodations also do not provide a baby cot or crib. Be prepared to sleep with the baby (if you're not a co-sleeper). Bring mosquito nets, by the way, especially when traveling in tropical countries.
6. Take heaps and heaps of photos!
Backpacking with a baby may seem like self-punishment. Truth is, now that I'm getting the hang of it... It's the most rewarding thing I have ever done in my life. And I'm totally not alone! Check out my fellow backpacking Pinay mums Eileen of
Possibly Pinay
, Kim of
Indie Escape
and Audrey of
Byaheng Barok
.
To all the women who are of the same species, throw your hands up at me!
Tweet
Share
This page was viewed times.