... disrupted by a baby wailing in an infant safety seat. It was almost six in the evening, and yet the sun's still high and mighty. I squinted as my eyes swept the beach and craned my neck out the car's window for Santa Monica Beach has a very, very long stretch.
Last hurrah for spring.
My 8-monther Luna continued to inordinately whinge (it was her first time to be strapped in such seat) as my friend Nadgeda parked the car. I froze when I stepped out. Judging by the way other beach goers wrapped themselves, I concluded that I wasn't just the one with the chill.
It was our second day in America. And I still couldn't believe we're there, thanks to the guidance of
visum usa-ESTA
. Fresh from sunny Philippines, I initially thought I was the only person suffering from
May Gray's
frigorific bite when I caught sight of teens in hot pants and skimpy rompers. They're probably cold too but would rather be the first to don this year's summer fashion forecast by top designers than be in a comfy seat suit.
I took Luna out of the car. She wasn't shivering like me but I enveloped her in my pashmina shawl anyways. We strode towards the bridge to Santa Monica Pier while Nadgeda, a Haitian-born-Florida-raised Los Angeles resident, pointed out and discussed parts of the bay.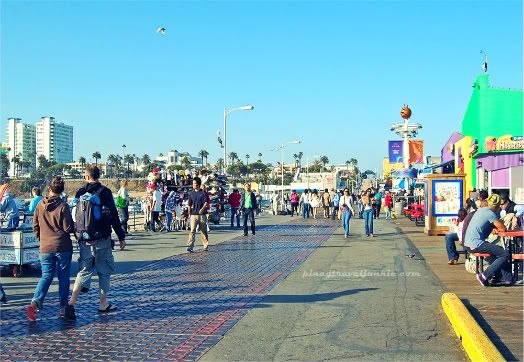 Wonderful Wednesday walk.
A big Bubba Gump Shrimp Co. resto perched off the bridge's wooden planks revealed itself as we got closer to the pier. Nadgeda shared that it's a restaurant with a Forrest Gump theme (original one's in Monterey, California). She was taken aback when I told her that our country has a branch, among the not so many worldwide.
We moved inwards the pier, past the souvenir shops and street performers. It wasn't so crowded that Wednesday. There were only a handful of customers dining al fresco, with food grabbed from the kiosks dotted around the area. A number of which were enjoying a cup of brew from The Coffee Bean & Tea Leaf, also a California-based cafe chain.
There were even less people on the rides of admission-free Pacific Park. I would have tried some had Luna agreed to be held by someone else. Nadgeda could only carry her for less than five seconds, after which Luna throws a deranged tantrum. And so all we could do was to keep strolling.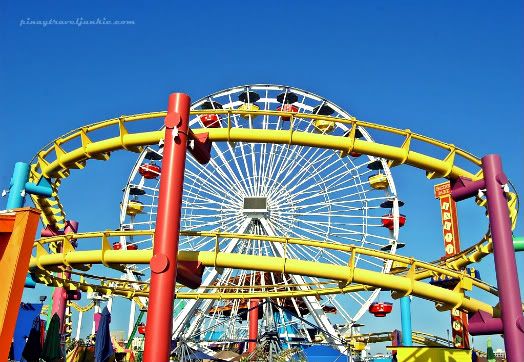 First and only solar-powered ferris wheel in the world.
John Mayer's song
Clarity
played in my head as I retraced his footsteps in the music video.
♪"... And I will wait to find, if this will last forever."♪
I stood close to the edge by the rail and momentarily watched a couple of anglers waiting for a tug. I wondered what kind of fish they hope to catch.
I struggled taking photos with my right hand and carrying an infant on the left (not to mention the heavyweight tote bag full of baby stuff dangling on my shoulder!) while battling the nipping breeze. Santa Monica Beach may not be a tropical paradise but picturesque nonetheless. Reason why Hannah Montana, the new 90210 and other television series were/are being shot here.
Anyhoo, I eventually gave up on trying to get decent snapshots and stomped to a souvenir stand for retail therapy. Nadgeda spoke to the Mexican guy who manned it. "You're not flying kites today", voicing out her observation. "Not too windy", he replied. I browsed his merchandise from kites to fridge magnets to postcards. He's also selling small toy VW Kombi vans with a surfboard on the roof with
Sta. Monica Bay, CA 2011
handwritten on it. He said new stock just arrived with other colors aside form the blue and green on display. I asked for a yellow one because I assumed it would look cute beside the yellow tuktuk model I bought from India for Luna.
Left: Retracing John Mayer's footsteps in his song Clarity's music video. I'm obviusly a fan. Right: Mexican guy's souvenir stand.
The toy cars are shipped from Brazil, but yeah, made in China like everything else. He asked me if I'd still purchase it even though it doesn't have the
Sta. Monica Bay, CA 2011
label on it. I raised my brows in inquiry and he explained, "We just write it ourselves". I told him I could wait while they write on the toy but then he said the guy who does it already left and that he can't do it himself because he's got "ugly writing".
I bought it anyway and thought I might as well write it myself. Heck, I could even label it
Hawaii 2011
or
Brazil 2011
. As we were about to leave, he asked where we're from. When I answered I'm from the Philippines his lips broke into a huge grin and blurted, "I love pancit and adobo!". He also eats at Goldilocks. It's amusing to know so, for Mexican dishes are distinctly different from Pinoy fare.
We bid him a jolly goodbye and made our way back to the parking lot for Luna was crying uncontrollably. I fussed and thought she might be finally freezing too. In the car, I strapped her in and gave her milk bottle. I soon found out she's dozy for she slumbered within ten minutes into the ride. It was a peaceful drive to the hotel during rush hour traffic. I resumed my California dreamin'...
Tweet
Share
This page was viewed times.