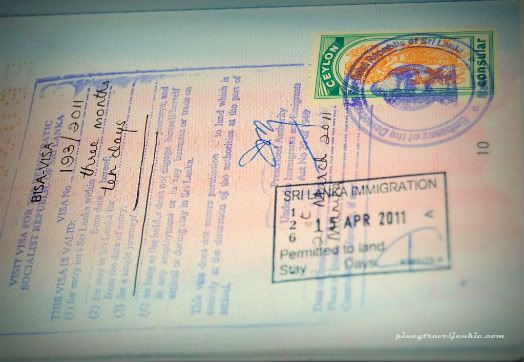 Is way less cumbersome than
applying for an India tourist visa
. No expensive shuttles to the embassy, no long queues (actually, no queues at all!). And like India, Sri Lanka provides visa on arrival to Filipinos as well.
However, we chose to apply for a visa beforehand, by reason of preventing a possible immigration hassle.
The Embassy of the Democratic Socialist Republic of Sri Lanka is conveniently located along Legaspi Street in Makati, not in some village with ridiculously high security. It's situated in Corporate Plaza Building, so remember to bring a photo I.D. to leave at the reception.
We brought the following requirements:
1. Passport
2. 2 passport sized photos
3. Return ticket
4. Bank statement
5. Marriage Certificate (could be asked if you present a joint bank statement)
* They might also ask for an employment certificate.
I fondly sniffed the aromatic blend of old office building scent and incense smoke fragrance as we entered the embassy. Aside from the secretary who receives/makes calls every so often, the whole office is unhurried.
After jotting our names on the logbook, we were led to a room where a Sri Lankan officer assisted us. She gave us forms (which looked very, very, very old) to fill out. She gleefully chatted with us and suggested a few destinations while we wrote our details (Note: You should provide accommodation details, be ready with a hotel name).
We paid P1,600 each for the visa. Then she provided us with a stub to present on the release date (three business days after).
It's that easy! Life's been hectic since our trip to
Incredibly India
three weeks ago. Time for some R & R in Refreshingly Sri Lanka...
At the time of writing, Sri Lanka still grants a 30-day on arrival visa to Filipinos. But as stated on their website, "on arrival visas will be granted only for

genuine bona fide tourists

at the sole discretion of the authorities at the port of arrival". Further more, the "passenger should possess return air ticket, sufficient foreign exchange to cover the period of stay and any other requirements stipulated by the immigration authorities". So there, you guys might be interested in applying beforehand as well.
Embassy of the Democratic Socialist Republic of Sri Lanka
Adress:
Corporate Plaza Building 7th Floor
150 Legaspi St.
Tel. No. (02) 812 0124-25
E-mail: slembmanila@pldtdsl.net
Tip: Building is near Dela Rosa Street.
Tweet
Share
This page was viewed times.