In some parts of the Philippines, the world barely exists at 4:15 AM. Definitely not in Manila Domestic Airport. Its departure area's already a frenetic scene of foreign backpackers poring over guide books and business travelers surfing via mobile web.
The air smelt of coffee. I longed for a cup.
I had no sleep at all. The previous night I sang my lungs out with fellow bloggers
Monette
and
Marky
(this guy's more of an audience though) at some cheap karaoke joint. I reassured them, I'd rather be up all night than sleep through my alarm. I've never been late for a flight, and I make it a point that it stays that way. Forever.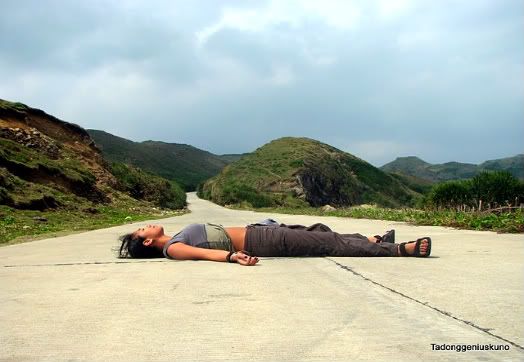 On the brink of slumber. Exhibit A.
I was bound for Batanes. It was an
all expense paid trip by SEAIR
, which I won from a
blog writing contest
(I almost didn't make the cut, click
here
to find out why). There were seven lucky winners. All but two of us, who extended their stay at their own expense, already flew the day before.
I scanned faces among the waiting crowd, but didn't see anyone who came close to how
Michael
looks like in his photos. I haven't met him so I uhm, kinda stalked his Multiply account.
Upon boarding, I glimpsed at my fellow passengers (glimpsed too many times, I think I kinda scared some people) but still didn't spot him. No sign of Michael in the plane either. I actually thought he didn't make it.
Exhibit B. Laid on this bed in the House of Dakay after photo was taken.
The flight was a comfortable one hour twenty minutes. Pinay Travel Junkie Confession: I was terrified of SEAIR's small plane at first (but hey, that's way better than the 8-seater I took from Laoag to Basco years ago). Another confession, I'm scared of flying, period. And I got Nat Geo's Air Crash Investigation to blame. After reading from the in flight magazine about the awards SEAIR won, I relaxed a bit.
A few minutes past 7, Batan Island came to view. Excitement was obvious on everyone's faces. It was a thrill to land on a short runway, with a postard-esque view of cows on vibrant green pastures.
Groggily, I stepped out of the plane. I jolted as the cold breeze bit my skin. Then I remembered I didn't bring my jacket. I rushed to the arrival area to take refuge. I saw a guy holding up a cardboard with my name and Michael's. I introduced myself to him and he told me to just wait outside and that he'll just take my luggage.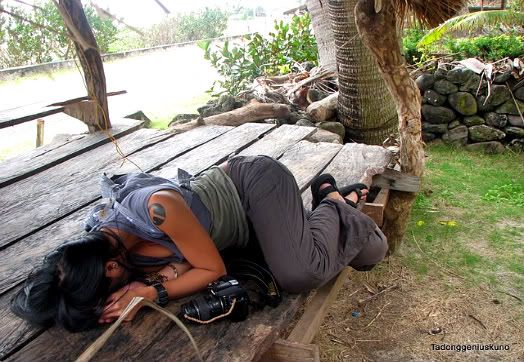 Exhibit C. Don't ask, cannot remember where!
And then, I saw James. One of the winners who submitted the
funniest entry
to the contest. That's not just my opinion. That is a fact. I hid behind a post and contemplated, is my sleepy self ready to have a chat with his hyper self? He seemed very awake and he looked like he already had a long day.
After taking a deep breath, I stepped out of the post's shadow and shouted, "James!". He coolly strode toward me. First thing he mentioned was, he ran from the accommodation to the airport. No "how was your flight?" or "you look younger than 40 something in person (he actually told the group I'm already in my 40s!). He asked about Michael.
That's when we found Michael, by the arrivals exit. He looked at us when James mentioned his name. We exchanged shy hellos, then walked to the van which took us to Hiro's Cafe for brekkie.
Met the rest of the group there:
Leon
,
Izah
,
Bless
, and our guide
Engr. Joseph Dy
. They were all happy, shiny, giddy people at 8:00 AM. Armed with cameras and armored with jackets, they looked so ready to battle a Batanes winter day.
I, on the other hand, was about to crash. Yet contrary to the photos here, I wasn't able to take a nap, even for just a few minutes. Someone (*cough* James *cough) actually snoozed more that afternoon. Find out how I survived day one as a zombie on the next installment!

A shout out to

kompanyero

Leon, my paparazzi.
Tweet
Share
This page was viewed times.