Exactly a year ago, 7th of May 2009, Shervin and I set off for our
6-week backpacking trip across six countries
(Malaysia, Brunei, Indonesia, Singapore, Thailand, Myanmar) in South East Asia - with a budget of $1,000 each. And where did our epic adventure begin? Malaysian Borneo.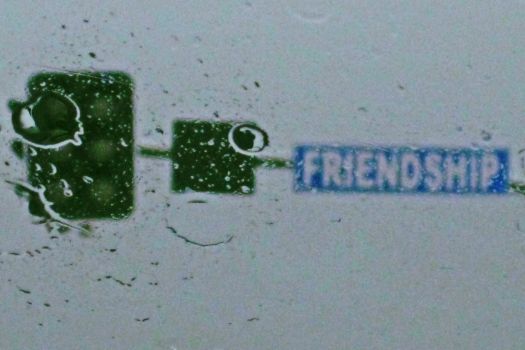 Signal no. 2 typhoon on our departure day. A bad omen?
Our flight to Kota Kinabalu was with Air Asia (P1,800), so we needed to travel 2 hours to Diosdado Macapagal International Airport from Manila first. We took a bus from Victory Liner Pasay Terminal to Dau (less than P200), trike from Dau to Clark gate (a whopping P70 but the storm didn't leave us with any other choice), then finally a cab from Clark gate to airport (P300).
A much easier way to get there is to hop on a
Philtranco bus from Pasay or Ortigas (P300/350)
that will take you directly to the airport, which unfortunately we weren't able to book. These two options almost cost the same (granting you're with a backpacking partner to split the fares with), so take your pick. By the way if you're flying back also with Air Asia, you might want to reserve Dau-Manila bus tickets already at no cost.
We were running late and were hoping that the flight would be delayed since there was a storm. When we arrived, the AirAsia check-in counter was still open and on its digital signboard flashed 'on time'. We felt relieved and thought we got a few minutes to grab a bite at the departure area, until the girl from the counter told me I must buy a return ticket to the Philippines. Otherwise, I won't get past the Filipino immigration officer.
It felt like the
Amazing Race
. We ran to the ticket sales booth and hurriedly decided on our return date. The Cebu Pacific attendant gave me a ridiculous price of P14,000, Bangkok to Manila. I don't know if she was confusing herself as a PAL officer or ripping me off, or just high. So we settled for another Air Asia flight, P3,800 Kuala Lumpur to Clark dated 22nd June. Shervin, an Aussie citizen, was not required so he didn't buy his - plus it will be easier and cheaper to reschedule just one flight in case we would want to extend our vacation.
After scoring the tickets we sprinted back to check-in, paid P1,620 travel tax and P600 terminal fee, breezed through a short immigration queue, then sat on the plastics waiting area chairs to catch our breath. The flight wasn't as 'on-time' as they claimed, so we were able to munch on a Jamaican Patty before boarding.
The plane ride was insanely turbulent for almost half the way. I've never been so scared in my entire life! In my head I scolded myself for watching too many episodes of National Geographic's "Air Crash Investigation".
We arrived at Kota Kinabalu International Airport two hours later and found the money exchange counter closed. We weren't that worried though since the place we'll be staying at is just three kilometers away. Two weeks before the trip, I asked a
Couchsurfing
member if he could host us for three nights. He agreed, and trustingly provided me his residential address.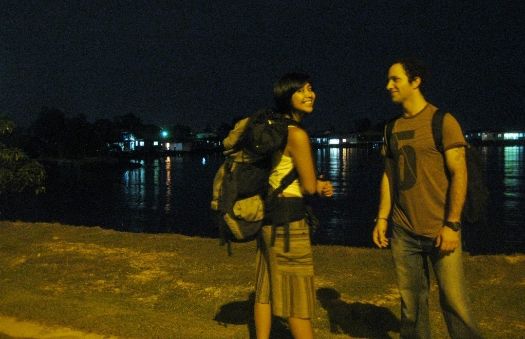 We busied ourselves taking photos along the way so we'd barely notice the long walk.
We walked for an hour and found his place with the help of non-English speaking locals kindly pointing the directions. After entering one of Grace Ville's gates, a guy behind us called out my name. It was Kuni.
Kuni led us to his apartment, showed us our room, gave us the keys, and asked "Was your flight delayed?". He smiled and nodded in amazement when we replied that we walked all the way. Then he invited us to join him and another CSer (also staying at his place), Anita, for dinner. He lent us money to buy food, since we didn't have ringgits yet. After our first Malaysian meal, with getting-to-know-you conversations in between, we all went back to Kuni's to rest early for activities the next day.
I plopped on our queen-sized bed, and fixed my sleepy eyes on Shervin who was poring over Kuni's Lonely Planet Borneo... my last memory that night was of him, taking photos of the Kota Kinabalu pages.
Tweet
Share
This page was viewed times.