We woke up to an empty house the next day (blog continued from
here
) at 9-ish. We were staying at Kuni's, our
Couchsurfing
host. Kuni already left for work, and Anita (another Couchsurfer staying at his house) already headed to
the islands
for a day of snorkeling. We didn't have any sightseeing plans that day, for we wanted to spend some time organizing our week ahead in Borneo.
Model of a traditional long house.
From the money that Kuni lent
the night before
, we had RM1.5 left - 10 cents short for a bus ride from
Grace Ville
to the mall (.80 sen each person for short distances). So again, we had to walk three kilometers to the city center. After forty minutes, we reached the mall (forgot which) and were able to exchange money. Then checked with a travel agent nearby for AirAsia flight options from Kuching to Jakarta (we wanted to book it straight away for a cheaper rate). The agent advised it's better to do it online so we need not pay for their service. And thank god, she informed us that we should book an onward ticket out of Indonesia also, because the immigration will ask for it once we've arrived.
We found an internet shop within the same building and logged on for an hour (RM3) and concluded it's best to purchase all tickets online. We thought we'd do it later though so Shervin can check first how much his credit card company will charge him for purchases overseas.
It was only midday, so we decided to check out the Sabah Museum Complex. From the city center, a cab will cost you RM15. Admission fee to the museum's main building is RM15 (cameras are not allowed and should be surrendered at the luggage counter), and is open from 9:00 AM to 5:00 PM daily. It houses several interesting historical and archaeological artifacts. A lot of informative text boxes are posted on the walls too. The most interesting read for me was about the old friendship ties between Sabah, Malaysia and Sulu, Philippines.
Lake within the museum complex.
After perusing the exhibits, we got out of the museum proper and explored the rest of the vast complex. We walked through the botanical garden towards the heritage village where we heard indigenous music being played. We soon found out that there was an ongoing show. A few locals dressed in costumes were dancing the
tinikling
(yes, that Filipino national dance!). In Malaysia, I think it's plainly called 'Bamboo Dance'. They invited a few people from the audience to try it with them. Pretty entertaining.
Sabah Museum in Bukit Istana Lama
Aside from the long houses, there's also a small (man-made?) lake within the heritage village. Around it are traditional machineries (some constructed out of bamboo poles), like the sugar cane and sago extractors.
Shervin and I find heritage villages too 'staged', but we enjoyed our visit. After all, it's a calming escape from the state's capital. Around quarter to 4:00 PM we made our way back to the museum's entrance. We told the cab driver who took us there to fetch us after a couple of hours but he didn't show up.
So we walked out of the museum complex to the main road and waited for a cab. A driver told us to get in even if he still had a lady passenger. After he dropped her off, that's when he flagged down the meter. Fare back to Kuni's place was only RM10.
In the evening, we had dinner with other Couchsurfers at the Filipino Night Market (just beside the Handicraft Market). We had grilled squid, lapu-lapu and some other unknown but yummy fish. Anita craved for chicken ass (which she learned to eat when she travelled around the Philippines) and bought them grilled on skewers. She was not entirely happy how they were cooked, comparing them to the Philippines' crispy version.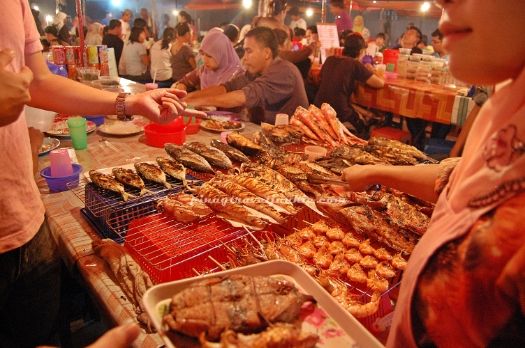 Cheap seafood feast!
After dinner, the group agreed to have a few drinks before calling it a night. While walking by the water, I wondered where the Filipino vendors were (why will it be named Filipino Market if there weren't any?), since Asians are difficult (if not impossible) to tell apart. I spotted one while we were on our way to The Loft. I heard a fish vendor singing along Aegis' 'Luha', which he was playing on an old school cassette player. He interchanged humming and calling out to customers in Bahasa Malaysia.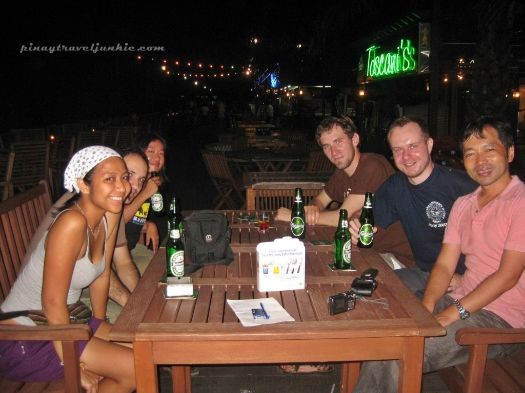 From left to right: Me, Shervin, Anita, Kuba, Maciek, and our gracious host Kuni.
At The Loft, it took us long before ordering a bucket of Heinekens. We were a bunch of cheapskates and were not willing to spend a lot on alcohol. Anita couldn't believe San Miguel's more expensive than Stella. I said, "Pinoy represent!". I didn't buy it though, cause yeah, it was hell expensive.
[South East Asia in Six Weeks Series will resume after the next post, Mother's Day at Manila Zoo.]
Tweet
Share
This page was viewed times.