It is unfortunate that only the brave can travel this part of the country. I wouldn't have dared too, if not for the Basileños I've befriended in
Zamboanga
. They said Basilan is not as dangerous as the media projects, so long as we stay away from certain unsafe, off-limits
Abu Sayyaf
areas. This was back in 2006. The month we visited, Khadaffy Janjalani was reported dead.
We took a fastcraft from Zamboanga to Isabela, Basilan (one hour). We were greeted by an insanely hospitable group of fishermen selling their fresh catch.
Can't believe I'm actually here!
We politely declined and walked to the other side of the pier where boats to Malamawi Island depart.
My kind hosts did not let me pay for anything, so I have no idea how much we paid for the boat ride. When we docked Malamawi's makeshift port, we hired motorcycles to get to the beach. I was surprised how beautiful their white beach is. I guess I was captivated by its charm of isolation. Admission fee is P10, small cottage P50, big cottage P200.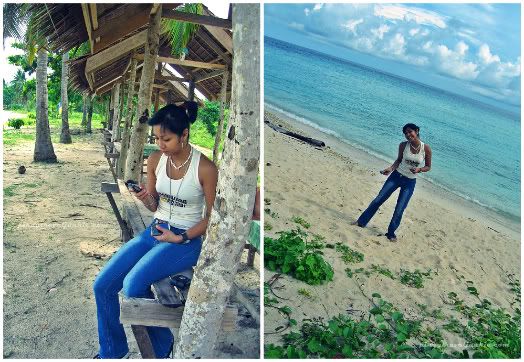 Left: Sending an SMS to the whole family, "I'm still alive." Right: Uber excited to take a dip!
While the others grilled our seafood (we bought from Malamawi White Beach Resort), I stripped down to my two-piece and everyone just gawked. I was terrified I did an illegal thing! One of my hosts laughed and said, "I think this is the first time they've seen someone in a bikini". I was relieved, but only did a quick dip since some guys started taking videos of me with their mobile phones.
Malamawi Island's White Beach.
After lunchtime, we headed back to mainland and I was introduced to another Basileño. In Lamitan, I met Toto, a cycling enthusiast who used to join small fashion shows and modeling contests alongside model/actor John Estrada (a Basileño himself). Toto said that my hosts were 'showing me off', not just showing me around. Apparently, one of them told him, "You gotta meet this sporty, suicidal Manileña".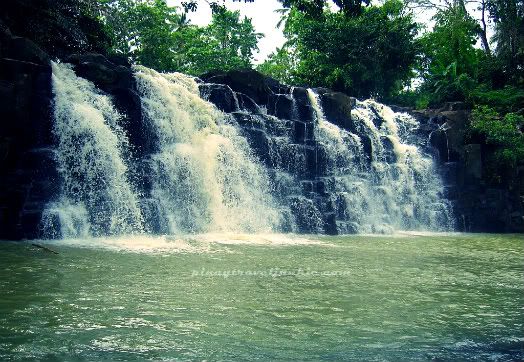 Bulingan Falls, a 15-minute ride from Lamitan town.
He agreed to come with us to Bulingan Falls, where we spent our afternoon before catching the last fastcraft back to Zamboanga. We decided not to spend the night in town just to be safe.
I was able to know my hosts better while we were lazing by the falls. Most of them have never been outside of Basilan and Zamboanga, and the only other girl (aside from me) Karen, had a crush on Khadaffy Janjalani when they were still in school. Such a shame I don't have any form of contact with them now. It would be great to visit their hometown once more - and I might still not have enough guts to go by myself.
I hope more Filipinos would have the chance to see the humble beauty of Basilan, don't be afraid that 'breathtaking' might just be too literal.
Tweet
Share
This page was viewed times.