Türkiye, why only fifteen days? Whyyy (Looks at the sky with fists up in the air)?!
... Snaps back to reality.
Merhaba!
Just flew in Istanbul today from Singapore, with a three-hour layover in Abu Dhabi International Airport. Though sleep-deprived, my heart's racing. A couple of hours into our Turkey trip, I've already fallen in love
— we haven't even seen any of the sights yet! And oh, a lot of Turkish people have fallen in love with Luna too.
I tell you, I have to be dragged out of this bewitching country when my visa expires. Seriously? Fifteen days? We were thinking three months to see everything on our list.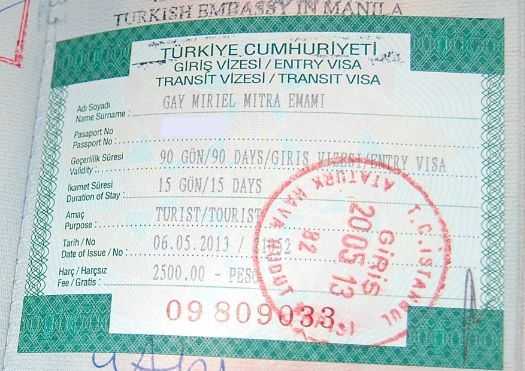 We took it obviously. I dreamed of Turkey far too long. As for the hubby, he's simply ecstatic to be back.
Are you (my fellow Filipino) planning to visit someday too? This post could be of help.
They do not accept inquiries on the phone.
I paid them a visit just to inquire about the requirements and I had to pay for the shuttle service!
Requirements for Turkey Tourist Visa Application and Business Visa Application
1. Completed application form. Form is provided at the embassy.
2. Passport-size photo. To be attached on the form.
3. Passport and photocopy of the first two pages.
4. Certificate of Employment. The applicant's job title, work record and monthly/annual income must be indicated.
5. Latest Individual Income Tax Return
6. Company's latest Income Tax Return if travel is business related.
7. For business owners - Company Business Registration such as SEC and DTI
8. Original Bank Deposit Certificate addressed to the embassy. No specified amount, but some travel agency officers I spoke with in the embassy suggest P100,000+.
9.
If invited by government or private sector and international companies or institutions holding office in Turkey
- Original invitation letter adressed to the embassy.
If invited by a Turkish national
- Original invitation letter must be notarized in Turkey, affidavit of support and pertinent credentials of the invitee together with the Turkish IDs and other supporting documents.
10. Confirmed hotel accommodation booking.
11. Round-trip airline ticket.
Application day:
Unfortunately, the embassy resides in Dasma
riñas Village, which means you have to pay P150 for a round-trip shuttle ride. Take note, as a non-resident you're not allowed to walk to the embassy from the gate nor from the embassy to the gate, no matter how close the distance is. But some travel agency officers do it anyways because the shuttle (there's only one) comes by every 20-30 minutes. If you're coming in by private car/taxi, the guard at the gate most probably will tell you to take the shuttle also. The embassy's address:
Embassy Of The Republic Of Turkey
2268 Paraiso Street,
Dasma
riñas Village
Makati City
How to get to Turkey Embassy: By public transport, simply take the MRT and alight at Magallanes MRT Station.
When you get to the entrance (gate beside Ecology Village), do not forget to write your name on the logbook. If you can't find it, ask the guard. The driver may not let you board if you don't. He sometimes uses this as basis on who to serve first.
Payment of shuttle service is done at the village office. The driver takes you there first, before bringing you to the embassy.
Bags are checked in at the embassy's guard post. Mobile phones must be left there too. You can only get in the office with your documents.
You'll be asked to write your name on a logbook inside the office. The guard will then give you your application form and number.
Wait can take up to three hours. Dedicate your whole day for the application. Do not come with an empty stomach (the embassy guards
discreetly

sell biscuits and cup noodles at their post, ask if they have some if you're about to pass out from hunger).
Original documents and their photocopies are presented/submitted to the secretary.
Incomplete documents are not be accepted. If satisfied with the documents, secretary will ask for the P2,500 single entry tourist visa fee and will give you a claim stub with the date of visa release. Also, ask if you can take the original documents with you (except passport and bank certificate) after the secretary has seen it, because they might not remember to give you back come visa release.
How long is the processing time for a Turkey visa? Within ten working days from the receipt of the application.
IMPORTANT
- All invitation letters will be submitted by the applicant and should be faxed to the embassy prior to application.
- Guards will let you in from 9:30 AM to 12:00 noon. Embassy will serve everyone who came within such time window until afternoon.
- Embassy is open from Monday to Friday except Wednesday.
Visa Release Day:
Pay another P150 for the shuttle service. Register at the embassy guard. Oddly, you may give the secretary your claim stub at anytime, so long as she's not speaking with another applicant. In my case, I handed it to a guy who came downstairs (office has two floors) to release passports to travel agency officers.
He gave my passport within a minute, but I still waited for more than an hour prior because there was no staff in sight on the ground floor except the guard.
If you have work on weekdays, you may seek the help of a travel agency for your application. I initially planned on doing so because I don't have a COE. I decided to apply myself when the travel agency "boss" appeared hesitant about my application just because my onward flight goes to the country Georgia, which she does not know of!
Share
Tweet
This page was viewed times.