Yes, fellow travel junkies in the Philippines (specifically Luzon), today I recommend you to stay indoors. That nonstop rain is a real bummer. This morning we were supposed travel from Tarlac to Makati for a visa application, but because of those darn floods, we didn't push through. Some part of me is furious, yet a better part of me is feeling grateful for we're not directly affected by such calamity. Though we might lose thousands of pesos on a rescheduled flight, this dilemma is nothing compared to losing a car, a house, a relative, even a pet.
So I quit my whining and started looking into options on how to help others in our own little way.
Now since we're gonna be stuck in our homes for another day (or two or three), Tube Travel Tuesday is back to nourish our adventure-hungry souls. Here's another list of flicks that shall keep you company whilst you're buried under those sheets...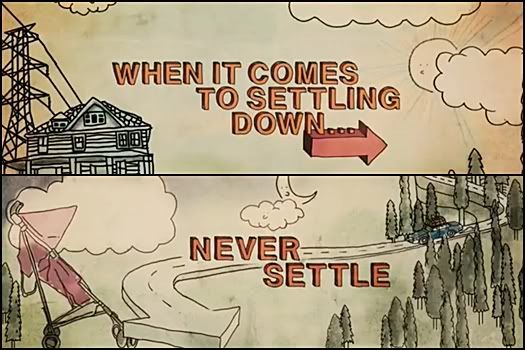 "When it comes to settling down... Never settle."

, says

Away We Go

's trailer.
Away We Go
A recent find, thanks to
the awesome drummer of The Strangeness
(a.k.a.
Ze Ex
). Its story I can relate with the most at this time of my life. The main characters, steadies Burt and Verona, got knocked up unscheduled in their early thirties like hubby and I (Verona's a year older than Burt, I'm a year older than hubby too).
During the pregnancy, the couple visits Burt's parents who live within the area and found out that they're moving to Belgium a month before the baby is due. Between Burt and Verona, the latter's the worrier (Burt never gets angry like hubby too!) yet she's the one who pointed out that they could live wherever they want. And that's when there vagabonding begins... In search of the place where they will raise a family.
Towards the end of the flick, they found their possible home. I reckon it will be our future home too, someday when we finally decide to settle down. And oh, I
love
the soundtrack!
Hotel Very Welcome
Hotel Very Welcome tells the divergent stories of five Europeans traveling in Asia. In Thailand, Svenja missed a flight and calls a Thai travel agent who becomes her phone pal. Buddies Josh and Adam from England, also in Thailand, parties hard amidst money problems. In India, Liam explores the country with a guide, pondering about a one-night stand gone complicated. Marion, who's prolly in India too, does soul-searching through mediation and dance.
I love the film's rawness. The lines from the script sound like they came straight from a backpacker's mouth, and the characters feel so real. I found a piece of myself in every one of them.
The soundtrack's royally cool as well.
The Darjeeling Limited
Reiza of
Wander If You Must
:
Probably not one of the best travel flicks I've ever seen, but "The Darjeeling Limited" made quite an impression on me, though it left me with a pang of guilt over my oftentimes spontaneous, purposeless trips. The story revolves around three semi-estranged brothers who went on a train trip through India to rekindle their bond a year after their father's death and to see their eccentric escapist mother, who went to become a nun in a monastery on a hill. It's a family tragedy of some sorts, bubbling up and then fizzling down, unfolding unexpectedly towards an ending that fortunately brings a sigh of relief. The film is rightfully funny, moody in some parts, gently heartbreaking, quite scenic without being overwrought. It has an off-kilter element of philosophical wisdom thrown in bits and pieces here and there, which actually led me to revisit the reason I travel: is it to escape, to find myself, to be a better person?
Often when I travel, I think about the shallow feelings of excitement that I want to cherish. But even through that haze of thrill, essential realities emerge. The movie reminded me that traveling with a purpose is definitely going to add a lot of character to us and make us carry on. My motivation for travel has since taken a more sentimental and meaningful turn.
Y Tu Mama Tambien
Rain of
Rakistang Nars
:
Set in the real world Mexico, Y Tu Mama Tambien is a fabric of interwoven truths: politics, poverty, drugs, sex and youth. On a road trip to the initially fictional Boca Del Cielo, a couple of teenage boys and a broken young woman laughed and lived, fought and f***ed. It is a story of discoveries-- of Boca del Cielos, of life, and of oneself.
I came to know of it at the height of my activism following a stint as a campus journalist. It spoke of my plight at the time-- my brooding, melancholic and raging passion against authority, reality and mor(t)ality. The movie validated how I was reckless and romantic at the same time, how sins were attractive and how truths were uncomfortable. At any given point in the past, I have found myself in the shoes of Tenoch Iturbide, of Julio Zapata, and of Luisa Cortes. I lived for the moment. Then again, that was the way of the youth.
A Map For Saturday
Angelica of
Angge Turns 26
:
A Map for Saturday is a documentary created by Brook Silva-Braga. It gives us an idea of the modern backpacking world. Both the hassles and wonders of backpacking and especially of travelling alone. He travels through Australia, Asia, Europe and South America. In between the still shots of beautiful landscapes and people, he interviews his fellow backpackers about life on the road. The reason why people travel, the instant friends and constantly saying goodbye to people, the burnout point when travelling becomes tiring and ordinary, the anxiety and stress of going home and facing 'reality', and the addicting quality of travelling.
This was the documentary that gave me the (once) crazy idea of doing something with my life – deciding to finally quit my job and travel. It took me almost a year to save up and prepare for the trip. My decision, like his, was also questioned by people around me. But this did not stop me. Five months of backpacking also made me realize how much I can relate to the backpackers in his documentary. Why we travel - we come from different countries and from different backgrounds, some travel alone and some in groups. But all of us do it for three simple reasons- the love of traveling; the belief that life is not entirely about career and money; and living life with no regrets. Five months back in the normal routine, I too feel that I have changed. But just like Brook, the experience wasn't just so we can tell ourselves that we have done something crazy and amazing before we settle down. It proved to be just a start of something more – more travels and more adventures. And this love for travel ultimately pushes you to enjoy life and to explore the rest of the world.
But the one backpacker that really affected me and inspired me big time is the 70 year old man who along with his plastic bags of pills is still travelling around Europe. He is living his life the best way he knows how. No illness or weak bones can stop him. 'Anyone can,' he said. I guess if you just really want it so bad, you'll do everything you can to make it happen. And it will eventually happen. And that dreams do come true. Mine did.
Is this your first time to read Tube Travel Tuesday? If so, share us your fave travel flick!
Tube Travel Tuesday Series:
Tube Travel Tuesday
My List Exactly
Probably Not The Last
The List Goes On
Tweet
This page was viewed times.