On the 21st of May, I found myself snickering alongside fellow travel bloggers, tucked cozily in the back rows of Greenbelt 3's Cinema 5. We were catching up on our recent adventures. Everyone was scrubbed, and polished. Heck I even substituted my usual shabby harlem pants with them skinny jeans, and I could barely remember when was the last time I wore a pair (Morocco, I reckon).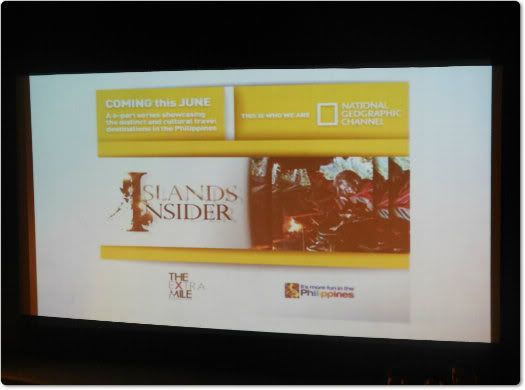 Only events like this can bunch up a gargantuan chunk of travel bloggers in a theater (Okay, maybe we weren't
that
many.). And lemme tell you, only shows like Islands Insider can keep these folks buckled in their seats (Except for plane rides.)
and
keep them quiet for an hour or so.
Islands Insider official trailer.
After quick speeches from the series' producer (The Extra Mile Productions) and host Ginggay Hontiveros, director and writer Gabriel Malvar, and DOT Secretary Ramon Jimenez Jr., we braced ourselves for an epic showing (With the newest DOT It's More Fun in the Philippines ad as the front act!).
Tonight's episode.
Islands Insider showcases the Philippines' travel destinations as witnessed by an unobtrusive host. She guides viewers through the place with notes of her own ascertainment, meshed with stories from the locals or
insiders
(Hence the title.) themselves. The show takes you on a voyage beyond keychains and fridge magnets.
Shirt I won from the raffle. Now I don't have to, uhm, borrow sister's.
The series features Batad, Coron, Taal, Siquijor, Mt. Pulag/Kabayan and Anilao. Tonight at 8:30 PM on National Geographic the second episode, Coron, will be shown. Pinky swear, you'll be taken to some place where only a few blessed people outside of the Tagbanua Tribe has been. And man it will... Cheesiness ahead... Take your breath away. It has that effect on me.
Don't miss it.
Share
Tweet
This page was viewed times.