A solar-powered guest studio in the middle of the forest, an artist's cabin in a trailer park by the beach, and a Moroccan riad with an unobstructive view of a UNESCO World Heritage listed
ksar
... These are a few of our awesome accommodations during our 280-day round-the-world vagabonding. One night, one week, one month. It didn't matter how long each stay was. We converted every hotel, hostel, Couchsurfer's house, bed and brekkie, into our temporary home any way we could.
Home, after all, is where the heart is
. Not where our worldly possessions are gathered and displayed to collect dust.
I couldn't count how many places we checked in and out of, to tell you the truth. But I could certainly point out our top ten fave "homes". So which are these and why they made it to the list?
1.
Solar-powered guest studio in the middle of Mullumbimby's forest, New South Wales, Australia. It's owned by a Couchsurfer who lives in a bigger, wooden house just fifty meters from the studio. Our ol' beat up,
borrowed car named "Gumby"
puffed its ascent through narrow muddy road to get there. Gumby was praised by our host as we drove in her property, "The little car made it!".
In this studio, we were able to experience living off solar power and rain water for the first time with our baby Luna. Cost: Family travel stories shared over candle-lit dinner + dishwashing work.
2.
An
artist's cabin in a trailer park
by Tallow Beach. Suffolk Park, New South Wales, Australia. Luckily found the owner's ad online. Cabin is filled with paintings, art books, meditation CDs, and a full kitchen with bottles of my fave Mediterranean spices. It has a front porch ideal for uhm, spacing out.
Australian water dragons lurk around, however. Which made raking dead leaves in the backyard an annoying task. Cost: AU $230 a week. Better value than staying in a hostel.
3
. Hotel Sierra (Which I think is now named Hyatt House), an "extended stay hotel" located in the heart of Silicon Valley's Golden Triangle. We felt like high rollers for a month in this one. Serviced by cheery Mexican housekeeping ladies who chitchatted with me whenever they're in our room. Hotel's American brekkie buffet's got so much choices (Wednesday's bacon day!).
Celebrated our second wedding anniversary here. Cost: Free. Company provided, thank goodness.
4.
Jade Guesthouse
, Colonia Santa María la Ribera, Mexico. Guesthouse owned by a lovely French family. The parents once lived and worked in the Philippines. Only two beautifully decorated rooms are rented out, in a separate building at the courtyard. There's no wall between the bedroom and the bathroom. Perfect for honeymooners.
Kitchen is on a rooftop that does not have... (Gasp!)... Railing. Cost: M$330 per night on weekdays, M$350 on weekends.
5.
Hotel Regional, Palenque, Mexico. Although we're not too pleased with their jungle-themed rooms, we're huge fans of the hostel's owners. The Mexican owners who speak limited English,
invited us to the New Year's Party
they organized for their workers. We felt how the staff loves them back.
They didn't love us the same, unfortunately. We were charged more than the published rate. Maybe cause of the toddler? Cost: M$350
6.
Hotel Zaguan B&B
, Lima, Peru. Just a few blocks away from the center. Friendly receptionist (The smiliest guy I ever met!), good breakfast.
Coffee all day
.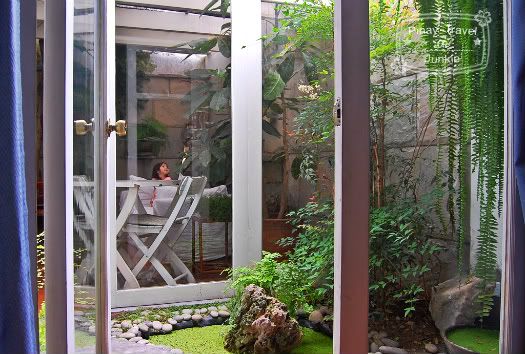 The room has an adjacent pocket garden and roofed porch. Cost: US $40
7.
Hostal Inti Wasi, Cusco, Peru. A colonial house built in the late 16th century that has been restored. Our room was surprisingly spacious, and we got a balcony with a view of the cathedral in Plaza de Armas.
Receptionist served us coca tea when we arrived to help prevent altitude sickness. A warm welcome after a six-hour bus journey from Puno, where Lake Titicaca is located. Cost: 145 Peruvian soles.
8.
Pousada Tatuapura, Praia Do Forte, Brazil. Most posh (And prettiest!) resort we stayed in. Was forced to reserve a room here cause the cheaper ones were all booked out for the carnival. There's a pool, jacuzzi, and a children's room full of toys.
Did not extend our two-night stay. Cost: Would rather forget.
9.
Our Moroccan-Rastafarian Couchsurfing host's apartment in suburban Sale, Morocco. His humble abode decorated with incense sticks, woven rugs, plush pillows, and Tibetan flags radiates with good vibes. Our host taught me how to prepare quick and cheap Moroccan meals. He and hubby also strummed
House of the Rising Sun
after dinner on our first night.
The long-ish travel from Rabat's city center was worth it. Cost: Luna's smiles and hugs. Host loved her!
10.
La Fibule d'Or, Ait Ben Haddou, Morocco. Favoritest of them all! A riad with an unobstructive view of UNESCO World Heritage Site Ait Ben Haddou which is a ksar that sits on the old Sahara-Marrakech caravan route. The owner of the
auberge
starred in some films shot here.
Breakfast is served on the rooftop terrace. Cost: US $28 for a room with ensuite bath. Plus window's got a view of the ksar.
How about you fellow travel junkie? Where is your fave temporal home?
Tweet
This page was viewed times.