It's
"the most wonderful time of the year"
and we're miles away from home. Christmas in Oaxaca City, Mexico sort of resembles that of the Philippines'. Unfortunately, instead of getting rid of this nasty thing called homesickness, the merry atmosphere on the eve of the 24th aggravated it further more. Watching families stroll together around the zocalo made me miss my family so much... The feeling now actually hurts.
What I miss most, their smiles.
I find browsing through our Macau trip photos therapeutic, that's why despite the holiday fever, I had the drive to resume my
Meet My Backpacking Folks Series
. Remember the day when we transferred from
century-Old SanVa Hospederia
to the more swanky
Pousada De Coloane Beach Hotel
? Well, we resisted the urge to
swim in a deep sea of blankets
and everyone quickly took turns in the shower (cause SanVa Hospederia's bathrooms made us cringe, none of us bothered to do so when we arrived in Macau the night before).
At about 4:00 in the afternoon, after much barking at everybody like some military officer reminding his soldiers of their schedule, we finally headed out.
The whole gang waiting for the bus.
A long walk from the bus stop to The Venetian's main entrance. Mum all sweaty, can be seen here removing her cardigan. Modelesque. Turned this pavement into a catwalk.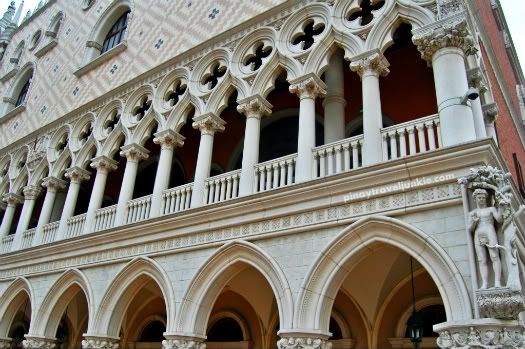 The folks marveled at every eye-catching design, and there were uhm, tons!
Gambling ain't for you? How about shopping? Neither of the two attracted us, but a quick walk by the Grand Canal was pretty entertaining.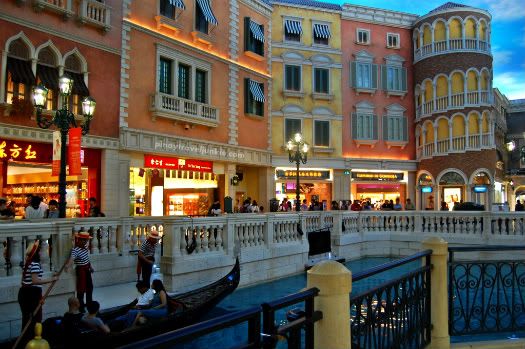 According to Wikipedia,

"The Venetian also boasts the largest number of Filipino gondoleers in the world"

. K! Sorry, did I miss the punchline?
Cotai Strip's skyline.
About to cross the street toward the City of Dreams.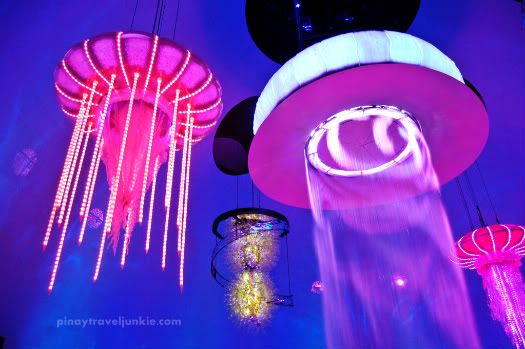 Inside the City of Dreams' 360° Bubble Theatre.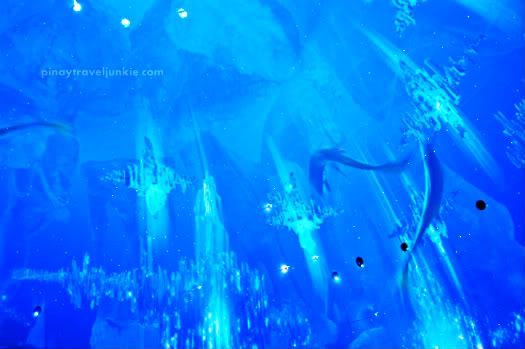 The Dragon's Treasure

(what we came here for) is a 10-minute visual treat. Mom just kept saying "Wow!".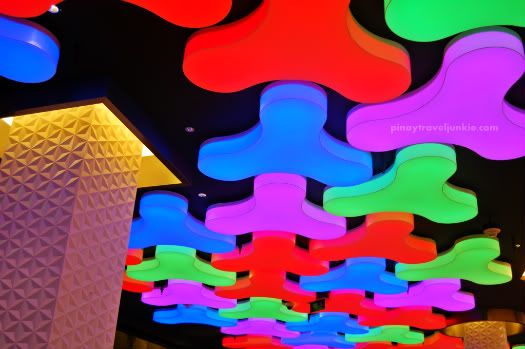 Capped off the night with a dinner at the City of Dreams' food court. I sooo dig this funky ceiling!
Thankfully our first whole day in Macau went by without much bickering between
me and my mom
family members. This was what the family needed at that time, a breather. A break from stress brought about by conventional routine. Oh how I wish they are with us right now, routineless too.
Macau Series: Meet My Backpacking Folks
Meet My Backpacking Folks
Century-Old SanVa Hospederia
Largo Do Senado: And The Family Chaos Continues
Review: Pousada De Coloane Beach Hotel
Tweet
Share
This page was viewed times.