Dusk settled. And right on cue, the crickets' chirp broke the stillness of the night. I peered blearily through the tricycle's door and only saw swaying wild grass within a meter radius. I glanced at Tim who was behind the driver, looking oddly cozy despite slightly sliding off his narrow seat. We were clearly on an ascent. He flashed his toothpaste ad-worthy smile at me as if to answer "I'm alright" after reading my thoughts.
Sampaloc Falls. Summer drought.
In a few minutes, just past a sign that says "private property", we screeched to a halt. Our driver, like a cautious nocturnal creature, swept his keen eyes around the perimeter. He seemed hesitant to drop us off. I stepped out of the tricycle though I was suspicious myself. Besides the fact that we're trespassing a clearly marked private property, the whole area was pitch black. With such starless sky, I didn't think we'd be able to trudge on the right trail unless Tim's a human compass.
Kuya's humble abode.
It was one of them planned
late holidays
, four years ago. At that time, I have not done a night trek. So when Tim spontaneously invited me to one in Laguna over post-work booze (cause you know, you just feel uber spontaneous when inebriated), I replied
"Oh my gosh I've been waiting for you this all my life!"
in a blink. And less than a week later, there we were accompanied by a weak torch, feeling our way through the bush like a blind couple on a buddy system.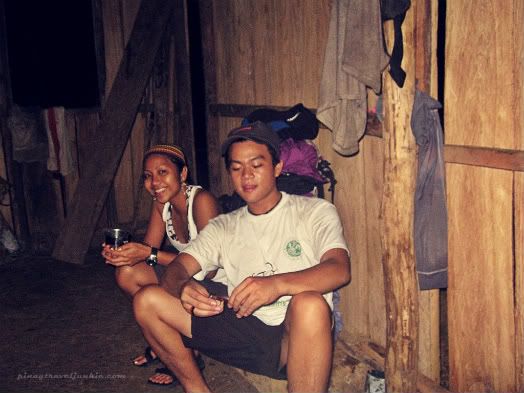 Me and Tim sharing a stainless cup of red wine. Photo taken by Kuya before he had a drink.
About half an hour into our sketchy trek, we caught sight of a shack in a distance. Its window was aglow with a yellow-orange hue caused by a lone, makeshift
gasera
(gas lamp). There was a man by the door, watching us as we approached.
Tim and I:
Magandang gabi po
(Good evening).
Man:
Paalsa kayo?
(Are you on an ascent?)
Tim and I:
Opo
(Yes).
Man:
Naku, delikado lalo na't dadalawa lang kayo.
(It's not safe, especially there are only two of you).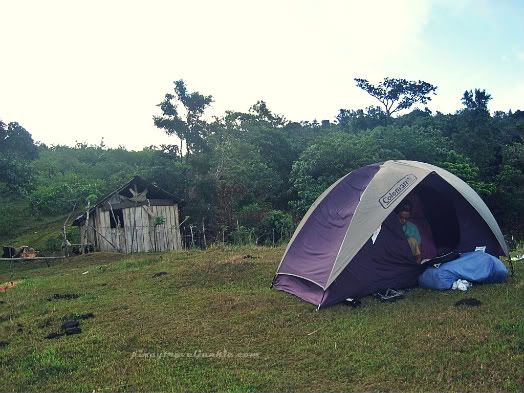 Our campsite.
We were about to object. But when he started sharing stories about bandits erm, "patrolling" the area, we took his advice of continuing the trek at dawn. He motioned for us to come inside. We entered and found just a couple of handmade wooden benches. There wasn't even a table. Sacks, coconut husks, and soda bottles were spread on the earth floor. The man's wife and kids emerged from the single bedroom (and by "bedroom" I mean an elevated, walled platform made from bamboo). They shyly welcomed us.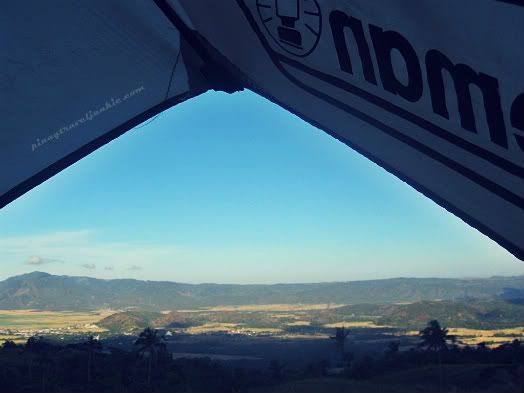 Morning view.
Kuya, a robust man with a handlebar mustache and sun-stained skin, was the caretaker of the property. We may have forgotten his name, but his kindness is etched in our minds. He offered their leftover rice to us when he learned that we were just about to have dinner, and insisted until we gave in. That rice could have been their brekkie or lunch the next day. For a family man who has close to nothing (except his amazing family of course), he is way generous to people who have more. He also made sure we got all the supplies we needed to survive the night.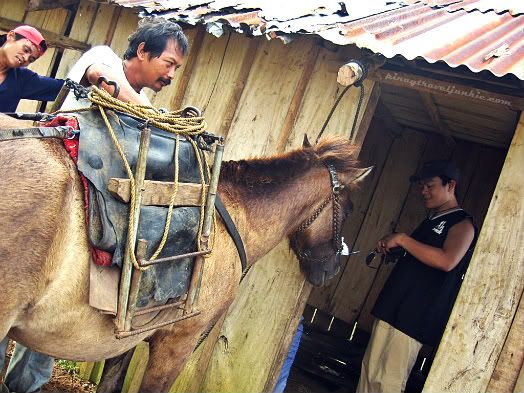 Kuya thought we'd be delighted to see a horse, and brought one to the shack!
He suggested that we pitch a tent on a spot where he could watch over us. We assured him that it was not necessary and he counter-assured us that it was. So after dinner and a red wine nightcap, we set up our tent just across the house where the window was facing. Though Kuya's paranoia made me feel slightly uneasy, the thought of someone guarding us gave me a peaceful sleep.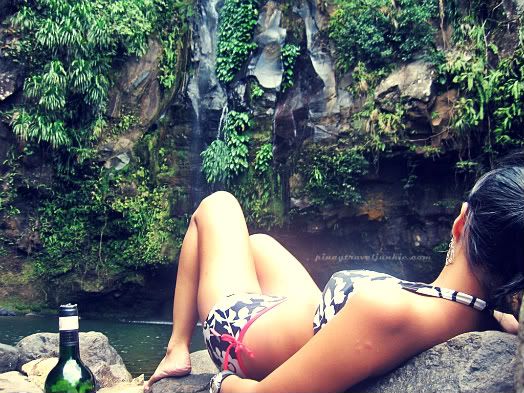 Turquoise and tranquil.
At dawn, I woke up to the beautiful smell of instant coffee (cause you know, anything instant can be beautiful when camping). Kuya invited us for a shot of caffeine and a pat on a fellow farmer's horse. As a token of gratitude, we handed his family a small bag of chips and a few canned goods before we left to push on with our trek. It's a small price to pay for keeping us safe.
Our hike to Sampaloc Falls was quite uneventful, but I'd prefer that over a terrifying action-packed incident that involves being robbed. When we reached the falls, we were quite disappointed to see trickling water instead of a spectacular cascade. But we did love its turquoise basin, plus we had it to ourselves.
While I was lying on a bunch of rocks which I shaped into a lounger, I thought, "Will we be enjoying this if it hadn't been for Kuya?".
This is my official entry to this month's Pinoy Travel Bloggers Group Blog Carnival. The theme for September 2011 is "Unforgettable Human Encounters on the Road", hosted by Marky Ramone Go of
Nomadic Experiences
.
Tweet
Share
This page was viewed times.