Three birthday shindigs (two of which are baby Luna's) over the weekend plus a ten-hour drive from Sydney to Byron Bay kept us from
drawing the winner of the coffee table book, 501 Must-Visit Cities,
on time. Earlier today at Tallow Beach (New South Wales, Australia), just a few meters from an artist's house we're renting for a few weeks (our third home for
this round-the-world trip
), Luna finally picked the winner from her pink ice cream bowl.
Tallow Beach, our backyard for a month or so.
And ahem, here's the actual draw! Footage taken after Luna fell off that bench. She got too excited munching sand (she's bored with grass now) and threw a tantrum when I stopped her. So yeah, she was quite unhappy doing this thing.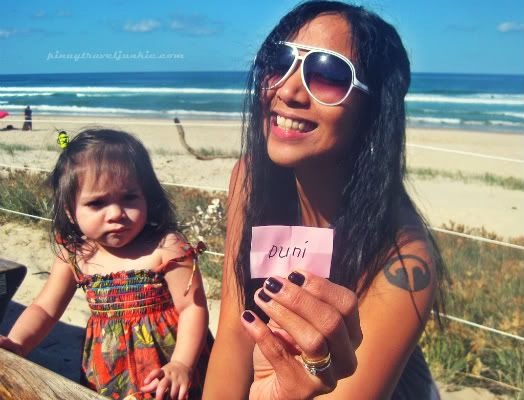 Congratulations to Duni
"The Crater Trekker"
who answered Ibiza and Mexico City! Now I just gotta find a way to send you that ginormous book without uhm, spending more than the cost of it.
Oh, I was supposed to give away a special prize to anyone who'd guess a Philippine city, but no one did. Manila and Cebu are on the list by the way. Guess I'll keep that prize for
myself
the next contest. Thanks to all you awesome guys who participated! 'Til the next blogversary.
Tweet
Share
This page was viewed times.