It seemed barely roadworthy. Had I not lived in the Philippines I would have felt uncomfortable in that rusty, rickety bus. Shervin and I sat at the very front, the unsafest seat (think head-on collision), but the one that offers the same unobstructed view of the road as that of the driver's.
Through the window we waved farewell to Harrish and Harry, who waved back as they walked away, leaving us in the hands of the bus conductor whom they gave specific instructions to regarding our destination.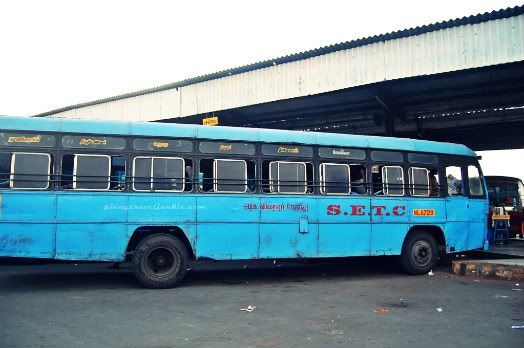 Bull on wheels. Our bus to Madurai, stationed at Trichy's Central Bus Stand,.
Such nice blokes those two. Earlier that afternoon, they picked us up from Tiruchirapalli Airport,
where we met in person for the first time
. Weeks prior that day, Shervin announced on his programming tutorial site about our trip in India. Though a lot of his student followers responded and offered to show us around, only Harrish and Harry actually did so because it happened to be uni exams week. We were happy nonetheless, to be welcomed by them upon arrival, rather than an overcharging cab driver.
We were warned that the ride (fare only 49 INR!) might take five hours instead of three because of terrible traffic and the gazillions of stops to pick up and drop off passengers. The trip was a bit anticlimactic, which worked out well for us since we've been traveling for 24 hours already (Philippines-Singapore-Malaysia-India).
The bus never became packed (there are heaps of buses servicing the Tiruchirappalli-Madurai route), no quirky mishaps to speak of, and the landscape parallel to the highway reminded me of the view from the Philippines' SCTEX. Nothing too uh-mazing. Well, except the occasional crossing of cows freely wandering.
After three hours and thirty minutes of uneventful ride, we parked at a major bus station where everyone disembarked. The conductor pointed to the ground and said "Madurai". Had he not mentioned the place I would have thought he was referring to his shoes.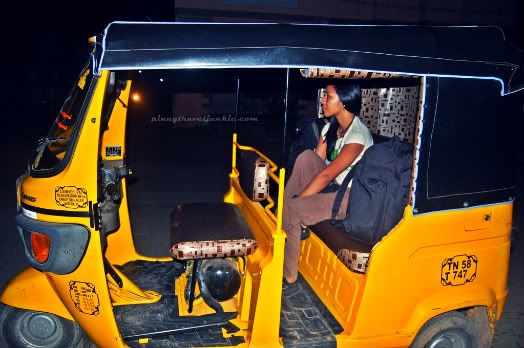 First of only two tuktuk rides during our 6-day Tamil Nadu trip.
We bobbled our heads in understanding and stepped off the bus, relieved that we got to our destination earlier than expected. Though we had the complete address of our Couchsurfing host, we didn't have any idea on how to get there. I gave the address to the taxi driver who approached us. He slightly bobbled his head (which seemed like a half-yes, half-heck-I-don't-know-but-come-with-me-anyway) and led us to his tuktuk. Because I doubted his bleary response, I asked if there's a public phone anywhere nearby. He offered his mobile.
I called Bakri our host, and let him talk to our driver for directions. After they hung up, our driver looked more confident and turned overly jolly. We weaved through rush hour traffic disregarding pedestrians and red lights for about twenty minutes and screeched to a halt in front of a 'checkpoint'. The guardhouse made us realize that we've just entered a residential village.
The driver redialed our host's number, perhaps to say that we're already there. In just five minutes a guy on a scooter arrived. It was a friend of Bakri's. He said he went to the train station to pick up two more Couchsurfers who will be staying at their house that night.
Our tuktuk followed the scooter to the house. We paid the driver 200 INR plus a 20 INR tip as we got off. When we entered the house, we were greeted by a bunch of people playing video games. Not one is Indian. I was disconcerted. Definitely not disappointed but it made me think that I must have missed a few info on our host's profile page. They're all Africans and they were speaking Arabic (I recognized so because
I used to work in the Middle East
). My first guess was that our hosts could be from Sudan... and eventually I proved myself correct.
"Great, I shouldn't have bought that shot glass as present." I thought.
Thank You, India Series:
Arrival Turned Fans Day
Thank You, India
How To Apply For An India Tourist Visa In The Philippines
Tweet
Share
This page was viewed times.