The telly was usually on at eight in the morning. While I wait for the electric stove to heat up for ages, I watch a show featuring a heated argument revolving around Australia's proposed carbon tax. On a commercial break, I catch an ad where women promote the Ahh Bra, which they describe as a "breakthrough body form technology".
When the stove top's finally aglow, I whip up an omelette for my family's brekkie.
Uncrowded winter day.
This was my typical morning in Gold Coast, Queensland. Familiarizing myself with the country's current affairs and pop culture via telly news and ads. It may not be the best medium, but we were cowering from July's winter temperature to be out and about.
The hubby, baby Luna and I camped out in one of my sister-in-law's bedrooms. We were to attend hubby's graduation that month, hence our trip to the
"land down under"
during our least favorite season.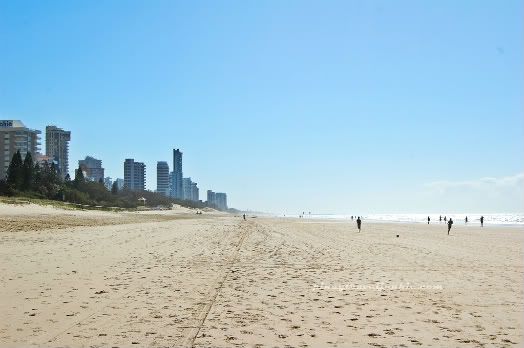 A three-kilometer sandy playground. Didn't attempt to walk from end to end.
It took us almost a week to be acclimatized. Come t-shirt weather, I was itching to experience the outdoors. So one morning after my morning routine, we hopped in a borrowed car for a cruise along Surfers Paradise Beach.
Our drive to this well-known tourist destination took just about twenty minutes (which our GPS device accurately calculated). We parked on The Esplanade, a street adjacent and parallel to the coast, at the farthest end so we didn't have to pay for parking. We didn't mind the distance for we were in the mood for a stroll anyway after locking ourselves in for days.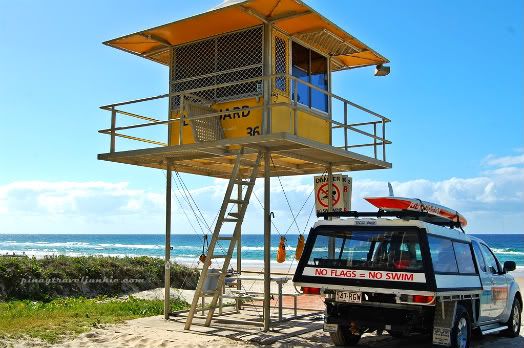 Surf Life Savers patrols Surfers Paradise Beach.
I gotta admit, I gaped at the wide and seemingly never ending stretch of white beach. I've been to countless islands, coastlines and coves but I have never seen anything like this gigantic sandbox (except the desert of course). However, there's just too much concrete going on its background which in my opinion is an eyesore. Surfers Paradise to me is like a beautiful woman who's wearing too much make up.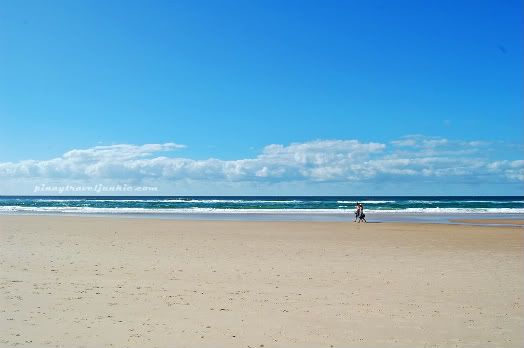 Awesome waves, absent.
Unfortunately, surf wasn't up when we got there. On a winter weekday, there were only a handful of people sauntering on the beach. The wind was still quite chilly and after I took a photo for
The Postcard Project
, we stepped off the sandy shore and onto the paved walkway. Hubby led the way to nearby Cavill Mall.
Annual Surfers Paradise Festival.
Cafes, restaurants (fish and chips anyone?), pubs, and souvenir shops are aplenty at Cavill Mall. If you're a serious shopper, you could easily burn a significant amount of time hopping from one store to the other. As for me, picking a fridge magnet took five minutes, tops.
But that doesn't mean I didn't while a few more minutes window shopping, especially with the heaps of Kombi merchandise on display. Hippie culture is very much alive and kicking in various parts of the country. Surfers Paradise, which emerged as a popular getaway in the 1960s, is one of them. I got all excited imagining how bell-bottom jeans, A-line mini dresses, batik prints and go-go boots graced this strip during that decade.
After two hours of basking in the midday sun, we decided to retire and started walking back to the car. And then, I encountered a
Meter Maid
.
In 1965, visionary and entrepreneur Bernie Elsey Snr (who by the way married a Filipina) introduced Surfers Paradise Meter Maids clad in gold bikinis who insert coins to expired parking meters. These parking meters, which Elsey didn't approve of, were installed by the government just the year prior.
Photo Credit: www.metermaids.com
The sight of the Meter Maid gave the area a more touristy ambiance. But because of the fact that she's tasked to continue this thing which began more than 40 years ago, I felt like I just witnessed an old tradition (however I didn't really see her feed the parking meters with coins).
Luna's second Aussie beach.
Though we didn't get to watch buff surfers ride waves, I didn't leave sulking. In just a few more weeks the climate shall be a couple degrees warmer and everyone will be flocking to the inviting shores.
Oh, except us who are currently in frigorific Sydney. At least spring kicks off tomorrow... And we'll be heading to Blue Mountains for my blogversary-slash-birthday!
Tweet
Share
This page was viewed times.