My stomach lurched as the driver-gone-kamikaze did a suicidal overtake while speeding through a sharp curve. As if the zigzagging Naguilian Road was not enough to make me woozy. Such terrible decision boarding that aircon bus from Baguio to La Union. Closed windows always make me feel suffocated.
Luna's first time to wriggle her toes in the sand.
I gasped for fresh, salty air as we stepped off the bus an hour later. Though nauseous, my body tingled in delight as my skin felt the sun's scorching rays. We've just been residing in Baguio City for a couple of weeks, and already, we were dying to head anywhere out of the Philippines' freezing mountainous region.
It was November last year, one of them 'long weekends' which I was totally unaware of and which explained the fully booked beachfront hotels. Though Urbiztondo, San Juan is a six-hour drive from Manila, it remains a fave of weekending beginner surfers and quite popular for
family holidays
as well.
A signage made of surfboard, almost iconic.
While my sister's surf mode was on, my hubby and I were just looking forward to a laid-back celebration of our first wedding anniversary by the beach. However, it can never really be as 'laid-back' as we wanted it to be because we were traveling with our two-month old newborn. But at least, we were with two other people who lent us a hand. My sister (who's still slightly scared of such task) and Tina, whom we were to meet at Sebay Surf Central.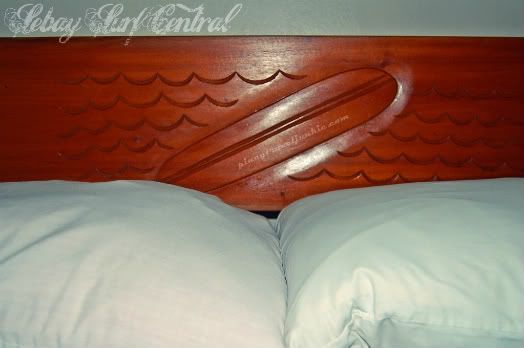 Our bed's cool headboard.
Because Tina arrived earlier than us, she was able to reserve a room at that resort. We found her seated at Sebay's restaurant that has an unobstructed view of the sea. Sleepless and jaded from her lone trip, she managed to smile and offered her arms for our daughter Luna. She then led us to the reception where we picked up one of the resort's staff who ushered us to our room.
Our air-conditioned room with a rate of P1,500 didn't seem spacious since four adults plus a baby were sharing it. There was one double bed and a bunk bed, with pristine sheets. The bathroom was spotless. Wi-Fi's available, though in our room we had a weak, intermittent signal. The room had a telly too.
We left Tina who was lazing in her bed to recuperate and headed off to a
carinderia
(a small eatery), obviously for cheaper food. Meals served in beachfront restos start at P100 per person, an amount we still weren't willing to shell out for lunch even if we were feeling celebratory. The carinderia's just across the resort, off MacArthur Highway.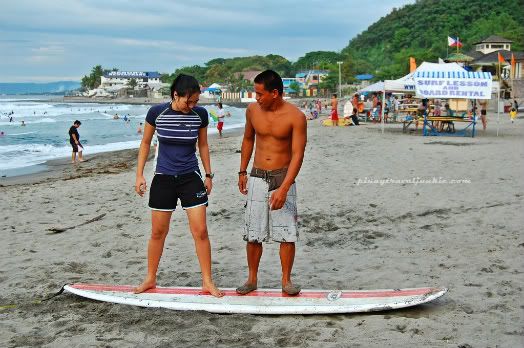 Refresher on the basics. Sister's second time to surf.
After lunch, we did not waste time idling and stripped down to our swimwear (rash guard for some of us) faster than you could say 'surf's up'. Sebay Surf Central's got its own surf instructors, my sis and Tina booked one for that day and the next. While they busied themselves with surf lessons, we were attacked by girls shrieking "Oh my gosh sooo cute the baby!"... Which pretty much went on the whole duration of our afternoon beach stroll. And until sunset.
Awesome mother and child shot! Thanks sis.
There was an event by the way that weekend, called Flow: SurfYogaSamba, which was hosted in San Juan Surf Resort just beside ours. Title's straightforward so I assume there's no need to elaborate. The samba thing took place by the shore at dusk, and everyone was free to watch and even encouraged to sway their hips to the pumping beats of the drum circle.
I myself danced too, with a camera in my right hand, and a newborn in my left arm. Time and again, I say how we are
encumbered by lugging Luna to our trips
, but it's definitely more darn hard to leave her behind. Celebrating our first anniversary with her made us feel complete, plus the fact that it was her first time to be on the beach made the occasion extra special.
Trip's Nitty Gritty:
How to get to La Union from Baguio: Air-conditioned buses to Ilocos from Baguio are stationed along Governor Pack Road near SM. Fare is more or less P200. If you're like me who prefers non-AC buses, the terminal for such is near the public market, along Shagem Street. Ask the conductor to drop you off Sebay.
Tweet
Share
This page was viewed times.