A sack of rice, boxes of groceries, and baskets of farm produce queued along the jeepney aisle. Passengers
reshaped
shifted every time a new one squeezed in, like tetrominoes in a Tetris game. My legs were devoid of sensation and my arms tried to position themselves comfortably but to no avail. I was, after all, holding our then four-month old Luna who was about to throw a tantrum.
BenCab Museum's facade.
At ten in the morning, it took more than half an hour to fill up that jeepney. Enough time to agitate an infant with a one-minute attention span. I heaved a sigh of relief when we finally drove out of Baguio's city center. Luna calmed down. Vehicular motion hushed her to a shuteye.
"BenCab's 32 Variations On Sabel", glaze on mariwasa tiles.
Our ride rolled toward the winding Asin Road in Barangay Tadiangan of Tuba, Benguet. Though we descended to roughly 1,200 meters above sea level (from 1,500), the nippy climate showed no variance for dark clouds hovered above this side of the mountainous Cordillera region. My husband, daughter and I alighted after about a twenty-minute drive.
Gallery Indigo. Showcases different artworks every month.
The destination for that day, National Artist BenCab's (Benedicto Reyes Cabrera) museum. This museum housed in a modern structure is a sight to behold. Perched atop a cliff just off the road, the facade's black and gray hues pop out of the nature-toned background.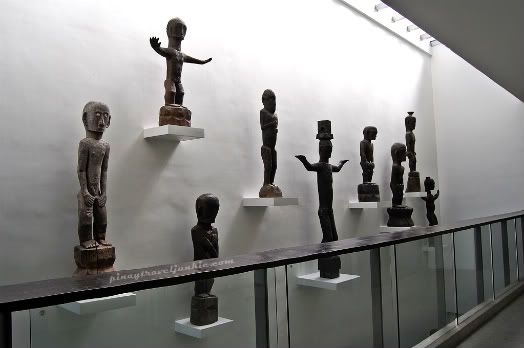 A plentitude of rice granary gods, locally called

bulul/bulol

, seemingly suspended in air.
We passed through its huge doors, and stepped into deafening silence. The guard called out to the receptionist who was missing from her desk. His voice reverberated across the hall. We paid P100 each for admission and didn't ask for a guide. After which I browsed the merchandise at the museum shop near the entrance, and left soon after realizing I won't be able to buy anything with my measly budget.
Cordillera Gallery.
The various galleries are segmented by floors, rooms and halls. Collections of artworks made not only by BenCab, but also by other Filipino artists using different media are showcased. Among my faves are: BenCab Gallery, Cordillera Gallery and the provocative Erotica Gallery.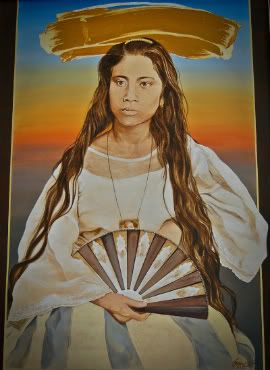 BenCab's "Woman with Fan". For my friend and fellow travel blogger Christine, who totally looks like her.
An hour, give or take, I reckon is enough to peruse everything. If you come by on a weekday, there's a high probability that you'll have the entire museum to yourself. Spare another hour to drink a pot of tea at Cafe Sabel and stroll around the adjacent farm which the artist and other locals tend. Well, that's what we did.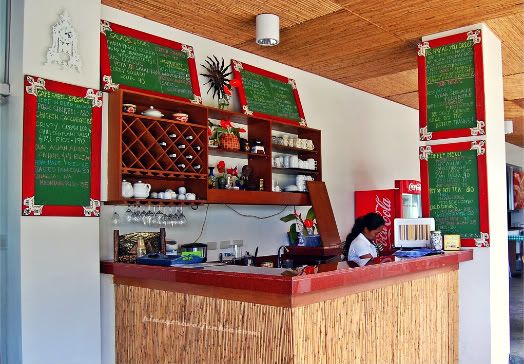 Cafe Sabel. So who is Sabel? That's for you guys to find out.
And we would have stayed longer had it not started drizzling. Though the museum could easily be the perfect refuge from an impending storm, we were not thrilled with the possibility of being stranded because Luna was with us. We drearily left as soon as the drizzle turned faint.
Gazebo, sitting in the middle of the duck pond.
After waiting for fifteen minutes in front of the museum for a jeep, we agreed to start walking toward the city center. We already expected that we'd have a difficult time going home for jeeps here are deficient. Heck, we were even mentally (not so much physically) prepared to
trek
walk six kilometers. But lo and behold, a jeepney emerged out of a side street, just as we passed the Wood Carver's Village and picked us up.
The mountain gods have been kind to us.
Trip's Nitty Gritty
1. How to get there: Jeeps to Kilometer 6 are stationed along Kayang Street near Baguio City's public market. Fare is P10.
To get there via car/private transport, read the directions
here
.
2. Museum hours 9:00 AM - 6:00 PM. Cameras are allowed, no flash however.
For more info, visit their
website
.
Tweet
Share
This page was viewed times.