Not quite Mt. Pulag. But like other mountains in the Cordillera Region of the Philippines, Mt. Cabuyao at 2,025 meters above sea level, is almost constantly engulfed in a sea of clouds even on a clear summer day. Its renowned two discs called
'radar'
by locals perched atop the peak, though gargantuan, could easily hide out of sight.
Approaching Mt. Cabuyao's peak.
It was the last week of January this year, I shivered as I walked up and down Session Road at six in the morn. Baguio was experiencing one of its coldest months of all time. The lowest temperature recorded that month was a freezing 9.6 degrees centigrade.
Amidst the darkness of dawn, I caught a glimpse of three figures strolling my way. It didn't take long for me to recognize who they were. Hearing one woman's boisterous laughter was enough for me to know.
I met up with my old mountaineering buddies. There's Christine of the
Jovial Wanderer
, Tristan, and his girlfriend Morena who I met for the first time. The previous night, the three just arrived in Baguio from Sagada. My family have been living in the city for almost three months already, but have not been outdoors much. So when I received their invite for a climb, even with a toe nail that completely chipped off which left me limping, I blurted a resounding yes.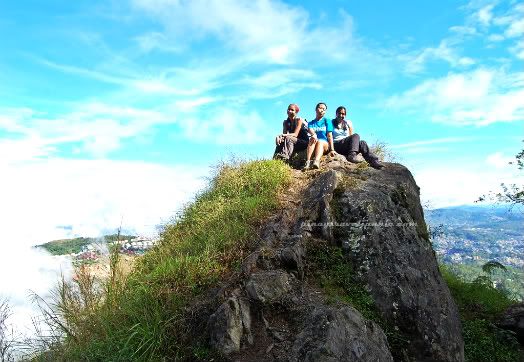 Climbing Pinays rock! Me, Christine, and Morena. Somewhere off the paved trail.
We were soon on our way to the jump off point after a quick brekkie at Pizza Volante, one of the few food joints that's open early in the morn. It only took us one jeep ride to get to Green Valley from the city proper. The driver dropped us off at the end of his route.
I tied the knot of my handicapped toe's makeshift cast made of mesh ribbon tighter in preparation for the hike. It sure is a minor climb, but even walking on flat ground was burdensome for me. I was armed with a liter of water and an expectation that I could bum off trail food from the person who's got a stockpile of it, *cough* Christine *cough*. And so, we began our hike.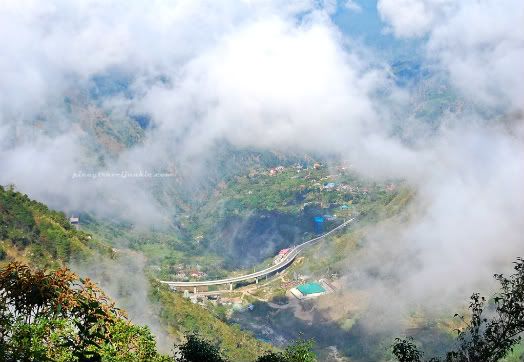 Bird's eye view of Marcos Highway.
Our pace was snail speed. No one was in a rush. It's been almost a year and a month since my last gruesome trek. I was then two months pregnant, and with the encouragement of my bacpacking-partner-slash-hubby I braved the seven falls of Mambukal in Murcia, Bacolod City.
So it's been a while. A very long while since I conquered a mountain. A very long while since I had that empowering feeling that can only be attained through summiting peaks. I relished every step. For every step represented a temporal freedom from the insane abyss of motherhood. And every step symbolized the courage to hold on to my individual self. Yes I am a mom, but I am also a mountaineer.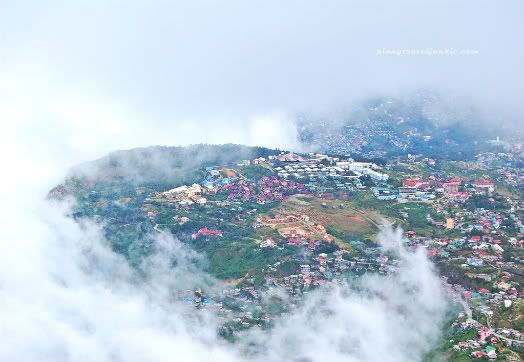 Benguet, into the clouds.
Though these random, abstruse thoughts were running in my head, I was merrily catching up with the group. And eating Christine's food. Being with them always makes me feel alive. Our hike (about 5 kilometers) lasted for almost two hours, snail speed remember? We intended to reach Mt. Sto. Tomas, the highest point in Baguio. But because of
laziness
a misunderstanding with locals (they told us we're already in Sto. Tomas, referring to the baranggay not the mountain) and dark clouds approaching, we all agreed to hike back once we have reached the two radio transmitters. We couldn't risk getting stuck up there in the rain for they were heading to Manila in the afternoon.
Plus, my hubby and then 4-month old infant (who was low on milk!) were locked out of the house and I had the keys. They waited for almost five hours for me to come home. The hubby's first words when I arrived, "Did you enjoy your climb?".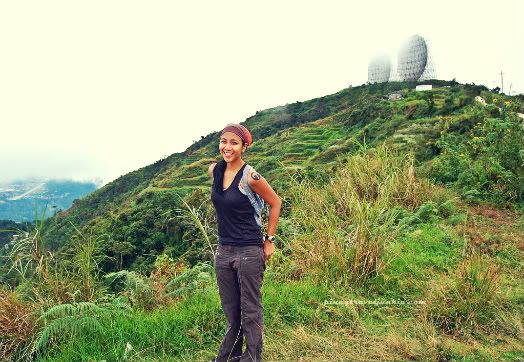 The backpacker mum savoring an infant-free morning.
Trip's Nitty Gritty:
1. How to get to Mt. Cabuyao/Mt. Sto. Tomas jump off: Jeeps to Green Valley at the time of our trip were parked along Shagem Street, between the streets of Abanao and Otek. Fare was about P15. Takes a while for the jeep to get packed.
2. Drive from Baguio City proper to Green Valley's about half an hour. Driver will drop you off at the end part of the jeep's route. Just follow the ascending paved road.
3. There's no admission fee collected.
4. If you feel like hitching a ride going down, there are few vehicles that do pass, mostly trucks or jeeps transporting newly harvested veggies.
5. Jeeps heading back to the city proper from the jump off point are rare. Ask for the schedule. Cabs are a few as well.
Tweet
Share
This page was viewed times.