... and I almost forgot about this! Remember two months ago when I was raving about
a blissful Baguio weekend care of Eurotel
? I ended my post promising to write about our karaoke session which the hotel management arranged for us. Obviously, I haven't written about it yet nor about the tour they organized for us the day after. Now's the time I do so, while I dreamily browse through hundreds of photos taken in Baguio way back when we resided there.
So what happened evening of day one?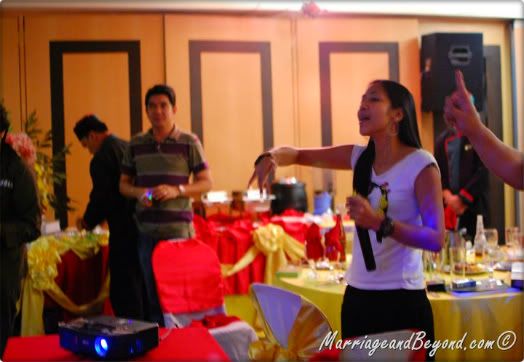 Me workin' the mic. My first song, "My Humps". Thanks to Jen of Marriage and Beyond for this paparazzi shot. Is that Melo's hand gesturing one more song or was he dancing?
Karaoke madness (we're true-blue Pinoys!) backed up by bottles of beer and wine. But before I spill the beans, here's what we did when we were all still sane.
We were lead by Eurotel's marketing to the hotel's function halls. They divided one big hall which takes up the entire floor into different segments. We were showed three different types of set up for conferences and one set up for banquets.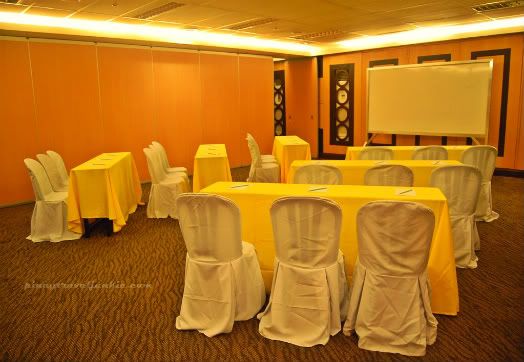 Conference set up.
Banquet set up for wedding receptions and birthday parties.
Our dinner was served at the banquet hall. Pinikpikan was one of the dishes! Eurotel Baguio's the only branch that has it on their resto menu, for an obvious reason.
Right after we finished our meals, the clubbin' lights were turned on. The makeshift bar was filled with beer and wine and the buffet table was replenished with hors d'oeuvres. The song list was finally
snatched by everyone
passed around. No one escaped the mighty microphone (Iris of
Pinay Ads
was the only one who tried to pass anyway).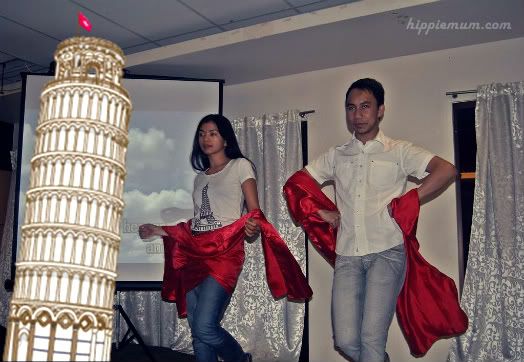 Claire of Lakwatsera De Primera and Joseph Raymundo strutting their stuff for laughs.
In between songs Joseph Raymundo, Eurotel's marketing staff, dropped punchlines like a pro stand up comedian. We did icebreakers, plus a singing challenge wherein Melo of
Out Of Town
and I won flash drives. We called it a night a little past 12.
I awoke the next day with a slight hangover, though I only had a few bottles of booze. Good thing I have recuperated when we were taken to some of Baguio's top tourist destinations. We went to the Chinese Temple, Tam-Awan Village, and strawberry farm in La Trinidad.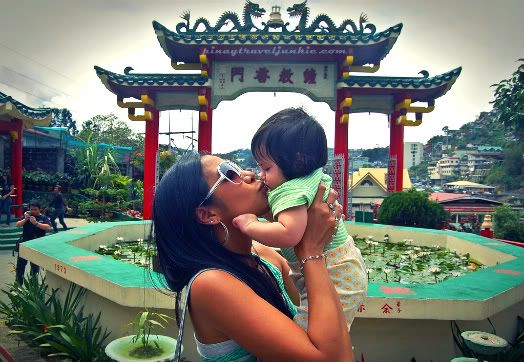 Eurotel's marketing team also invited the hubby and Luna to join the city tour!
It was such an action-packed day and our hosts made sure we were well fed. We had buffet brekkie at Eurotel, lunch at Oh My Gulay and dinner at Barrio Fiesta. In the evening we went to D' Kamalig comedy bar and around midnight... we were treated to a free massage at Spa De Soleil!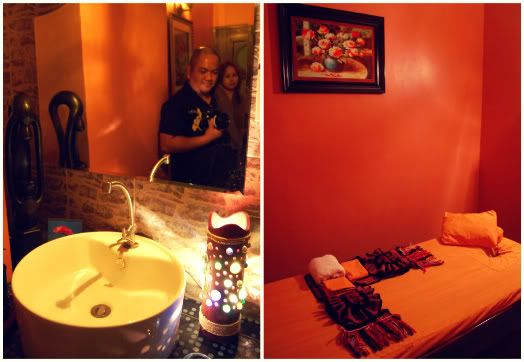 Spa De Soleil, my fave part of the event!
And as if what I've mentioned ain't enough... They gave us a package of Baguio goodies before we all left the hotel on the third day.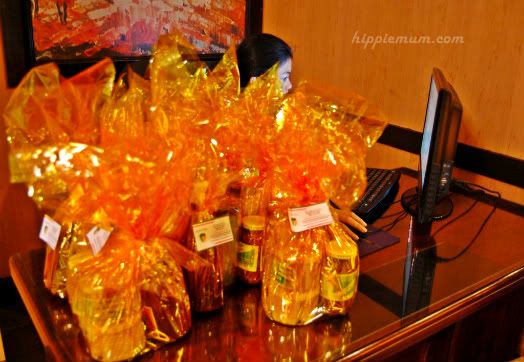 Goody bags' got ube jam and strawberry wine among others.
Now ain't that fantastic? Did I not tell you guys it was a bliss-ful weekend?!
Tweet
Share
This page was viewed times.