"The cure for anything is salt water - sweat, tears, or the sea." - Isak Dinesen
The beach has healed much of my emotional wounds in the past. Mind you, without even the aid of alcohol. I regard such as utterly amazing. Each of us (some collectively) flock to heavenly shores under the command of diverse purposes. To celebrate, to escape, to grieve, to de-stress, to re-energize, to accidentally bump into "the one", and the cliche-est of them all... to do "soul searching".
I grew up in a country with 7,100+ islands and I can boldly say that the beach can soothe anybody's restless soul. The water's hues, the sound of the crashing waves, and the feel of powdery sand in between the toes are therapeutic. They calmed the irresolute me.
Life has been hectic the past few weeks. So my midsummer night's dream? To lay on the sands of these destinations in the Philippines where my unstable soul recuperated. And then some.
1. Boracay, Aklan
Was never in my travel bucket. My dad, who visited the island in the 80's, described it as a surreal tropical paradise. I went so we could compare notes. He scratched his head when I started talking about 'em laser lights.
Oddly my first solo beach trip. I didn't dare accept Cocomanga's "15 and still standing" Shot Challenge. Nursed my melancholy with a bottle of wine instead.
2. Maira-ira Beach (Blue Lagoon), Ilocos Norte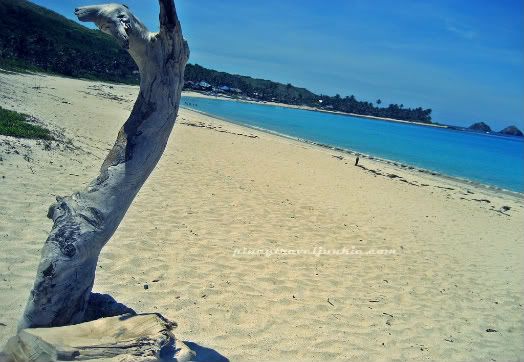 A surprising find. Prior to our visit, I've never heard nor read about this place. Made me so proud to be Pinoy. Made me forget I was with someone too. Almost left him behind. Seriously.
3. Pink Beach, Zamboanga
One cannot set foot on the island without the Tourist Police. Look what I briefly borrowed from them! Oh how empowering (and exhausting) it was to hang that around my neck!
4. Dancalan Beach, Sorsogon
As deserted as we longed it to be. A place where an ex flame was bitten by the travel bug. We matched the freezing breeze (brought about by an impending storm) with lukewarm beer. We did a toast to our "call center life".
5. Malamawi Beach, Basilan
I have never been so scared to strip down to my bikini! Our lazy afternoon was spent munching on grilled fresh seafood, strolling along the fine stretch of white beach... and being videoed by locals.
6. Nagsasa Cove, Zambales
Where we defrosted our ice-cold arses, fresh from China. Our last stop for our honeymoon. Post wedding shenanigans with my camping friends.
7. Kagusuan Beach, Siquijor
I was two months pregnant when we did our Cebu-Dumaguete-Siquijor-Bacolod trip in just eight days. This spot, a piece of paradise virtually devoid of tourists, was our fave.
8. Magalawa Island, Zambales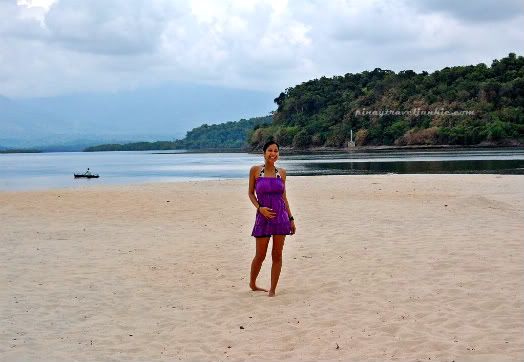 A picture of a shiny, happy, 6-month preggy camper. Babymoon spent on an island with very basic amenities, not at some posh hotel. I remember how badly I missed the outdoors. I dragged my heavy self out of town to experience it once again.
9. Morong Beach, Batanes
Thanks to SEAIR, this backpacker mum had a break from parenting duties. I won an all-expense-paid trip to Batanes! On this beach, I giggled with fellow winners - like a carefree teenager, which hasn't happened for a long time.
10. San Juan, La Union
Our daughter Luna's first beach trip. She was about two months, one week then. We traversed the zigzagging Naguilian Highway from Baguio to La Union via public bus. It was a momentous event for me and the hubby... because she's finally backpacking too!
How about you? Which beach/es served as your refuge?
Tweet
Share
This page was viewed times.