So this is the Panagbenga Festival... Jovial, multihued, flamboyant. I was able to witness the Grand Float Parade partly because we currently reside in Baguio, and partly because fellow blogger
Joel
sort of forced me too.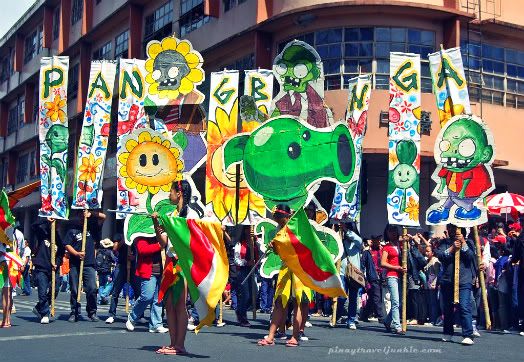 Just so you folks know, I have never featured a festival here (except
Oktoberfest
which is an entirely different thing!) because I am not a fan of such. I cringe at the sight of huge crowds and usually sprint the opposite way. Since curiosity got the better of me (it always does), I went for it.
This whole shindig started at 2:00 AM for us.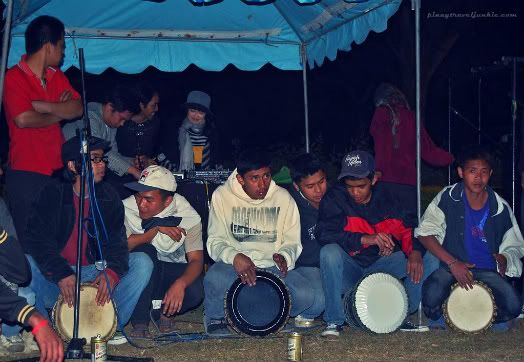 Joel, a pilgrim of the Panagbenga festival, told me we should be up that ridiculously early to score good seats (
seats
, meaning a spot on a concrete road). We were able to get a cab after 5 minutes of walking along Tam-Awan Route from the house.
The driver dropped us off Burnham Park upon our request. Our ears led us to Rose Garden where inebriated locals were dancing to the beat of native drums. Designer/musician Kate Torralba was a guest and sampled keyboard tunes. My feet giddily stomped.
Burnham Park turned into a camping ground. Woodstock-ish. Brilliant way to cut accommodation cost.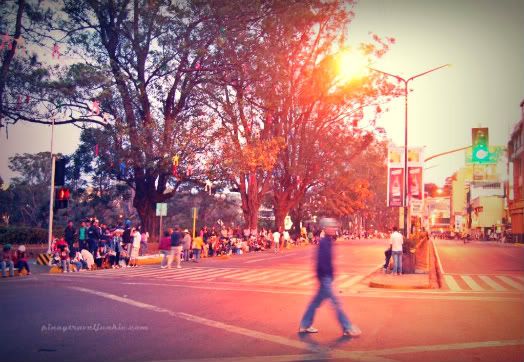 We had a quick brekkie at Jollibee. After which we positioned ourselves at the intersection of Harrison Road and Abad Santos Drive. The breeze was still algid at 5:30 in the morning and we huddled with the family beside us.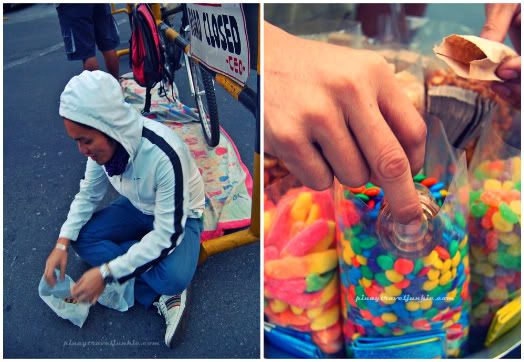 Left: Joel snacking on peanuts and sitting on someone else's
latag
. Hawker lady called out
"Libangan!"
(pastime) to spectators, referring to her peanuts. Right: Candies. Joel craved for Nips (though they might be a different, cheaper brand)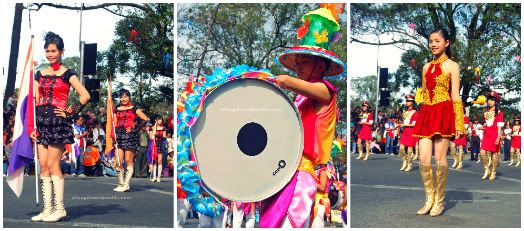 Drum and Lyre corps gave life to the parade (which by the way reached our area at 8). And the majorettes? Icing on the cake. Personally, I'd like to see more folk dances. A group of kids were dressed up in Igorot costumes, but unfortunately danced to "Waka Waka". I do love Shakira but such combo's just bizarre. And we're not in Africa.
On with the floats...
Panagbenga
is a Kankana-ey (Kankanay/Kankanai) term, meaning "season of blossoming".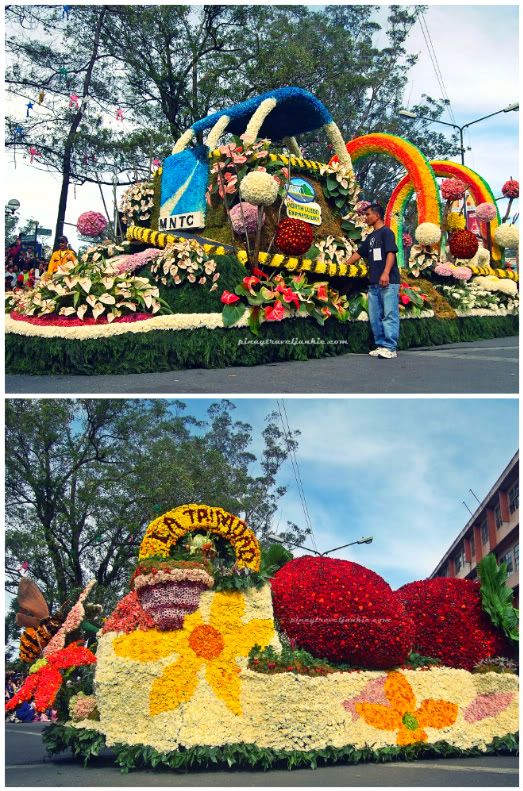 Joel noticed that the floats didn't have as much flowers compared to the previous years. Weeks prior to the festival, temperature plunged to 9.6 degrees Celsius in the highlands. Could the same frost that damaged crops affected the blooming of flowers as well?
Nonetheless, I've never seen that many flowers in my entire life! And if you got enough flowers to cover 21(?) floats, blimey, that's already heaps!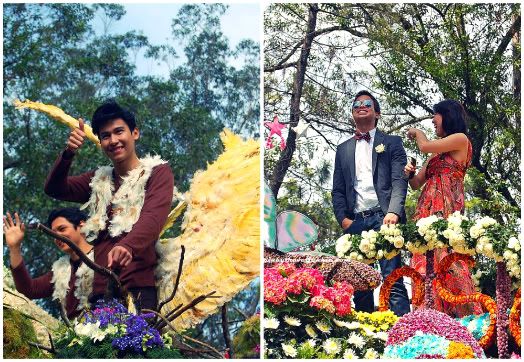 Probably for some, the floats weren't really the highlight of the event, but the celebrities. Pinay Travel Junkie Confession: I shrieked like a teenage fan alongside Joel (c'mon, admit it!).
Parade was done just before noon. The crowd dispersed instantly. Some proceeded to the grandstand while the others trooped to various restos for lunch.
Joel and I met up with another blogger after the event. Left to right: Joel (who kinda looks drunk here), me and Marcos at Oh My Gulay. Was feeling starstruck for I finally met the man behind
exploreiloilo.com
!
Stole
Borrowed this photo from Marcos' FB just to show it off.
Tweet
Share
This page was viewed times.