February was bustling, a P78.38 electric bill should prove our nomadism for this month. When March came, I thought I could finally stay put for a while and recharge my weary muscles... Until I received a surprising email from Eurotel. It was an invitation for their Baguio Bliss Bloggers Event.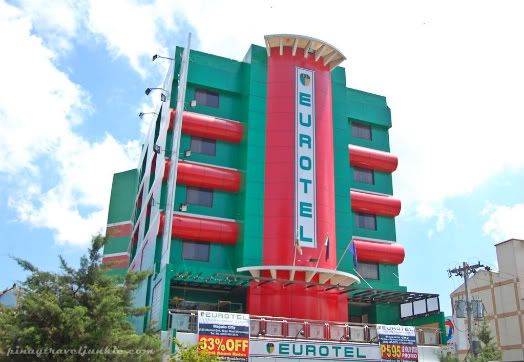 Eurotel Baguio along Abanao Extension.
2011 just got better! After escaping mummyhood duties, with vacations spent in
Batanes
and
India
, I was then offered a free hotel stay in Eurotel's Baguio branch (inclusive of a spa session) plus a tour around the city.
It got me excited. I have never checked in a decent hotel since our honeymoon night fifteen months ago. Poshness ain't really my thing.
The participants were to meet up at Eurotel North Edsa. We still currently reside in Baguio so I informed the group I will head straight to the hotel. And I embarrassingly got there late. I sent a text message to Claire of
Lakwatsera De Primera
asking where I should go next. She told me to come up to their room.
I rang the doorbell of room 618. Claire opened the door and greeted me with a big smile. It was awesome to finally meet her. She introduced me to her roommate Jennifer of
Marriage and Beyond
. They told me there were eight of us. Most of whom I haven't met yet.
After about an hour of
kikay
and geeky conversations in their suite room, we proceeded downstairs to the in-house resto where I met the rest of the gang: Melo of
Out of Town Blog
, Jonel of
Let's Go Sago
, Iris of
Pinay Ads
, and Montsch
Yipee Media
. Jen Adams of
The Sexy Nomad
was to join us in the evening.
I also met Ivan Aoki, Eurotel's Marketing Assistant who sent me the invitation.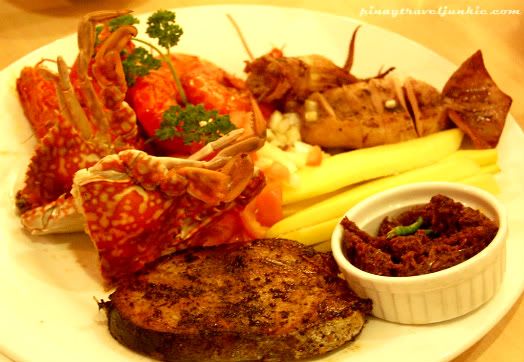 Seafood delight!
We were served with their specialties and best-sellers for lunch. Sinigang na sugpo, bulalo, and crispy pata to name a few. The head chef described some of the dishes he prepared for us but I was too famished to pay attention. We finally ate after snapping tons of shots and a discussion on white balance. I capped off my meal with fruit salad. Its serving, enough for two people.
There was an itinerary initially set for us, but they asked us what we wanted to do in the afternoon. It was the last weekend of Panagbenga and there were still shops lined along Session Road. We all agreed on checking it out.
Eurotel's service dropped us off in front of Our Lady of Atonement Cathedral, more popularly known as Baguio Cathedral.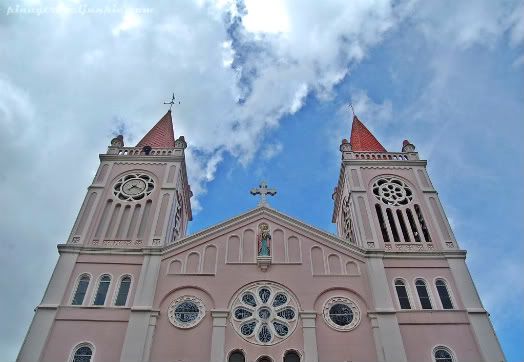 Believe it or not, it was my first time to take a photo of it.
Next we went to SM for a panoramic view of downtown Baguio, then to Oh My Gulay where we had tea and coffee... the drinks were on Melo. Hurrah to post-birthday celebs!
At almost 4:00 PM, we strolled back to Eurotel from Session Road. When we arrived, I was finally given a room, which I'll be sharing with Jen.
My pseudo-home for two days.
Like I've mentioned, I don't usually check in such pricey hotels (though I'm sure a lot of people will find P2,126 for a standard room very affordable). My usual budget range for accommodation is P150-300. So our room not only provided me creature comfort - it brought me a feeling of royalness. I don't mind getting used to such at all!
And oh, the room's not entirely the highlight of the day. Will soon let you guys know. Well... it's got something to do with karaoke!
Tweet
Share
This page was viewed times.