Traffic crawled at snail pace. Pedestrians poured out to the streets, and marched in one direction. Like on a pilgrimage.
I jumped out of the jeep and submitted myself to the human stream. Noon was approaching and I was certain that the Panagbenga 2011 Grand Street Parade was already over. Everyone's heading to downtown Baguio nonetheless for merrymaking and whatnot.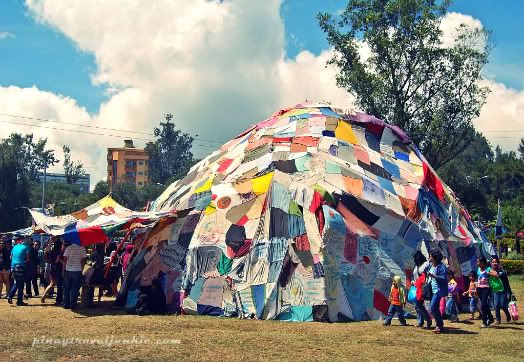 The Axis Tent
As I approached Burnham Park, the crowd in front of me whose footsteps I was following, parted... And unveiled an amazing sight! A huge colorful dome in the middle of Rose Garden.
I had goosebumps all over!
Drop City, Colorado. Photo credit Forbes.
It reminded me of the geodesic domes in Drop City, Colorado. Uhm, not that I've been there. It's actually a 1960s hippie commune which doesn't exist anymore (dunno about the structures though). I found out about it when I researched about a book with the same title I've read four years ago.
If you're a regular in this blog, you'd know how fascinated I am with anything related to the flower power era. Just imagine how ecstatic I was to see something that resembles a hippie village.
I skippity-hopped my way towards it. There were throngs of locals and tourists entering and exiting the dome. I read on a sheet of paper at the entrance its name, "The AXiS Tent". I fought my way in.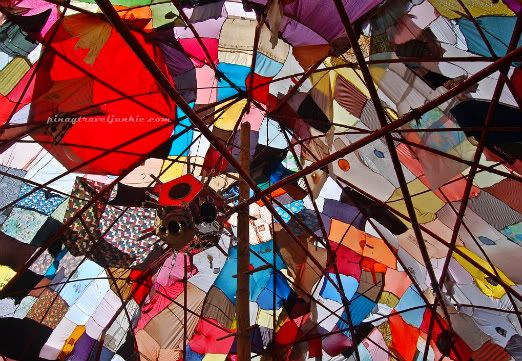 Sunlight filtered by colorful textiles. Art pieces hang on to the bamboo frame.
Unlike the domes in Drop City which was made from junk cars, the AXiS Tent was made from used personal clothing contributed by the youth of Baguio (ukay anyone?). Ferdinand "Bong Ti Baguio" Sanchez was in charge of the blueprint, while Baguio artist Kawayan De Guia supervised the making of the tent's cover.
A month before the Panagbenga Festival, students from different Baguio Universities assembled in Sunshine Park and Victor Oteyza Community Art Space (VOCAS) to sew together. I can imagine how the activity sparked camaraderie among the youth.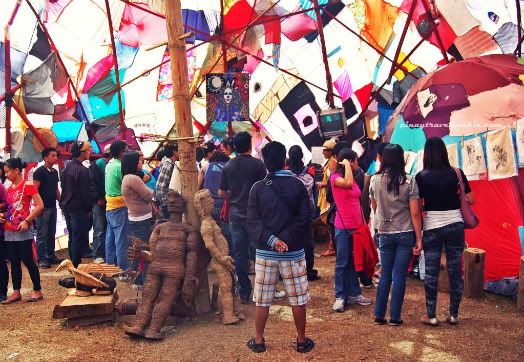 A handful of visitors stay awhile for film viewing.
Inside the tent are art pieces and installations by several artists. Not only that, the people behind The Axis Art Project also organized nightly performances by local and international musicians held just beside the tent.
Darn, I missed the Hare Krishna SanKirtan dancing and chanting two days ago.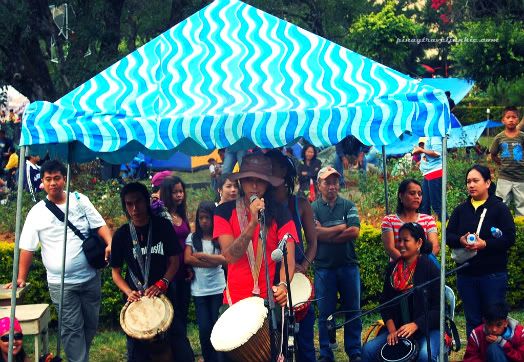 I was able to catch a drum/djembe workshop by Kawangis ng Tribu when I went back in the afternoon.
Surrounding the tent are more interesting art installations. Realizing there was no hope of having a solo photo with the artworks, I wandered off to the kiosks and lingered around shops selling hippie trinkets and canvas bags.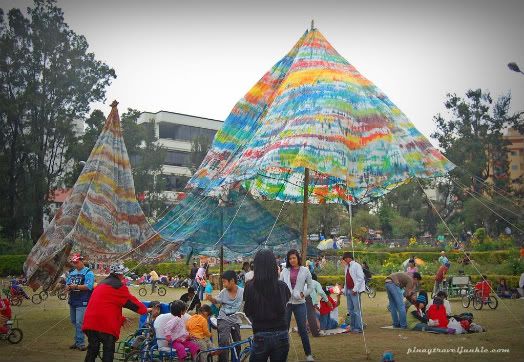 Groovy!
Though I missed the street parade, The AXiS Tent totally made up for it. If this will be an annual event (or is it already?), I'd definitely come back even if I don't reside in Baguio anymore.
Such a far-out Saturday!
Tweet
Share
This page was viewed times.