"Thank you India
Thank you providence
Thank you disillusionment
Thank you nothingness
Thank you clarity
Thank you, thank you silence."
- Thank U, Alanis Morissette
I now dig Alanis, and why she was singing nude in that music video. You'd have to experience India to find out yourself. When we left the country, I felt like I was born again.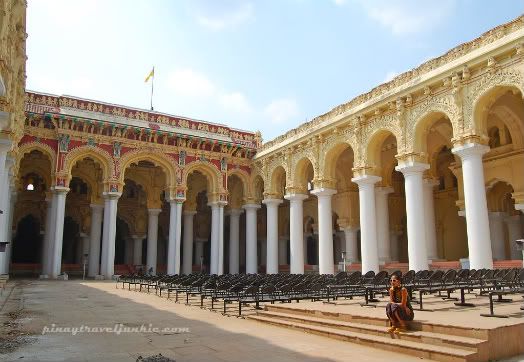 Madurai's Thirumalai Nayak Palace
It seemed odd choosing Tamil Nadu over its more popular siblings like Uttar Pradesh (where Taj Mahal is), Goa and West Bengal. Thing is, Shervin and I planned this trip last year when I was still six months pregnant. We were contemplating then whether we'll take our baby with us or not. And so we researched on cities with the least malaria risk. Hence, we bought
cheap tickets to India
to its southern region.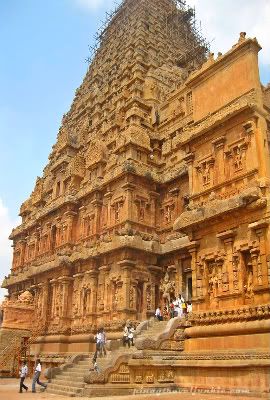 Thanjavur's Brihadeeswarar Temple
We ended up not bringing Luna though. She's still fragile at five months, and she won't remember such trip anyway. We'd only be punishing ourselves and exposing her to several risks had we lugged her around.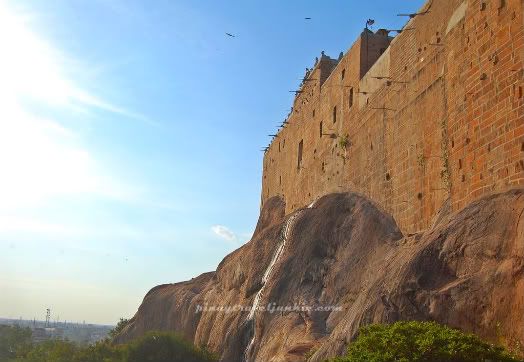 Tiruchirappalli's Rock Fort.
Our six-day stint took us to three cities, and we wandered around these sites:
Madurai
1. Meenakshi Temple
2. Madurai's Thirumalai Nayak Palace
3. Mariamman Theppakulam
4. Gandhi Museum
5. St. Mary's Cathedral
Thanjavur
1. Brihadeeswarar Temple
2. Thanjavur Palace
Tiruchirappalli
1. Sri Ranganathaswamy Temple
2. Our Lady of Lourdes Church
3. Rock Fort
With the exception of Indonesia, our budget in India was much less than elsewhere in Asia. We only spent P2,590 ($60) each for accommodation, food, internet usage, and admission/camera fees for temples and museums. At such cost, it was even a splurge trip (because I'm a huge fan of their food and I adore Indian trinkets!).
Coming soon are stories about Shervin's fans day, Sudanese Couchsurfers, paparazzi moments, almost losing an iPhone and iPod, conversations with locals, and a lot more misadventures.
Trip's Nitty Gritty
1. We spent P10,928 each for 5 flights. Clark-SG, SG-KL, KL-Trichy, Trichy-KL, KL-Clark. Our tickets for KL-Trichy-KL-Clark were purchased during a zero ringgit Air Asia sale. But then we spent loads for Clark-SG-KL because we totally forgot we didn't have a flight to KL yet and ended up buying regular-priced tickets with Tiger Airways.
2. At the time of our travel, 1 Indian rupee is equivalent to .96 centavos.
3. Their electric sockets/plugs have three round prongs, adaptors can be bought for Rs 20 from a hardware store.
4. Budget accommodations are at Rs 400, midrange at Rs 700 and posh at Rs 1,200.
5. Most of the temples we visited don't ask for admission fee but they do charge for camera/videocam. Rs 30 each.
6. Vegetarian meals in small canteens are only Rs 30-50, Rs 60-80 if with meat like chicken or bits of mutton. Locals eat with their hands. You'll be given spoons, but hey... when in India, do what the Indians do. Bring hand soap though cause some canteens/restos don't have 'em.
Piping hot milk tea's Rs 5-13.
7. Internet's Rs 10 half hour, Rs 15-20 1 hour. Internet shops are also called "browsing centres".
8. Tamil Nadu is well networked by bus. Short distance rides are only Rs 3-4.50. During rush hour, be prepared for a sardine-packed/overflowing bus. At such time 2 conductors attend to passengers, one at the front and one at the rear.
Buses are numbered so don't worry about trying to reading Indian alphabets! You'll also find a lot of locals speaking English, it's very easy to go around.
Tweet
Share
This page was viewed times.