Faces were a blur as I fleeted past them. I was running late. I criss-crossed my way from Quiapo Church to an unfamiliar destination via an underpass and a hectic street, bumping into pedestrians and devotees and medicinal herb hawkers.
I was on my way to
Illuminati Travel and Tours'
grand launch. Co-owner
Joel Aldor
, who I met through the Pinoy Travel Bloggers FB group, sent me an invite (after I invited myself). The launch was scheduled on the 29th of January, fortunately we were in Manila then to take care of a few documents.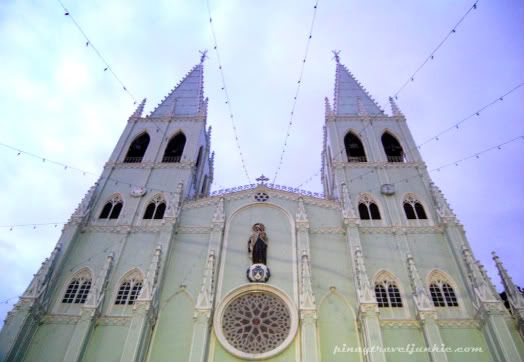 Basilica Minore de San Sebastián's facade.
As for the venue, well, I saw on the e-invite that it will take place in a certain church in Quiapo. I lived in nearby Malate for almost nine years and I've never been to, I read, San Sebastian Church. Neither have I Googled it. Hence, I didn't set any expectations. I was attending with a clean slate.
Jeep drivers and bystanders directed me to the church. When it came to view, about more than a hundred meters away, I swear my eyes must have seemed they were about to pop out of my lids! I was completely astounded. How could something this grandiose just be... be here and I was never aware of it?!
Just outside the church doors was an unmanned registration booth. I took a colored flyer, wrote my name on the logbook, and stepped in.
I was swept off my feet.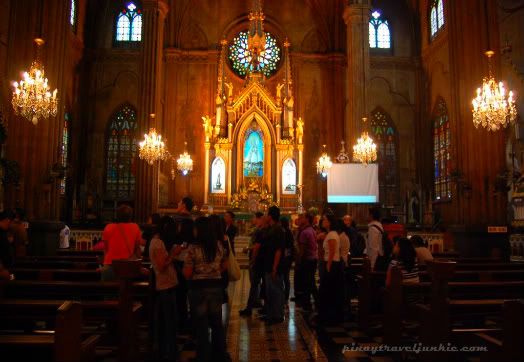 Arrived at this scene, attendees looking up and around the beautiful interior.
From the entrance, I could hear Joel's voice faintly. The people were gathered near the altar. The tour obviously has begun. I didn't join straight away though. Instead, I roamed around by myself (which I usually do on tours) and closely studied the impressive walls, windows, posts and ceiling.
The Basilica Minore de San Sebastián or San Sebastian Church is a Neo-Gothic church completed in 1891, and is the only all-steel church in Asia. It's currently included on the tentative list of possible World heritage Sites. I reckon it really should be.
When I found out that the church's steel sections were prefabricated and shipped from Belgium, it got me thinking... For what purpose is this spectacular structure? For more followers? For prestige? Or to showcase artistry? Perhaps an intermarriage of all these.
Nevertheless I am hoping heritage conservators/experts find a solution to its corrosion, without tampering the painting on the walls by Lorenzo Rocha and his students.
About to climb up the choir loft.
The rest of the tour I spent listening to parts of the talk and chitchatting with fellow bloggers Mark of
Nomadic Experiences
and Anton of
Pusang Kalye
, both I met for the first time.
Day was concluded with hors d'oeuvres and drinks at the church yard (where I also met Bernie of
Habagat Central
and Edgar of
Eazy Traveler
- and I so wish I was introduced to AJ of
The Transcendental Tourist
!), and a raffle. Three lucky people won free tours.
For more info on Illuminati Travel and Tours' packages, visit their
website
.
Tweet
Share
This page was viewed times.