By this time, we'd probably be checking in for our flight to Tiruchirappalli at Kuala Lumpur's Low Cost Carrier Terminal (LCCT) already. For sure it will take some time before I get to write about my "Incredible India" experience, so for the moment, here's something from the
Voyaging Visayas
series which I assume has a resemblance to a typical Tamil Nadu street scene: A maniacal bus driver and cheap food.
Shervin and I had been backpacking for a week. From Manila we flew to Cebu, then took a bus and
roro
to Dumaguete, then a ferry to Siquijor, then another ferry back to Dumaguete.
Our last destination, Bacolod. To get there, we were to take the Ceres bus. From our accommodation, Vintage Inn, we paid a mere P16 to get to the terminal. We arrived just in time for the trip, a little over noon.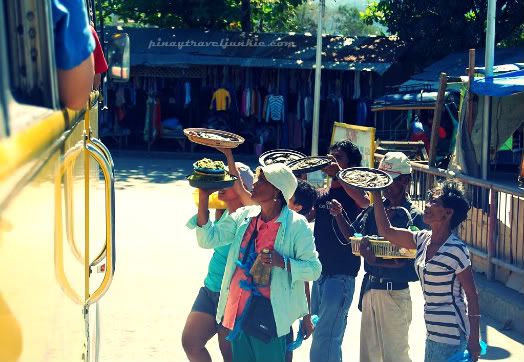 Hawkers selling fresh seafood, not snacks, to passengers.
It was a non-aircon bus. Cheap, but such long ride because of the many stops to load and unload passengers. Less than an hour into the trip, we were zooming across small towns. You know that feeling when you think the vehicle runs well over the speed limit just because the windows are down and the wind's causing everything to fly all over the place? We were under that stress, except, the bus was really beyond the speed limit.
I kinda feared for my life. I was two and a half months pregnant, and we had no other choice but to sit through it. As if the driver would slow down if I asked him to do so.
There was one stopover for meals. It took us a long time to find my sandals which oddly reached the last row (we were running that fast!) before we got off the bus to stretch a bit. Although I wasn't feeling too hungry, I felt like eating the moment I saw a canteen selling
pancit
(sauteed noodles).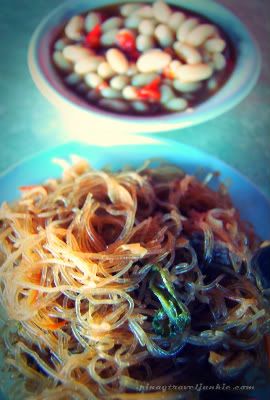 Ten pesos never tasted this good!
We sat on a bench, and was served a small plate of it. We ordered beans on the side. Both dishes were equally yummy. More so, the pancit was only ten pesos. I think the beans too.
They made my day. I momentarily felt better... until the waitress told us the bus was about to leave! When we turned around, we saw the bus almost on the road. Conductors are supposed to check on their passengers right? And to think, Shervin was the only "white" person on board. He could have easily remembered us. Lastly, we left our bags on our seats, so surely that means we're coming back.
Shervin sprinted and I brisk walked. When we boarded, I was flushed with anger. But I kept my cool. I didn't want to make a scene again like I did at
Hagnaya Port
. Besides, I didn't want him to drive any more faster out of rage.
Anything worth ten pesos that made you happy?
Tweet
Share
This page was viewed times.