The Government of India announced that effective 1 January 2011, visa on arrival can be granted to Philippine passport holders who wish to sightsee or visit relatives and friends. Sounds awesome, but it ain't for us. The tourist visa on arrival (valid for a maximum of 30 days with single entry) is only available at Delhi, Mumbai, Kolkata and Chennai airports. Shervin and I are heading straight to Tiruchirappalli.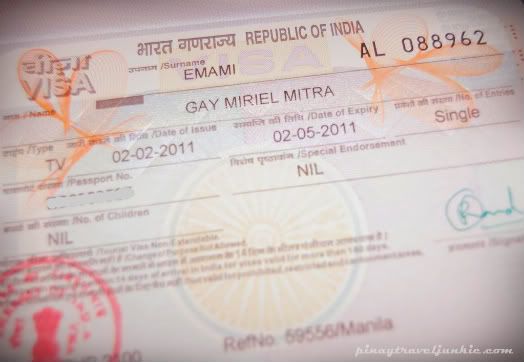 And so we went to the Embassy of India in Dasmariñas Village, Makati last Tuesday to apply. The embassy only accepts visa applicants from 8:00-11:00 AM. Afternoons are for visa/passport releasing only. The village guard won't let you enter past 12 noon if you don't present a document/receipt stating your date of pick up (we actually went Monday afternoon but were told to come back the next day for the application).
Although you could easily walk to the embassy (Paraiso Street is parallel to Edsa and is accessible via small alley near the guardhouse), the protocol is, you have to take the
embassy shuttle
. The shuttle picks up foreign nationals, visa applicants and travel agency L.O.s from the waiting area. Driver takes everyone to the village's association office first, and there you pay a whopping P150 each for the joyride. Yes, you'd have to pay another P150 when you come back 2-3 days later.
Highway roberry, ei? I guess that's the price to pay for a Dasma Village tour. It was quite an entertaining ride
in fairness
. Imagine the driver calling out "Libya", "Turkey" on designated stops - similar to a jeepney driver calling out "Buendia", "Vito Cruz". It's as if the village's the whole world (actually, there are more than 10 embassies located here).
Anyhoo, not to bore you with my random thoughts any further, here are the requirements (original documents must be submitted):
1. Passport with photocopy, valid for at least 6 months
2. Filled out application form, form can be asked from the counter
3. 2 passport size photos
4. Return ticket
5. Bank statement (we didn't know they ask for this and we had to rush to the nearest mall to print)
* For housewives like me, if you're traveling with your husband, they might ask for your marriage certificate (especially if you present a joint account bank statement).
When you arrive at the embassy, take a queue number from the counter. It wasn't so busy when we were there but since travel agency L.O.s submit a big bunch at a time, it can take a while before your turn. When you're called, all you have to do is submit your documents. Pay P2,100 and don't forget your receipt. You're done!
Then you can wait for the shuttle to take you back to the village gate or you can stroll your way out.
- Validity of the visa starts from the date it is issued, lasts up to 3 months.
- Visa fee is P4,200 for Americans and P3,150 for other nationalities.
- Processing time: 2-3 days for Filipinos and 6 days for other nationalities.
- Releasing day: Give your receipt to the same counter (there are only two, the other is solely for Indian nationals) and have a sit. They'll call you when it's ready.
- To get there, take the MRT and alight at Magallanes. Dasmariñas Village's gate is just a few meters from the station.
Just a short funny

kwento

, I sat beside an Indian on a

siesta

while waiting for the release of my passport. When he awoke, he turned to me and spoke in Hindi(?). I shook my head and told him, "Filipino". The whole room giggled. Must be the nose stud and my heavy eye make up that day. Or maybe he was just too sleepy to take a good look.
***Update April 30, 2013:
Effective October 23, 2012 all Filipino applicants for tourist visa must lodge an online visa application. Visit http://www.indianvisaonline.gov.in/visa/ for further details. Completed form must be printed out. A copy of which, together with the original passport and other documents, should be submitted to the Indian Visa Application office. Address below:
Unit 601-A, One Corporate Plaza
Arnaiz Avenue, Makati City
Telephone No.
+6325555060
Schedule of application is from
9:00 AM to 1:30 PM
Tweet
Share
This page was viewed times.