The sun's rays kissing the white sands of Salagdoong Beach in the late morn was blinding my sleepy eyes. I just stepped out of Hotel Agripino. I yawned and stretched (and heard my idle bones crack) and trudged to the shore.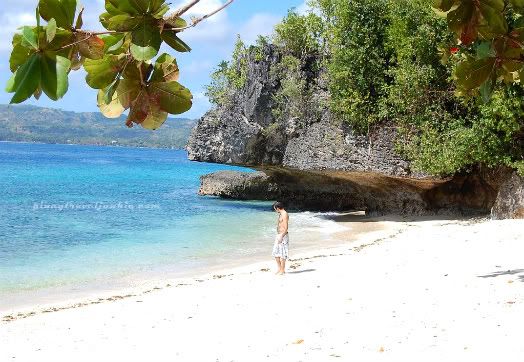 Blinding white.
Shervin, equally sleep deprived but already donning his board shorts, walked beside me. After semi-circumnavigating three islands in the Visayas for six days, we agreed on taking a breather. A preggy backpacker is in dire need of one every so often. The
habal habal ride and trek to Casaroro Falls
we did a couple of days back left me bushed.
And that beach before us was the perfect spot to laze. Well, that and our hotel room with a view of Maria Bay.
First order of business was brekkie. The restaurant in the hotel is under the same management as the one by the beach. Both got the same limited menu, so we decided to dine al fresco.
During our almost three-day stay, we have sampled everything they offer. The usual
silog
fare, pasta and Samyz Pizza. There's nothing to rave about. Rice meals come in small portions (perhaps I just think so because preggy me's got a huge appetite!), pasta's so-so (though we mysteriously got addicted to their spaghetti meatballs), and Samyz Pizza? The epitome of cheap Pinoy street pizza: bland sauce, dodgy cheese, and an odd mix of toppings. Let me tell you though we kinda enjoyed the pizza we ordered the night before for Shervin's birthday.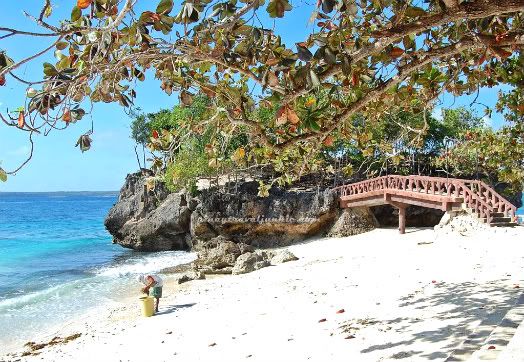 A rocky outcrop splits the shore into two.
What the restaurant lacked, the view and ambiance totally made up for it. While waiting for our order, we climbed up the outcrop via a short concrete bridge. The small gazebo that sits on it provides shelter to those who wish to stay to savor the scent and sight of the sea. It also serves as a view deck for the sunset.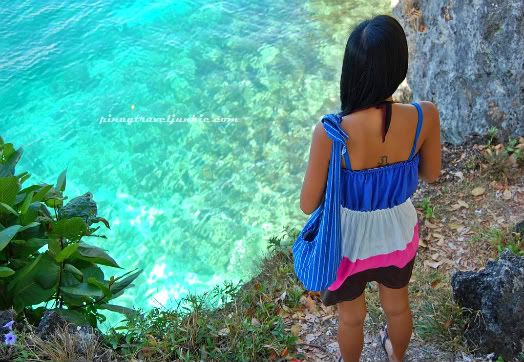 Adrenaline junkies may dive off this cliff. Check the tide though.
Speechless and lost in our respective thoughts, we inadvertently watched fishermen on their boats drift by. Siquijor does have the power to bewitch its visitors, in a non creepy way.
I snapped out of my daydream and tugged Shervin's shirt for him to snap out of his. Time to take the resto's uhm, concoction.
Trip's Nitty Gritty:
1. Salagdoong Beach is on the eastern side of the island. It's government-owned and managed by Siquijor's Provincial Tourism Office. To get there you can easily hire a motorcycle or tricycle from Siquijor town. Price depends on the list of places you wanna go to.
2. Admission fee is very affordable at P10. If you wish to swim in the pool you'll be charged an additional P50 for adults and P25 for kids.
3. Picnic sheds can be rented for P50. They got barbecue pits too.
4. Rice meals and pasta dishes at the restaurant are priced at P65-75. Pizza about P150.
5. Air-conditioned twin room in Hotel Agripino costs P800 a night. Tissue and towels are provided. Ask for a room with a view of Maria Bay. At the time of our visit, the bungalows near the beach were being rehabilitated.
[This is part of the Voyaging Visayas Series which took place February 2010. Price of goods, transportation and so forth may already be different.]
Tweet
Share
This page was viewed times.