I have seen some of the most spectacular waterfalls in the country, but it was my first time to see the bluest of blue basins. Cambugahay Falls may not have a stunning cascade, but its clear pool can easily tempt any visitor for a dip.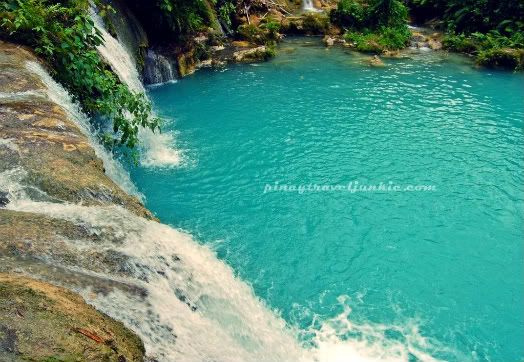 Shervin and I just came from
Lazi Convent and Church
, perplexed and blown away. After marveling on structures made of timber and coral stones, we were ready to see another natural attraction.
Cambugahay Falls' signage along the main road has an ethyl alcohol ad on it, with the president's youngest sister as the endorser. Not the most enticing sign, but it gave us a good laugh. Our tricycle driver dropped us off the parking area. We crossed the road and began the no sweat 15-minute hike. Actually, it's more of a stroll/descent down cemented steps.
The waterfalls is tucked inside a lush forest. At the end of the paved trail, I caught a glimpse of some blue pool which at first I thought was man-made. As I got closer, I had a full view of the falls and its basin. I exclaimed "wow!" for the nth time that day.
Though inviting, we weren't able to swim in. We were rushing through Siquijor's attractions because we needed to catch the last ferry to Dumaguete. After half an hour, we were once again aboard the tricycle. We zoomed our way to our last destination, recommended by the driver.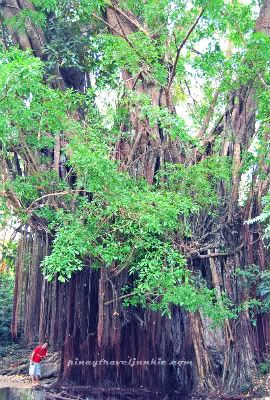 He took us to the famed old, enchanted balete tree which is believed to be 400 years of age. And let me tell you, this one's a behemoth (I wonder how big is the biggest in the world)!
Here in the Philippines, balete trees are known as hosts to scary creatures and spirits. I have no idea where this myth (I'd have to see one to become a believer) originated, but I do know its predator-ish ilk. In reality, it is the wild balete tree that's evil. A creeping plant that lodges itself onto a host tree, killing it when it's mature and mighty enough. When the host dies and withers, it leaves a hollow trunk. that's why we could sometimes pass through it.
Uhm, sorry to lead you to that geeky science stuff I'm occasionally into. In English, I think balete trees are amazing, so yeah I was more than happy to be brought there.
As we walked around the tree, gray clouds suddenly hovered above us. Our cue for calling it a day.
So for the last time, we hopped in the tricycle and headed to the port. The photo above was taken just before we boarded the ferry. It perfectly encapsulates our memory of Siquijor... A laid back, unsullied paradise. But full of surprises.
Tweet
Share
This page was viewed times.