Our driver arrived on the dot. He waved when he saw me through Hotel Agripino's restaurant window. 7:30 AM was what we agreed on. Shervin and I had just finished our brekkie then.
A long stretch of powdery white sand.
We walked out of the hotel and towards the tricycle. The driver approached us, took our bags, and tossed them on our ride's roof. How chauffer-ish. He's the same guy who drove us from
Siquijor town's port to this hotel two days ago
, upon his brilliant recommendation.
He asked where we'd like to go first. I replied, Kagusuan Beach. He gazed up in the sky and looked as if he was about to make a weather forecast. It was, after all, an overcast morning. After about half a minute of silence he finally said,
"Sige po mam hanapin natin..."
(Okay ma'm, let's look for it).
Kuya
(yes, I failed to get his name) is my kind of driver. He doesn't talk too much. And when he doesn't have an idea about something, he admits it. With him not knowing exactly how to get there, we suddenly became a party of three explorers.
After an almost 20-minute turtle-pace drive through sleepy towns, we reached Minalolan. We drove to
baranggay
Nabutay and followed a road that eventually led us to Kagusuan Beach. We found it without asking for directions. And boy how proud our driver was. I threw him a thumbs up sign.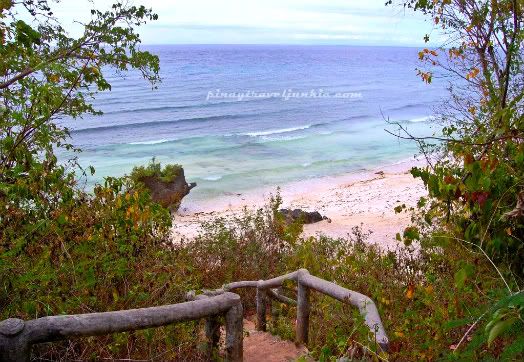 Paradise about to unfold.
A concrete staircase was built so visitors could descend to the shore easily. Our driver peered curiously through the trees partially covering the beach view. I asked him to come with us but he refused. He said he'll be watching over our belongings.
As we took each step down, a pocket of paradise slowly unfolded before us. When we got to the foot of the stairs I took off my slippers. My toes wriggled in delight as they felt the powdery sand.
The beach was deserted. And it's even more stunning than
Salagdoong Beach
! Well, except for the scattered seaweed (heaps of them). What a shame, the area seemed to have been neglected. The shore was turned into a parking area of small boats. Even the changing rooms near the clearing where our tricycle dropped us off were vandalized.
Would love to camp here!
Nonetheless we totally prefer it to be like this, than it being overdeveloped just to please tourists.
I glanced at my watch and sadly, it was time to leave. We had four more sites to visit before taking the ferry back to Dumaguete. Gray clouds hovered above us and we began climbing back up the stairs to our tricycle.
Trip's Nitty Gritty:
1. Kagusuan Beach is on the southeastern side of the island. Refer to a map if you're driving your own hired habal habal. There aren't much signs along the way.
2. If you've hired a habal habal (or tricycle) with a driver, price depends on how many destinations are included on your trip. We paid P800 for ours: Salagdoong Beach, Kagusuan Beach, San Antonio De Padua Church, Lazi Convent, The Old Enchanted Balete Tree, and Cambugahay Falls.
3. If you're checked in Hotel Agripino, you can ask about their island tour package. P2,500 for a van. Good for big groups.
[This is part of the Voyaging Visayas Series which took place February 2010. Price of goods, transportation and so forth may already be different.]
Tweet
Share
This page was viewed times.