I swallowed hard. It's going to be one tough ride. Amidst the pandemonium of
habal-habal
drivers offering tours in our faces, I was fidgety and dazed. I was never comfortable journeying aboard motorcycles, let alone riding it with another passenger aside from the driver on an unpaved road
and
two months pregnant.
Nevertheless I was determined to do so, with a hesitant go signal from my husband who shared a habal-habal with me. We made sure our driver knows the consequences if something terrible happens to us.
Mighty Casaroro Falls.
We each picked our own drivers from a terminal at Valencia's town proper. Valencia is a mere 20-minute jeep ride away from Dumaguete City, fare P12. It's the jump off point for travelers heading to Casaroro Falls, Forest Camp and Fil-Am Japanese Shrine.
With me were my friend Xhy and his cousin, my hubby Shervin, and his friends from Australia Ari and Benn. Our trip was vaguely planned. First, I didn't expect that
Ari and Benn will be coming with us to Negros Oriental from Cebu
and second, I'm just not good at constructing itineraries.
Since it was my call, I opted for a slower pace. Which meant one destination a day. Hence, we didn't wander around Valencia for other sights besides the Casaroro Falls. The falls is another 20-minute habal-habal ride (half of which is on rough road) from the town proper.
Getting there is an adventure in itself. Especially for first time motorcycle riders Ari and Benn. Ari was about to end his year-long RTW trip. Although he has spent a significant time in Thailand, he's never been on a bike. It ain't his cup of tea either. Plus the fact that having a Scandinavian built means an uncomfortable balancing position on a narrow motorcycle seat.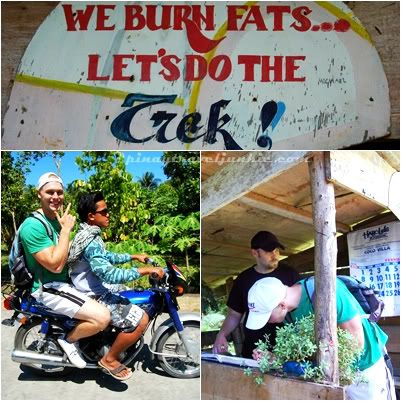 Above: Let's do this! Bottom left: Ari called Benn "full on Schwarzenegger holding onto his driver for dear life". Bottom right: Registration area.
Admission fee is very affordable at P10. I reckon it really should be so as to compensate for the exhausting 300 plus steps, the only means of access to the falls. Don't forget to bring bottled water, and perhaps some food too for it's nice to while away a sunny afternoon in one of the picnic huts by the stream were the falls flows into.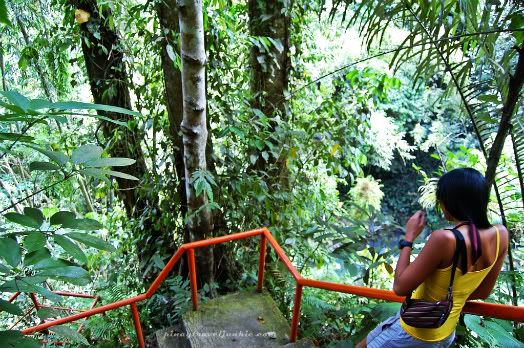 Tiring but such scenic route.
If you've only seen a few small waterfalls, you will consider Casaroro Falls as spectacular. With about a hundred feet drop, it is truly a sight to behold. It can be intimidating though if you intend to swim in.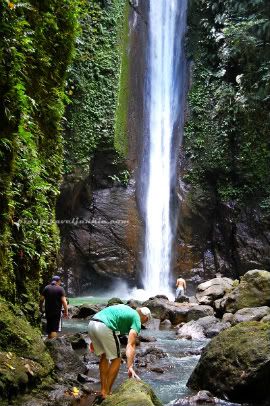 With only one other group of tourists there, we soaked up the tranquility.
All of us crossed the rocky, boulder-y stream to get close to the falls but only Shervin took a dip. And after snacking on chips and dried mangoes at the view deck, we called it a day.
Going back to Valencia, we traipsed for ten minutes on the bumpy road instead of riding our motorbikes. Ari and Benn just find it too much to handle. And because they experienced the habal-habal drivers' skills on death defying maneuvering, it became the highlight of their trip. Not Casaroro Falls.
[This is part of the Voyaging Visayas Series which took place February 2010. Price of goods, transportation and so forth may already be different.]
Tweet
Share
This page was viewed times.