I traumatically underwent an onslaught of interviews by random Pinays as we roadtripped and roro cruised our way from Cebu to Dumaguete. Our entourage composed of two Pinoys (me and my friend Xhy) and three Aussies: Brothers Ari and Benn, plus my hubby Shervin.
Backpacking around the Philippines with foreign travelers (or
"Joes"
as we call them) can be enlightening, for they give unbiased judgment and at times radical opinions. However it can be infuriating too, because disappointingly, you get ripped off by a few fellow Filipinos. Not only that, depending on where you are, you suddenly become the town's core of attention - which I ain't comfortable with.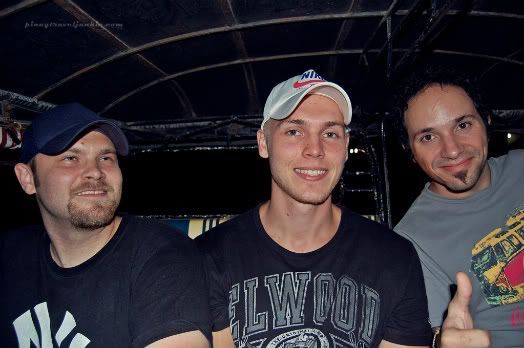 Traveling with

"Joes"

. Ari, Benn and Shervin comfortably fit in one Dumaguete tricycle.
It was a Friday. Xhy and I went straight to Cebu City's South Bus Terminal along N. Bacalso Avenue after checking out of
Cebu View Inn
. I was still nursing a headache I got from
strolling around downtown Cebu
in the morning under the glaring sun.
After getting off a cab, we entered the terminal, passing by paid turnstiles. P5 each, free for Senior Citizens and I believe minors too. It's a minimal amount, but irksome if you'd like to get in just to ask for bus schedules. Like what we did the night before, and all we got were unsure answers.
There was a Ceres Liner air-conditioned bus bound for Dumaguete at 1:00 PM. We boarded, placed our bags and some other stuff on five seats to reserve them, then waited for the three Aussies to arrive.
They got to the terminal ten minutes later. The bus was still waiting for more passengers. While they quickly grabbed munchies, the terminal's lady guard who did not welcome my queries about how long the bus trip and roro ride would be a few minutes ago suddenly chitchatted with me and asked if my
"kano"
(short for
Amerikano
, but generally means foreigner) friends are still single. And according to her, she's got kind and attractive cousins she could introduce to them.
My raging pregnancy hormones made me hold a grudge against her, and I chose to shrug her off. Not that my nice self will entertain her idea anyway. Besides, Ari and Benn have had enough marriage proposals during their week long stay in the city.
The bus finally left half past one. It's a 3-4 hour ride to the town of Bato, where the bus boards a roro or barge. Bus fare is P186, it excludes the P70 payment for the roro that crosses Tañon Strait to Negros Oriental which takes an hour.
A Maayo Shipping barge waiting for our bus and other vehicles to get on.
Roro then docks at a port in Tampi, Negros Oriental. Dumaguete's just about 20KM away, bus can take passengers there in less than an hour.
It was already dark when we alighted at Dumaguete's bus terminal. Xhy has relatives living in the city. Though he has not seen any of them for ages, he promptly spotted his uncle amongst a chaotic crowd of trike drivers and porters.
His uncle was picking us up because we (Xhy, me and hubby) will be staying at their place for a couple of nights. We told him we were to take Ari and Benn directly to a hostel from the terminal, but he invited them to their house as well to have dinner first. Filipino hospitality rocks!
Benn and Ari chillin' at Xhy's relatives' home.
Nothing beats homecooked meals! Ari and Benn liked the Pinoy spaghetti, which they had for the first time. Actually I've never met a Joe who dislikes this dish. Xhy and Shervin happily gobbled their food. As for me, I ate way too much but hey, I was eating for two (awesome excuse!).
To make the most out of our first evening in Dumaguete, we didn't stay long in the house after eating. We took Ari and Benn to Plaza Luisa Maria Hotel just across Quezon Park, recommended by Xhy's cousins. Though their room was expensive at almost a thousand bucks, they were quite pleased with it.
Rizal Boulevard entices passersby to sit and stay a while.
But no time for them to savor the air-conditioned room for we headed to the famed Rizal Boulevard to chug a few bottles. A great evening cap off except I wasn't allowed to drink.
[This is part of the Voyaging Visayas Series which took place February 2010. Price of goods, transportation and so forth may already be different.]
Tweet
Share
This page was viewed times.