The term "babymoon" these days pertains to the final vacation of a couple who are expecting a baby. Babymoons almost always are spent in luxurious resorts which provide pampering services, especially for the soon to be mom. In our case, it's far from such. Even at six months pregnant, our weekend babymoon was the usual P1,500 camping affair.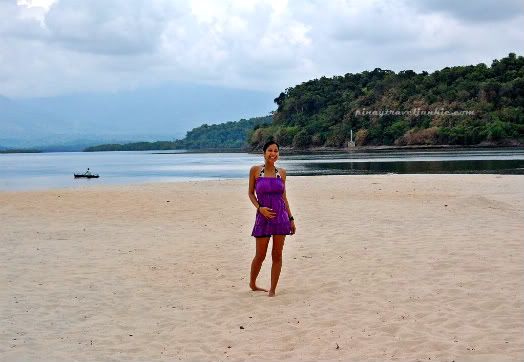 A happy, shiny 6-month preggy camper.
Magalawa Island has rapidly become one of the top choices of beach campers (at least for Manileños) today. From Manila, it will take you six hours via public transport (4 and a half to 5 hours with private vehicle) to get there, double the travel time to
Anawangin Cove
.
It can be an exhausting ride for a pregnant woman, but the island's promise of uncrowdedness on a Friday lured me. After a much heated debate with my hubby, I convinced him that I could handle the trip. Thursday night, 10th of June, we stuffed our camping gears in a couple of duffel bags instead of backpacks. We find duffel bags cumbersome to lug around but we didn't have much choice. Obviously I am no longer allowed to carry heavy load, while Shervin's suffering from a slight
RSI
.
I called
Victory Liner Caloocan
and inquired about the schedule of buses going to Sta. Cruz, Zambales. Friday trips aren't as frequent as Saturday's so it's crucial to be informed. We chose the 7:30 AM bus instead of the 4:00 AM one so we could take an LRT train (P15 from Vito Cruz to Monumento Sation) to the bus terminal.
When buying the tickets, remember to mention that you'll get off Palauig. Otherwise you will be charged the full amount of the Caloocan-Sta. Cruz ride. Ticket costs not more than P340.
Our bus left 10 minutes past its departure time. We only had one stopover for meals (yup, at the famous Double Happiness Restaurant in Pampanga), and another to pick up more passengers at Victory Liner Olongapo. A bit traumatizing for a preggy woman's urinary bladder.
Once we were in Iba, we reminded the conductor to drop us off Radio Veritas Road at Brgy. Pangoligan in Palauig. He's familiar with the area, and I'd like to assume that all conductors are. This would be of big help because the road does not have a signage.
There is a waiting shed just at the tip of Radio Veritas Road where you can hire a tricycle which will take you to Oslet Armada Fishdealer Compound in Brgy. Luan. Trike ride is no longer P25 per head. It is now P100 for the 20-minute trip, half of which on a paved road and half on a rough/bumpy one.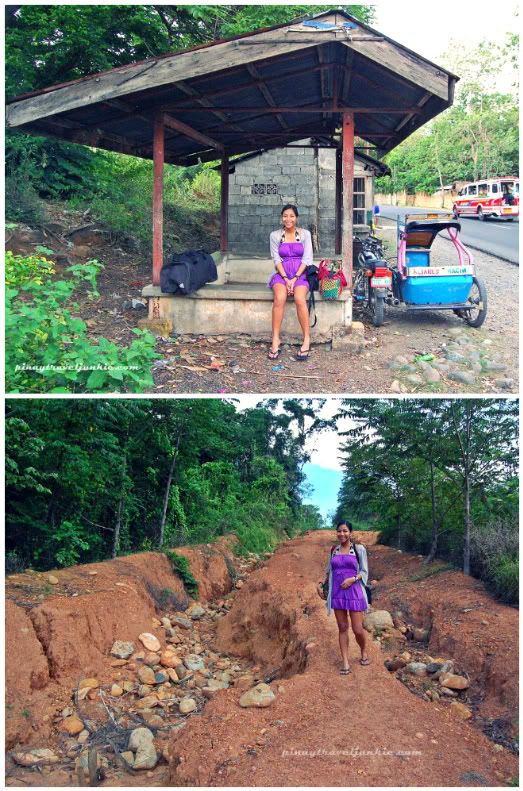 Top: Waiting for our trike driver, corner of Radio Veritas Road. Bottom: Instead of the Oslet Armada Fishdealer Compound, our trike driver took us to a different small makeshift port and made us hike downhill a loose, slippery ground.
One of the owners of Magalawa Island's beach area, Ate Grace, is actually maintaining a very informative
Facebook Fan Page
. If you're driving a private vehicle, you'll find information on how to get there from the said account.
There is also a mobile number of a trike driver posted there, but I suggest you guys contact it as a last resort. This would mean equal distribution of business for the drivers. It's highly likely anyway that there's at least one trike available at the shed.
A couple of days prior our babymoon, I already arranged the boat rental with Ate Grace. The boat ride is P100 per head 2-way, but for a minimum of 4 persons. She quoted P400 for a special trip and I agreed to this since they weren't expecting other visitors that day. Besides, our budget could still afford it.
I was relieved to find out that the 15-minute boat ride is just a smooth cruise (choppy water's a nightmare for me). Ate grace was already waiting for us at the beach. She and the other caretakers were painstakingly raking sea grass off the whole stretch of the shore. Impressive.
She made us choose an open cottage which we also reserved two days ago. We decided not to bring Hurley, our tent, to lighten our load. For only P500, an open cottage can be shared by 5 persons. Mattress, blanket and pillow are provided. That, my dear friends, is what we already consider as luxury.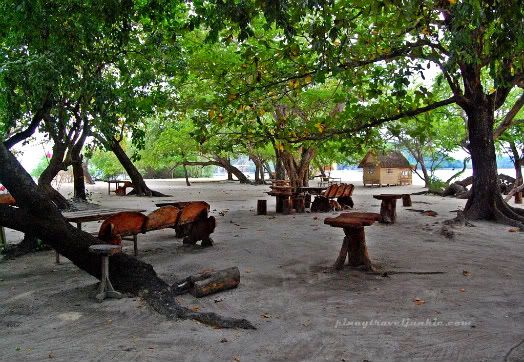 Shaded campsite for those with tents.
We were the only campers on the island. Admission fee by the way is P100/head for a day tour, P150/head for an overnight stay, and P200 for a 2 days 1 night stay (and nope, I don't know how it is different from the overnight one).
After we have settled in our somewhat posh accommodation, we ate our
baon
. A late lunch of homemade chicken tocino with rice. Shortly after, heavy rain fell and we were confined momentarily in our airy cottage. According to Ate Grace, the cottages were just constructed last December, so they are still in top shape. No need to worry about leaks. Drops of rain could be blown in through the window though (caretakers could easily solve this issue by covering it with a tarp).
In just half an hour, the rain retreated. We took the chance to explore the beach within a 20-meter radius. Yeah, we were that lazy. The starfishes got us excited, but we fought the urge of toying with them for photos. They are marine creatures that need to be protected from human's curious hands.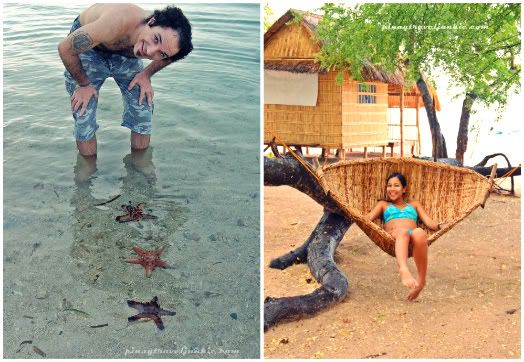 Left: Starfishes scattered on Magalawa's creamy white shore. Right: Lounging on one of the beach's hammocks.
Before it got dark, we prepared our dinner. The caretakers helped us flame up our coals (P20 per bag sold by the resort), which was a daunting task because the grill was soaking wet. I tossed our liempo (half-cooked and frozen to prevent it from spoiling) on the fire while we snacked on toasted marshmallows. It was done in a jiffy, and soon after we were chowing it with rice. Our equally yummy side dish, salted egg with roasted tomatoes.
It would have been a perfect dinner had I capped it off with a bottle of cold beer (the resort sells for P35 a bottle). Shucks, I'd have to wait for several months before I could drink again.
Due to lack of sleep, we hit the sack early. No opportunity to star-gaze anyway since clouds were still hovering above the island. We awoke very early as well, to the noise of pumped up newcomers at 6 in the morning. By the tone of their shrieks, it was quite obvious they were first timers too.
More than fifty weekend vacationers were expected to arrive that Saturday. We couldn't go back to sleep with the commotion going on, so we had our breakfast. Canned beans, sardines and bread. After which we watched
Trainspotting
on our netbook. We brought it for the sole purpose of viewing films.
And oh, we had a quick swim of course. For the first few minutes, I felt awkward walking around in a 2-piece suit with that big belly of mine hanging out. Not for long, I've acclimatized to the constant staring.
Half an hour before noon, we packed our things. I settled our P1,420 bill with Ate Grace (admission fee + cottage rental + bag of charcoal + special boat trip). I was surprised to see the breakdown of our charges. Boat rental was P500 instead of the P400 she quoted on her text message. Though I still got that message in my inbox, I didn't point it out anymore. They spoiled us to bits, so I just considered it as a tip.
It wasn't exactly a stress free babymoon, but we had so much fun... Just the two of us - which is the main objective of a babymoon anyway. Shervin's glad I persistently nagged him to take this arduous Magalawa Island trip.
Commuting back to Manila from Palauig is not difficult, though it might take a while before an Olongapo-bound bus passes by Radio Veritas Road. We hopped on an ordinary bus and paid P100 to Olongapo. From there, you can choose among several Victory Liner buses going to Caloocan, Cubao and Pasay (about P250).
Tweet
Share
this page was viewed times.