One of the greatest archaeological finds in the world, The Terracotta Army of Qin Shi Huang, used to parade around my dreams. Our encounter with them in real life happened unexpectedly.
The army, eerily standing guard. No two warriors are exactly alike.
We ended up in Xi'an after cowering from Beijing's freezing temperature. Instead of 7 days, we cut our Beijing trip short to 4 and spent the remaining days exploring Xi'an. And boy, was that one of the best decisions I've made in my entire life!
For a city where a famous archaeological site is located, travellers might have the notion that it's not doable under a small budget. Xi'an is actually affordable, if not cheap for some. My husband and I only spent P1,716 ($40) each for two days: Muslim Quarter and Great Mosque visit, mid-range accommodation, transport around the city, meals, souvenirs and groceries.
The amount excludes the train fares and the Terracotta Army Museum tour. Pinay Travel Junkie confession: Okay, I did not include the tour price cause I forgot how much it was. Ugh, can't believe I wasn't able to jot it down my notebook!
Anyway, it should not be more than ¥150. That's quite a lot yes, but in my opinion, it's well worth it. You'll find out why later on.
We booked the tour at our accommodation's (Bell Tower Youth Hostel) reception the night before and were informed that the guide will meet us at the lobby, 9:00 AM sharp. The cafe/resto's located on the same floor, and we were already there by quarter to 8.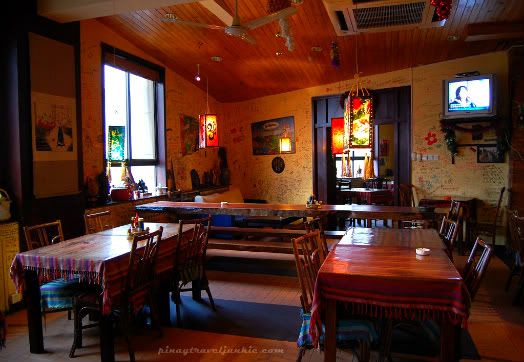 Bell Tower Youth Hostel's cozy restaurant. It may be deserted in the morning, but it's a buzzing hangout for young locals at night.
Shervin went to the money exchange (post office downstairs) while I ordered breakfast. He was already back by the time our food was served. That meal was our biggest splurge in China, believe it or not. ¥54 for an American Breakfast (which we shared), freshly squeezed orange juice for Shervin, and latte for me. We absolutely loved it! It was the first decent breakfast we've had in almost a week. We were about to get sick of/from eating instant noodles every waking day.
Exactly 9:00 AM, our tour guide showed up. She didn't introduce herself (I noticed most of the locals we met never did so), so I asked her name. Her name's Ana. It doesn't sound Chinese I know, but I'm quite sure her real name might be difficult to pronounce anyway so let's leave it at that.
She motioned us to follow her. We walked out of the hostel to the street in front of a building. A van picked us up. There were two women already seated at the back, we greeted them a faint 'good morning'.
The van quickly drove out of the city center's chaos. It didn't take us straight to the museum though, we were dropped off a factory first. I discussed on my
Great Wall of China
post why some tour guides take you to factories which isn't really part of the itinerary - because they get commission from the souvenirs that you (were pressured to) buy.
At the entrance of the factory. Dodgy warrior with a smile!
But this time, we were not herded to a jade or silk factory. Instead, to a factory that produces Terracotta Army knockoffs! We were skeptical, but when Ana started lecturing about how the figures were/are (old method is still being practiced) made, our doubts soon faded away.
Left: Kneading the clay before squeezing it in molds. Right: You can buy a whole army!
Parts of the terracotta figures are molded separately, assembled together, and dried under the sun or baked in an oven. The local artists then add a thin layer of clay on the figures and sculpt each of them with unique details. Ana added that the army was made 'very strong', "Rain or shine no problem".
If you'd like to take home a few mini terracotta warriors, I suggest you buy from the
Muslim Quarter
. I got two 6-inch figures for ¥15. I reckon you could get them cheaper if you purchase more. They are priced ¥30 each at the tourist factory!
Ana's lecture only lasted 15 minutes, but she let us linger around to take photos and peruse the products. We left just when the factory started getting crowded as other tourist vans arrive.
The Army is 45-minutes (by private vehicle) away from metro Xi'an. A DIY trip is definitely cheaper,
here's how to get there
:
1. From Xi'an's train station parking lot, you can take the Terracotta Warriors tourist minibus or bus 306 (¥7-10). Travel time, 1 hour. You will be dropped off at the museum's parking lot.
2. Hire a cab for ¥200-300. Keep in mind that you'll still pay for the museum's admission fee.
We were also dropped off at the parking lot. From there we walked for 15 minutes to the entrance. Ana handed out our tickets. Admission fee by the way is ¥90 from Mar-Nov and ¥65 from Dec-Feb, museum sells tickets from 8:30 AM 5:30 PM (up to 5:00 PM Dec-Feb). You can employ a guide (they're lurking by the gate) for ¥100, or hire an audio guide for ¥40.
Ana also reminded us that we'll pass through two turnstiles, so we better not lose our tickets. We started with Pit 1, the grandest of the three. It is housed in a hangar type building and contains about 6,000 plus soldiers (and horses). This site was the first to be uncovered by a group of farmers who were drilling a well in 1974.
Massive Pit 1.
Left: The site of the well the farmers were drilling in 1974. Right: Warriors still being assembled.
Walls were put up in between rows of soldiers to support wooden roofs with fiber mats. The structure is obviously not durable enough to protect the soldiers from being buried. The figures were crushed into pieces, archaeologists had to painstakingly put them back together for display.
Next is Pit 2. It contains more than 1,000 warriors and horses and has four separate sections. Unlike Pit 1, the sections seem to have different purposes - basing it from the types of warriors placed in each one. Almost half of this pit is still being excavated.
Pit 2, ongoing excavation.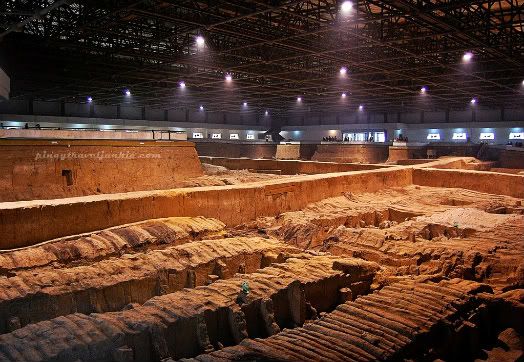 So much work to be done here.
Last but definitely not the least, Pit 3. Smallest of them all, it's the army's headquarters. It contained the high-ranking officers (ranking by the way could be determined by a figure's clothes and... hairstyle!).
Left: Pit 3. Right: Photo showing that when the figures were excavated, they still had paint on them. Unfortunately, archaeologists failed to preserve the colors and are still studying how to do so.
Some warriors are on display in huge glass cases for visitors to see up close. Some weapons are also in exhibit.
We spent about an hour and a half in the museum. Ana has mastered the army's history, I bet she can sleep-talk her lectures. She was able to answer every question we raised. We're very glad we joined a group tour instead of doing the trip ourselves. Yuans well spent.
As we exited Pit 3, she nodded her head towards an old man seated behind a desk full of Terracotta Army coffee table books. She said, he's one of the farmers who discovered the vault. He comes by every day to sign autographs on books sold. He won't sign anything else so don't dare ask for an autograph on your shirt!
There is also a big sign on the desk that says, "NO PHOTOGRAPHS". I can't afford the book (if I remember correctly, it was almost ¥200 each) nor can I have a photo with a farmer, so what's a girl to do?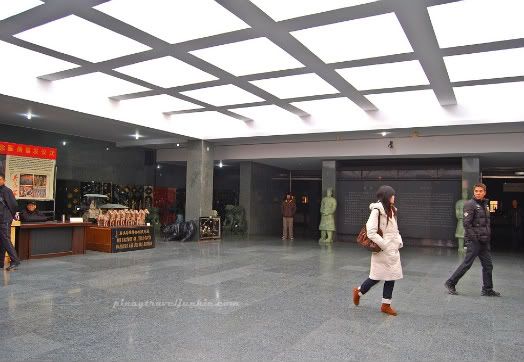 Pinay Travel Junkie confession: I stepped away from the desk, pretended to be taking a picture of Shervin, and included the farmer in the frame!
Happy with the snapshot, we left the building. Our
tourmates
asked us if we wanted to eat lunch before going back to the city. We didn't mind. Ana recommended a Chinese restaurant close to the parking lot. She even ordered for us (we didn't get to see the menu), and said we just have to pay ¥30 each. It was pricey for us, but the dishes are served in hefty proportions.
Now lunch may sound more of a splurge than our breakfast, but we had so much leftover I asked for a plastic bag so I can take them home for dinner. I didn't feel embarrassed when I asked the two Mexican (finally we know where they are from) women if I could do so. I even said the Pinoy line (translated in English of course), "There are so many people in the world who don't even have food to eat, it's a shame to throw these away". They agreed, and even helped me wrap.
The two Mexicans are sisters, Pamela and Laura, who were on a Christmas holiday. It was their first time in Asia. From the restaurant to the van, we exchanged travel adventures. They also hate the cold, and were looking forward to spending Christmas in Thailand. We told them it was our honeymoon, and they were fascinated with our church wedding (they studied in Catholic schools). They were also amazed how some Spanish words are still used by Filipinos.
Unfortunately, our interesting conversation ended when we got to Xi'an's train station. We asked to be dropped off there because we needed to buy our Guangzhou tickets. Ana wrote on a piece of paper 'Guangzhou hard sleeper, bottom bunk' in Chinese characters, just in case an English speaking agent wasn't available. Isn't she the sweetest?
Tweet
Share
This page was viewed times.