East meets Middle-East. Modern civilization meets legendary silk road. Xi'an, one of the ancient capitals of China, is downright fascinating it can amuse even the jaded long-term traveller.
Entrance to the Great Mosque of Xi'an. Looking very Chinese.
It was difficult to leave the comforts of our
Bell Tower Youth Hostel
room, but we only had two days in the city so we dragged ourselves out of bed for a DIY walking tour.
When in Xi'an, the first order of business is to get a map. You can visit about five sights that are within a short walking distance from each other. Fortunately, our hostel is located less than 2 kilometers from these sights. Unfortunately, temperature that day was the usual 1°C. So cryophobic Shervin and I agreed not to explore past a 2-kilometer radius.
We first headed to the Beiyuanmen Muslim Culture Street (north side). Xi'an's inhabitants are predominantly Han Chinese, but along Beiyuanmen, the main residents are the Hui people. The Hui people are recognized as a Chinese ethnic group who practices Islam. So it is common (but still looks odd to me) to see local men wearing white skullcaps and women wearing head scarves strolling along this street, greeting each other
"assalaamu 'alaykum"
.
Piping hot tea drink with fungi chewies for ¥5 sold along Beiyuanmen.
And as Muslims, they follow Islamic dietary laws. If you go to the Muslim Quarter to sample food at the hawker stands, do not expect to find pork dumplings. Their main protein source is mutton (and yes, tofu too) -
halal certified
, of course. Kebabs and Arabic bread rule the streets here!
After covering a few meters of Beiyuanmen, we turned right into a smaller alley marked with a directional sign to the Great Mosque. There we found more hole-in-the wall restos and colorful souvenir shops. The air smelt of dried fruits (dates, drool!), and spices that reminded me of Al Ain, U.A.E. where I worked a year ago.
The next sign to the mosque led us to another alley, a quiet one without stores. The pavement wet from the drizzle of snow earlier that morning. Besides us there were only two other people, both Muslims, passing by. The last sign, posted at the end of the alley, says it's just 50 more meters to the left.
Left: 50m to go. Right: An almost deserted alley to the mosque.
Admission fee to the Great Mosque is ¥12. A mini booklet regarding the Great Mosque's history is provided. The ticket checker amazingly speaks fluent Spanish (he was chatting with a tourist from Spain). A Chinese Muslim fluent in Spanish. You gotta love Xi'an and its perplexing surprises!
The mosque was built during the Tang Dynasty more than a thousand years ago. Its construction followed traditional Chinese architecture, so it has no domes nor minarets. To be honest, I was a wee bit disappointed about that. Nevertheless, it was interesting to see Chinese structures with Arabic writings engraved on them.
Within the grounds, I felt absolute solemnity. For real. It was the most peaceful worship place I have ever been. So peaceful I heard a flock of birds flap their wings as they swoosh above us. We wandered around for about fifteen minutes until the call to prayer blasted from the speakers and broke the silence.
The Wooden Memorial Archway built in the 17th century.
Groups by groups, Muslim men poured in. We were in front of The Worship Hall, where tourists are not allowed to enter. They didn't seem to mind our presence. We started to leave anyway, to pay our respects.
Lunch was the next part of the itinerary. Though a steaming bowl of noodles was very inviting, we chose to have middle-eastern food. So we walked back to the resto we passed en route to the mosque, where kebabs were grilled upon order.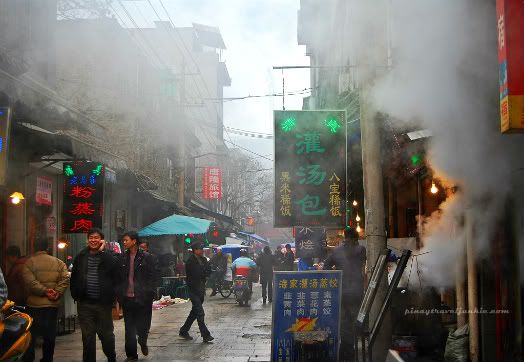 Smoke from kebabs on the grill and noodles in the wok. Muslim Quarter's food stalls can entice every taste bud.
A young Hui (probably in his early teens) with brown hair and big eyes, tossed our beef kebab on the grill as he danced and sang to the Arabic tune on his player. Every waiter/cook who were working there looked more middle-eastern than Chinese. They spoke good English and were very friendly to us. We were asked to take our seats (we were being swallowed by the smoke as we stood by the grill), and they'll just serve our food.
Aside from the kebab and bread, we ordered mutton in fried rice. The rice was so greasy, it was swimming in mutton oil. I totally loved it! Shervin though, who's Persian born, was sickened. Altogether meals just cost ¥30, for us two.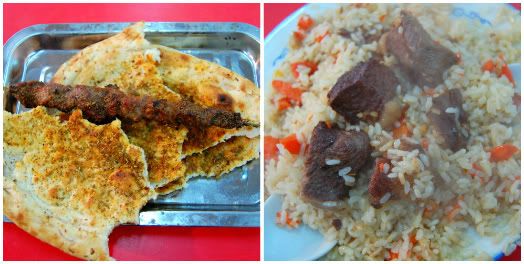 Left: Beef kebab and a not-so-fresh-but-good-anyway Arabic bread. Right: Mutton with greasy-yummy fried rice.
After lunch, we checked our map once more and took a different route going back to the hostel. Although the Bell Tower and Drum Tower were on the way, we slashed them from our list because we didn't want to spend ¥40 to see the two (¥27 if you'll only check out one).
At that time we were very careful in handling our money for we didn't know yet how much we'll be paying for our visit to the Terracotta Warriors Museum which happens the day after!
Oh, speaking of which, I bought two miniature warriors before we left the Muslim Quarter. Only ¥15 for both. I was thinking they might be expensive in souvenir shops at the museum... and you'll soon find out if I was right or not.
Tweet
Share
This page was viewed times.