Shervin and I celebrated our last hurrah in Beijing at Xiabu Xiabu. Earlier that day we finally visited the
Great Wall of China
but did not move on to the Ming Tombs because we needed to get ready for our 12-hour train ride to Xi'an.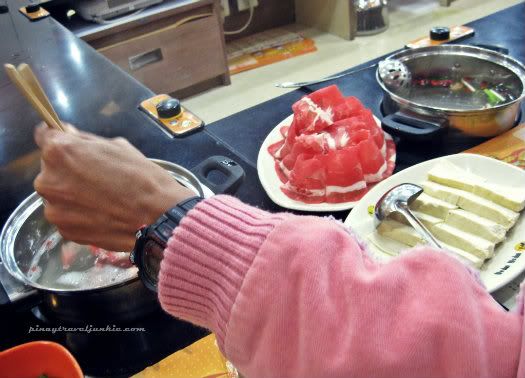 Drop it like it's hot into the shabu-shabu pot!
Xiabu Xiabu (
shabu-shabu
) is a popular bar-style hotpot place located at Henderson Centre, across our accommodation, Beijing City Central Youth Hostel. At 3-ish in the afternoon, the usually packed resto only had 3 other diners. The menu is unfortunately in Chinese characters, and nobody from the staff spoke English. Not even one word. Oh sorry, some were able to say 'hello'.
Our Lonely Planet China has a brief review of the place, and it has Mandarin translation of the usual ingredients ordered: soup base or broth -
guodi
, beef -
feiniu
, tofu -
doufu
, and cabbage -
dabaicai
. Also, it's important to mention if you want it spicy -
la
, or not spicy -
bu la
.
We ordered all of the above except cabbage, not spicy. The meal might seem ordinary, but wait until you dip each bite in their phenomenal sesame(?) sauce and you'll instantly figure out why they have so many branches within the city. It's very affordable too! Our bill was only ¥23.
After a tummy-warming mid-afternoon snack, we headed to our hostel. Our train to Xi'an (¥274) leaves Beijing West Train Station at 8:30PM, we still had time to rest a bit (Beijing City Central Youth Hostel charges ¥10-15 per hour past check-out time, no need to pay for another full day).
While packing our stuff, we watched Culture Express on CCTV (China Central Television). It was featuring Macau, and its upcoming celebrations for the 10th anniversary of its return to the
motherland
. We liked Culture Express so much because it's one of the few shows that's in English.
By 6:00PM we were ready to go. I had three warm layers of clothing on me plus a down jacket. We will be walking a kilometer from the Military Museum subway station to the Beijing West Train Station. That'll be the first time for me to walk outdoors at night in Beijing.
We checked out and made our way to Beijing Railway subway station, paid ¥2 each for tickets, hopped on a train to Jianguomen transfer station then another train to the Military Museum subway. Once we exited the station, we started our stroll.
Passengers of intercity trains are expected to be at the gates an hour before departure time. We decided to leave the hostel early so we could have a leisurely walk to the station. Along the way, we saw a street vendor selling fried stuff.
The fried chicken looked good, plus it was cheap (¥5 for a leg) so I bought one. We were surprised the lady popped it in the microwave for a few seconds before throwing it in a paper bag. A street vendor with a microwave?!
I decided to eat it a bit later, so we continued walking. We climbed a footbridge to the entrance of the station. Boy, that place is hectic! A signboard displays the gates for the trains. Ours was Gate 2, right at the entrance. We were still an hour and a half early so we had dinner at a restaurant just beside Gate 1 (meals are at ¥18).
After 30 minutes, we were back at Gate 2 and found the other passengers in queues already. Boarding has just been announced. We couldn't understand the commotion. Everyone's chattering and pushing even though the officers weren't letting people in yet. Another 30 minutes, the gate was finally open - and oh-my-gosh it was like a stampede! Okay it wasn't that brutal, but dang you should have seen how locals shoved each other. I felt sorry for the women and children.
Thank goodness we passed the gate
alive
. But that was not the end of it. We then noticed our co-passengers running to the cabins. Still wondering what was going on, I started running myself and Shervin ran after me as he shouted, "Why are we running?".
"I don't know, everyone else is.", I replied. I glanced at our ticket and checked our cabin number. I noticed that there was no bunk indicated. It dawned on me that people were trying to get the best beds, which are the bottom-most ones (to have an idea on what Chinese train are like, click
here
). I reached our cabin first, panting but relieved. No one was there yet so we placed our bags on the beds, marking our territory. The train was a fullhouse, unlike our
Hong Kong-Beijing one
.
It was just going to be a 12-hour trip anyway. Most of the time we will be sleeping. The men from the middle and upper bunks climbed up only at bed time. They never said anything to us, nor did they speak to their fellow locals. I just imagined, if only they're Filipinos, they'd already be
textmates
or Facebook contacts before the trip ends.
Oh wait, one of them actually asked Shervin, "
Weh al yoo flom
(where are you from)?". When he replied "Australia", the guy shook his head and left the room.
The next morning, I got up early to go to the restroom. I was surprised that aside from me, there was only one other passenger who was awake at 7:00AM. Everyone else started getting up at 8 including the mighty sun. As the fog thinned out, a blanket of snow can be seen covering the vast fields we passed. Not a good sign.
Snowy view from our cabin's window.
The reason why we were moving to Xi'an's not just to see the Terracotta Warriors, but also because we thought it's going to be warmer there. It was, but just a 1°C difference.
The train halted at 9:30. For a moment I felt cowardly again towards the cold, like what happened when we first arrived in Beijing. Suddenly, I saw snow lightly showering. My fear morphed into sheer excitement. I've never experienced falling snow before. What a wonderful way to be welcomed!
Tweet
Share
This page was viewed times.