Located in Kalayaan Hall (old Executive Building built in 1920), within the Malacañang Palace complex, Malacañang Museum houses an impressive collection that showcases the heritage of the Presidency of the Philippines.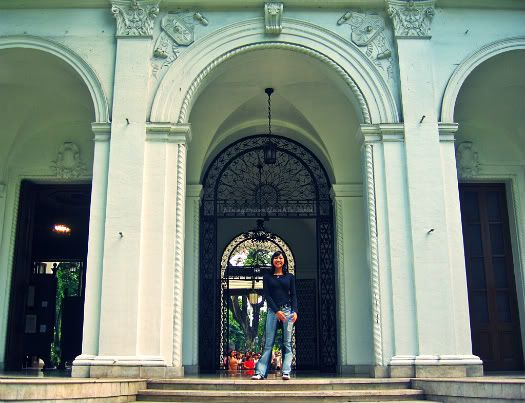 Tours are strictly by appointment only. In my case, there was no need to do so. Back in 2006, some locals I've befriended in Basilan introduced me to a Presidential Security Guard who's also a resident of their province. He invited me to visit the palace one day when I was within the area.
Presidential Room
Request for a tour shall be sent seven days in advance. I've learned that a background check will be conducted on each visitor. And since I entered with a PSG, no need for it. Not even my bag was inspected. It felt like royal treatment. The downside was, I depended on my PSG's faint memory of facts. That was one of the few occasions when I longed for a guide.
Pinay Travel Junkie's confession: "I

had

to touch one of Imelda's shoes! Please don't arrest me."
Just behind the balcony where the Marcoses were last seen in public prior to fleeing to America.
The collection's vast. I took so many photos to the point of
"change battery pack"
. My personal fave is Diosdado Macapagal's poem he wrote about Bontoc. I shouldn't be posting all photos here, instead I would like to encourage my fellow Filipinos to take a peek at the Palace's history.
Admission fee is an affordable P50.00, and P30.00 for students and senior citizens. Tour guide will be provided. Photography is allowed but only within the Malacañang Museum.
How to get there: From Ilalim ng Tulay Market Quiapo, you'll find jeeps going to San Miguel. Ask the driver to drop you off Malacanang. You'll know you're near when you see the guardhouse/checkpoint. The jeep will turn right after getting in, and you can already get off on that main road. You'd have to just walk a few meters to the gate accessible to the public.
Visit
Malacañang Museum's Official Site
for more information.
Tweet
Share
This page was viewed times.