Tourists flocking to
Caramoan
usually skip Aguirangan Island, and may not have heard about it at all. Prior to our Camarines Sur trip, we haven't heard of such place either. The island is actually just a thirty-minute boat ride from Sabang Port in San Jose, where boats going to Caramoan also depart.
To get there, you can catch a bus or jeep to Sabang from Naga City Central Bus Terminal. Travel time, about an hour and a half (two hours max depending on your mode of transport). Shared vans are also available. We took one which unfortunately didn't go straight to our destination but to another town, so we were dropped off at this junction:
From here we took another jeep to Sabang. We missed the last (2:00 PM) trip to Caramoan and an herd of locals recommended Aguirangan Island instead. We were skeptic at first, and suspected that the fishermen will take us to a dodgy place just to earn some money.
Caramoan cannot be rescheduled because we were bound for Manila the next day. And we thought it was pointless to go back to Naga so we haggled for a boat. Since we went there June of 2007, I've forgotten how much we paid. I do remember it being expensive for us though. The boat can accommodate about seven people, and its rental was split amongst the three of us.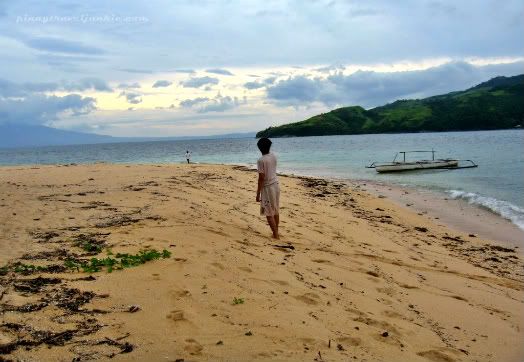 Aguirangan Island, is about a hectare and a half only (according to our boatman), and does not offer accommodation. If you intend to stay overnight, better bring a tent. For us, a day trip was enough. There were no other tourists that afternoon and the locals were not kidding when they said,
"Sariling sarili nyo ang isla"
(the island is all yours).
It was unexpected bliss. We gulped our lukewarm beer, and listened to cliche reggae music. At sundown, we hopped on our boat once more and headed back to Sabang. There we checked in Southern Horizon Hotel by the (gray) beach, it was the final night of our seven-day Bicol trip.
We spent our final night drunk painting.
Tweet
Share
This page was viewed times.