Anita was raving about 'the islands' over
beer at The Loft
, so we blocked off a day for Tunku Abdul Rahman National Park (a group of five islands named after Malaysia's first Prime Minister). That day started with me exchanging morning pleasantries with Kuba and Maciek, both from Poland, on the way to the bathroom. The night before, they joined us for dinner and moved in the house (we were all simultaneously hosted by a felllow
Couchsurfer
named Kuni) because the accommodation for Kota Kinabalu summit-ers was already full.
By the time I finished my 'business', I walked out and found Shervin already awake and chatting with the two. They mentioned they wanted to do some snorkeling so we decided to go together and share a boat. I honestly wasn't so enthusiastic about going to the beach since I had my uhm... period then, but I changed to my bikini faster than you can say Tunku Abdul Rahman National Park.
Pulau Sapi's beautiful stretch of beach.
We took a bus (.80 sen) to the city center and hopped off near the Central Market where we searched for a place to eat breakfast. Shervin and I settled for noodles at a small cafeteria while Kuba and Maciek searched for continental breakfast in vain - but rejoined us minutes later with a plastic bag of various types of bread from a local bakery.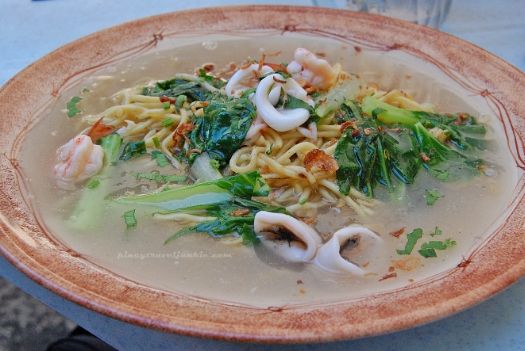 Fab seafood noodles brekkie.
Only a fifteen-minute walk from the local resto was a small jetty. It didn't feel right, I was certain (as I saw on the city map) that the port should be farther away. It was also odd that we didn't see any other tourists. Only Malay locals going to Pulau Gaya, where a lot of illegal migrant Filipinos live. Kuba and Shervin started haggling with the boatmen anyway. It took half an hour to convince one of them to take us to two islands for 160 MYR (Kuba insisted we do it 'slowly'). I wasn't much of a help cause during that time, a handful of locals were talking to me and asking stuff about the Philippines when they realized I ain't Malay.
"Uhm, WOW!" *scratches head*
We found out two days later that tours/boats to the national park depart from Jesselton Point Ferry Terminal, RM17 per person, one island. This info is posted on two other blogs, Kota Kinabalu-Pulau Labuan and Camping at Pulau Mamutik.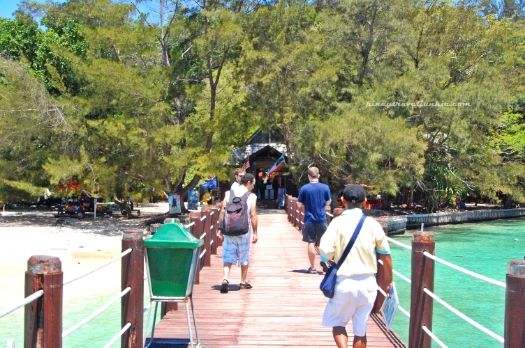 And everyone's just suddenly giddy.
First stop, Pulau Sapi ('pulau' means island). After docking, you'll pass by a booth where you'll be asked to pay RM10 admission fee (which covers all the islands within the national park so save your receipt if you're visiting more than one).
Sapi is not only popular with tourists for snorkeling and scuba diving, it also has a beautiful stretch of white beach (with fine sand!) for people who just want to soak up the sun. You may not just share it with fellow tourists though, but also with monitor lizards!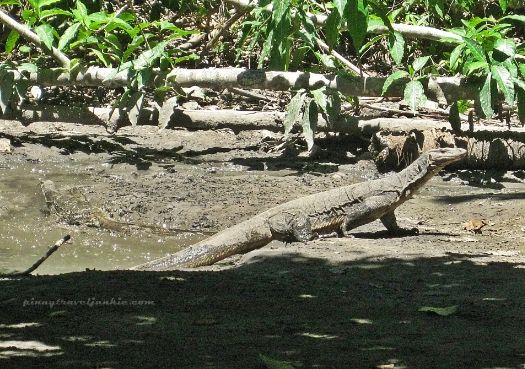 Monitor Lizards freely wandering on the island.
Next island, Pulau Mamutik.
[This blog is part of the South East Asia in Six Weeks series which took place May-June 2009. Price of goods, transportation and so forth may already be different.]
Tweet
Share
This page was viewed times.